A proper small handbag (or backpack) is nowadays an essential item for any traveler, especially considering the required dimensions and baggage policy of most low-cost airlines.  Maybe for that reason, some of the most common questions we get from our audience revolve around which backpack to buy or what bag size to choose for an upcoming low-cost flight.
Also looking for the best backpacks for low-cost flights? Look no further – here's the answer!
What is the baggage allowance for low-cost airlines operating in Europe?
While looking at the standard fares of the 5 main low-cost carriers currently operating in Europe, 4 of them only offer you the possibility of taking a small hand-bag which can be placed under the seat in front of you:
Ryanair: 40 cm x 25 cm x 20 cm
Wizz Air: 40 cm x 30 cm x 20 cm
Easyjet: 45 cm x 36 cm x 20 cm
Vueling: 40 cm x 30 cm x 20 cm
As for Transavia, its base fare allows you to take a regular cabin bang, along with an item that should be placed under the seat:
Transavia: 40 cm x 30 cm x 20 cm
With the honorable exception of Easyjet, whose hand-bag allowance makes up for a 30L bag/backpack, all the other airlines are a bit more restrictive, with a cap of around 20-23L per backpack.
That being said, today we will be recommending 9 different backpacks: 5 whose dimensions are within the low-cost carriers' official allowance, and 4 which, although a little bit over that limit, have received positive feedback from travelers (including ourselves) who never had any issues with them being allowed onboard.
Best backpacks for low-cost flights – 5 bags within the allowed dimensions (20-23L):
Disclaimer: all the backpacks listed below are linked to a website where you can complete your purchase. You won't pay a single penny above the official price and you'll be giving us a hand by using our affiliate links 😊
For those wishing to spend as little as possible, Decathlon offers a pretty unbeatable alternative. Foam straps, foam back (with 2 pads), a chest strap, an interior compartment with a proper divider where you can put your laptop, 2 zipped pockets where you can store your documents or cables, an exterior pocket and 2 bottle holders.
If you're more of a "duffle-bag-kind-of-person", Narwey has the right gear for you! This duffle bag is quite simple. One big compartment and one small one for your phone and / or documents. All you need for a weekend break.
With yet another offer which is rather difficult to match, Quechua – once again – comes up with a more elaborate alternative: the NH500. Aside from all the other features you could find on the NH100 model, the NH500 also includes a rain cover and more zippers/compartments for storage.
The "specifically designed for this purpose" option: Cabin Max Metz – 20L (£29,95)
As the title suggests, Cabin Max bags were specifically created to comply with the new low-cost airlines' baggage policies. Therefore, their dimensions and design seek to optimize the carriers' requirements. The Metz model, with a capacity of 20L, has the exact dimensions allowed by Ryanair (40 x 20 x 25 cm), besides boasting a suitcase-style opening which facilitates the organization and storage of your belongings.

The NH Escape 500 is a recent launch from Decathlon. Besides the usual quality you can expect from the French enterprise and a full suitcase-style opening where you can put your clothes, there is also a specific compartment for your laptop, which you can open independently from all the other zippers and comes particularly in handy during the airport security protocols.
This type of design allows you to pack more efficiently and makes it easier for you to take out all liquids and electronics when going through security, speeding up the entire process. On top of all of this, you'll also have 15 different zippers, allowing you to go all "Marie Kondo" on your backpacking skills! For this price tag, we guarantee you won't find anything better – a truly revolutionary advance when it comes to the best backpacks for low-cost flights.
Best backpacks for low-cost flights – 4 bags slightly bigger than the allowed dimensions (24-40L):
Disclaimer: Although there is indeed plenty of travelers (ourselves included) who managed to board a low-cost flight with each and every single one of the models listed below, please keep in mind it is totally up to the airline the decision of allowing your bag onboard without having to pay an extra fee or penalty. However, experience and common sense dictate it is unlikely they will decide against you. It is also important to note that the fuller your backpack is, the more volume it will gain, hence the higher probability of looking obviously oversized. That being said, we do not recommend that you travel with bags over the 32L-capacity limit.
25L Option (still compliant with Easyjet's policy): Jansport SuperBreak – 25L (£32,51)
Jansport is a brand known for their sturdy and robust backpacks. This specific Superbreak model's biggest asset is actually its simplicity, offering both an interior and exterior compartments.
30L Option (still compliant with Easyjet's policy): Cabin Max Metz – 30L (£34,95)
Just like the 20L version from Cabin Max we've shown above, the 30L Metz bag was also specifically designed to comfortably fit under the seat in front of you. Just like its predecessor, this one also has a suitcase-style opening which facilitates the organization and storage of your belongings.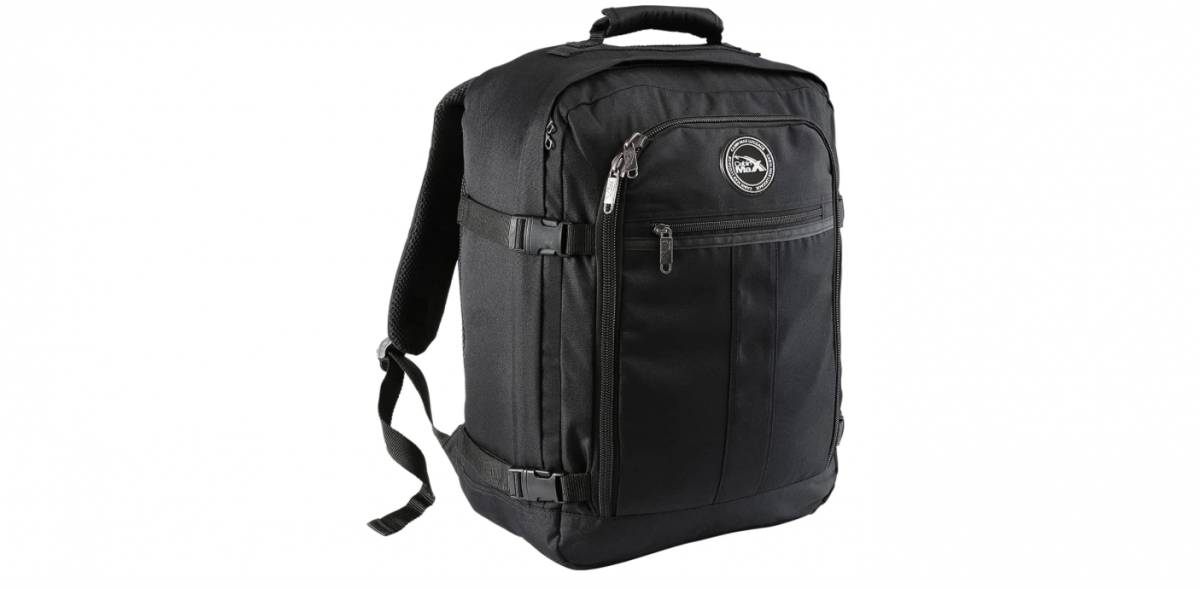 The 32L version of the NH Escape 500. Not much else we can add to the praise we have already given it above. The best backpack for low-cost flights, but bigger!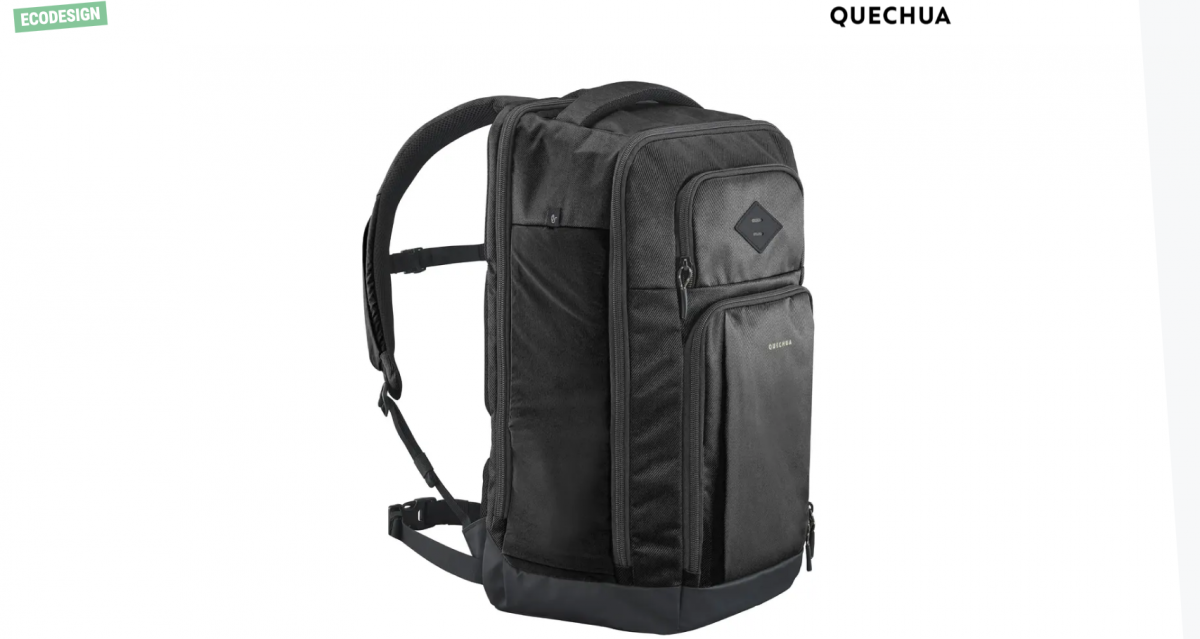 Disclaimer: We've included a 40L option for those who are looking for a backpack the same size of a regular cabin bag (which needs to be paid separately). However, and this is our opinion, this bag is already too big to be considered for the standard fares, and therefore does not qualify as one of the best backpacks for low-cost flights.
Once again, yet another option we can find at Decathlon. This 40L bag comes with a rain cover and has several interior compartments, a suitcase-style opening to facilitate packing and accessing your belongings and a special zip which can be padlocked for further security. Hard to get more bang for your buck at this price tag, hence why this model is frequently sold out and unavailable.