Best things to see and do in Mykonos in 3 days. Discover the island's most famous landmarks and tourist hotspots – like Mykonos Town (Chora), Paradise Beach or Delos – in our Mykonos 3-day itinerary!
This Mykonos 3-day itinerary is a part of our broader Cyclades Islands travel guide. We recommend you check it out for the best travel tips and the most accurate information about the archipelago, regarding transportation, hotels and restaurants for the islands of Santorini, Mykonos, Naxos, Paros and Milos.
Mykonos 3-Day Itinerary – What to see and do in 72 hours
Although its popularity branded Mykonos as a destination for party-goers and night owls, with plenty of beaches, bars and clubs, the truth is that the island has so much more to offer! Well, of course you can still find all of those things when visiting Mykonos, but one should not overlook its thriving cultural side. Therefore, we want you to have an experience that can be as diverse and multi-layered as possible, coming across the very best this amazing island has to offer!
If you're on your way to Greece and looking for what to see and do in Mykonos in 3 days, we leave you with a detailed Mykonos 3-day itinerary, complete with all the tourist landmarks and points of interest you don't want to miss.
Mykonos 3-Day Itinerary – Day 1: The Old Town of Chora
A world away from the crowded beaches and lively nightclubs, your first day will actually be dedicated to Mykonos' historical and cultural legacy, often times forgotten in favor of a more commercial approach to tourism. As such, you'll be exploring the district of Chora, considered the old center of Mykonos Town, the largest settlement in the island.
Start off at the Old Port and make your way to Matogianni Street, the busiest and most beautiful pedestrian street in Chora, and a real paradise for Instagram feeds all across the globe, especially when the bougainvillea are in full bloom! Once you have snapped pictures to your heart's content, it's time to visit the famous Windmills of Mykonos, a row of 7 different windmills whose view has grown to become one of the island's postcard pictures. Built right next to the harbor by Venetian merchants around 500 years ago, it is nowadays possible to enter and visit at least two of these windmills, while the rest still need renovation. A few steps away and you'll be officially entering the Alefkandra Quarter, affectionately nicknamed "the Little Venice" due to its terraces and promenades built directly over the waters. Before ending your stroll through Chora, visiting the Panagia Paraportiani is equally a must, as this complex of 4 different underground churches is the most visited religious site in all of Mykonos.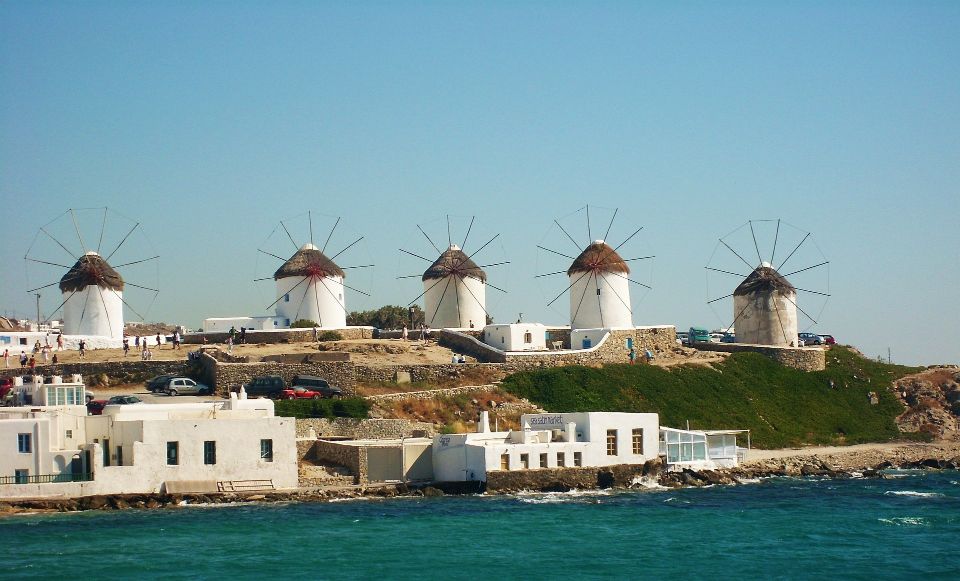 Once you're done with lunch, it's time to hop on a bus to the unsuspicious village of Ano Mera, a quaint place, further away from the coast, that will unveil a whole new side of Mykonos. Unlike other places in the island, here it's actually possible to walk along the winding streets of the old center without having to constantly fight for space with other tourists. While in the village, visit the fabulous Tourliani Monastery, the main tourist attractions. Before going back to Mykonos Town, we also recommend taking a small detour to see the Paleokastro Monastery, as well as the ruins of the Gyzi Castle. After all, if you're going to Ano Mera, at least it's best to make sure nothing is left unseen!
First day wrap-up:
Chora Old Town
Old Port of Mykonos
Matogianni Street
Windmills of Mykonos
Little Venice
Panagia Paraportiani
Ano Mera
Tourliani Monastery
Paleokastro Monastery
Gyzi Castle
Cheap restaurant suggestions in Chora (Mykonos Town):
Mykonos 3-Day Itinerary – Day 2: Hopping from Beach to Beach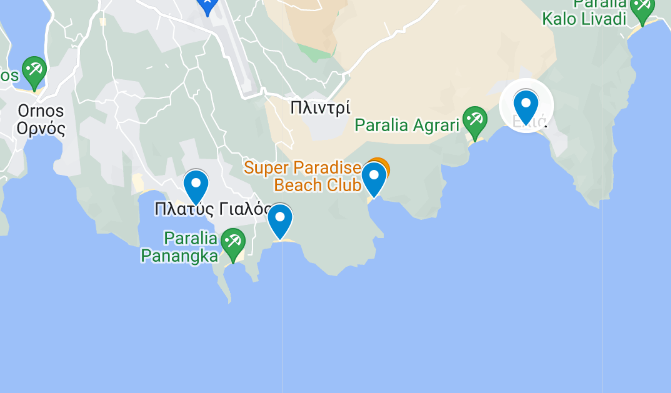 Don't fret just yet – on your second day, you'll finally have the chance to experience first-hand what actually put Mykonos on most tourist radars! After all, the island was truly blessed with some of the best islands in the entire country. For your beach-hopping session, we recommend using the local water taxis. These boats are constantly running from the early hours of the day till sunset, transporting passengers along the island's seven main beaches. You can buy a daily pass for 20€ and use these taxis as many times as you want, saving precious time you would otherwise be wasting figuring out how to move around between these stretches of sand. Plus, it's also a different way to experience Mykonos!
This pass will allow you to visit the beaches of Ornos, Platis Gialos, Praga, Paradise Beach, Super Paradise Beach, Agrari and Elia. Although all of them are pretty appealing in their own way, and unless you REALLY want to visit each and every single one of them, we suggest sticking to the ones we've highlighted.
Second day wrap-up:
Platis Gialos Beach
Paradise Beach
Super Paradise Beach
Elia Beach
Cheap restaurant suggestions in Platis Gialos, Paradise Beach (+ surroundings):
Mykonos 3-Day Itinerary – Day 3: Day Trip to Delos
Now that you've had the opportunity to get to know Mykonos and its main tourist attractions, you'll make use of your last day to explore the most famous of the neighboring islets: the Island of Delos!
In order to get there, you'll have to catch one of the 4 daily ferries departing from the Old Port of Mykonos. Unfortunately, it's not possible to book tickets in advance unless you book a pre-arranged tour. Regardless, the trip costs 20€ two-way, plus the admission fee of 12€ in order to gain access to the Archaeological Site of Delos. It takes the ferry 40 minutes to reach Delos.
As for the islet itself, and although no one lives there anymore, it used to be the single most important island in all of the Cyclades. So important, in fact, that legend has it that the gods Artemis and Apollo were actually born there. Today, it's possible to visit the ruins of the ancient city of Delos and explore what's left of its temples, sanctuaries, statues and mosaics, which used to decorate the streets thousands of years ago. Right in the center of the precinct, take an hour or so to have a look at the Archaeological Museum of Delos, before finally making your way back to shore. Once the sun sets, say goodbye to Mykonos with a dinner at a traditional tavern, before returning home or (even better!) moving on to the next Greek island.
Third day wrap-up:
Island of Delos
Archaeological Site of Delos
Archaeological Museum of Delos