Best things to see and do in Naxos in 3 days. Discover the island's most famous landmarks and tourist hotspots – like the Temple of Apollos, Mount Zas or Apeiranthos – in our Naxos 3-day itinerary!
This Naxos 3-day itinerary is a part of our broader Cyclades Islands travel guide. We recommend you check it out for the best travel tips and the most accurate information about the archipelago, regarding transportation, hotels and restaurants for the islands of Santorini, Mykonos, Naxos, Paros and Milos.
Naxos 3-Day Itinerary – What to see and do in 72 hours
Considered the biggest island in all of the Cyclades, Naxos is a destination one should not miss when touring the archipelago. Besides its fabulous west coast beaches, Naxos is also an extremely important place from an historical standpoint. An island where you can find hidden villages, ancient towns, temple ruins and even a quirky collection of massive granitic statues left abandoned through the times. To sum things up: a mandatory destination for everyone vacationing nearby!
As such, if you're on your way to Greece and looking for what to see and do in Naxos in 3 days, we leave you with a detailed Naxos 3-day itinerary, complete with all the tourist landmarks and points of interest you don't want to miss.
Naxos 3-Day Itinerary – Day 1: The Capital of Naxos Town
When arriving in Naxos by ferry, it's impossible not to instantly notice one of the island's biggest symbols. Gently perched by the sea among what little ruins have left from the Temple of Apollo, the Portara is the ancient gate to the once-booming sanctuary, and the only structure in the entire temple to resist the harsh test of time.
After visiting the ruins and its spectacular location by the Aegean Sea, it's time to explore the center of Naxos Town, the island's main city. Besides the street markets, pedestrianized alleys and the Greek trademark contrast between the buildings' whitewashed façades and sky-blue doors/window frames, the Old Town is also home to the Venetian Castle of Naxos (or Kastro). After lunch, it's time for your debut at the idyllic beaches of Naxos, with a quick visit to the Agios Prokopios Beach.
If you still have the time and the energy, we equally recommend hopping on a bus to the island's northernmost tip and visit the sleepy village of Apollonas. Though it may not look like much at first, this tiny place is home to the Kouros of Apollonas, a 10-meter-high statue depicting a naked man which has been left abandoned since the Archaic period. Apparently, and much like its neighboring Cycladic Island of Paros, Naxos was also famous for its marble quarries, with the raw-material being shipped to many other cities across the Aegean Sea to be used on many monumental constructions. As a result, there are several statues just like this one (kouros) scattered all over the island.
First day wrap-up:
Portara – Temple of Apollo
Naxos Town
Venetian Castle of Naxos
Agia Prokopios Beach
Kouros of Apollonas
Cheap restaurant suggestions in Naxos Town:
Naxos 3-Day Itinerary – Day 2: The Naxos Village Trail
For your second day in Naxos, and before starting one of the most picturesque hikes in the entire island, you'll take some time to recharge batteries in two of the most popular beaches in the western coast. That being said, we recommend splitting your morning up between Mikri Vigla and Plaka, two extraordinary beaches which stand as perfect examples to why the Cyclades are such a popular summer destination.
Once you're feeling replenished, get on a bus heading towards the inland towns of the island, where you'll start the charming Naxos Village Trail. This hike will take you through some of the island's best kept secrets, where you'll find sleepy villages, more historical Kouros and breathtaking views amidst the rolling hills of Greek rural landscapes. Though there may be several possible combinations, we recommend the path that connects the villages of Melanes, Mili and Kouroi.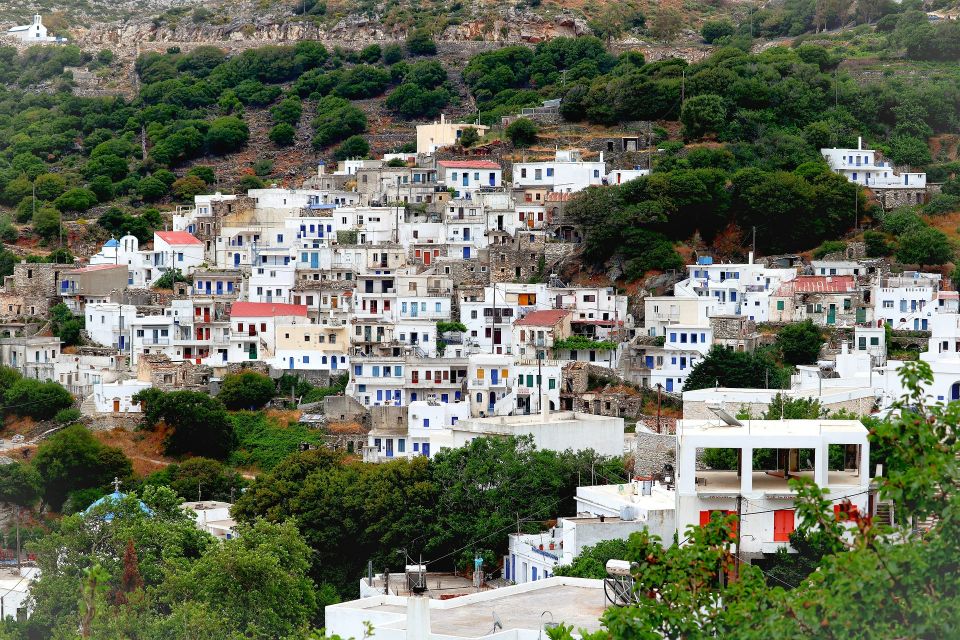 Second day wrap-up:
Mikri Vigla Beach
Plaka Beach
Naxos Village Trail (Melanes, Mili and Kouroi)
Cheap restaurant suggestions in Plaka Beach and surroundings:
Naxos 3-Day Itinerary – Day 3: The Highest Peak in the Cyclades
In order to cap off your epic adventure in Naxos, nothing more appropriate than a Herculean task (well, not really)! Coincidently, this island is home to the highest peak in the entire Cyclades, and today you'll have the honor of conquering it! Fortunately, Mount Zas isn't really that tall – around 1000 meters – which is why, despite demanding, the hike is still pretty doable for amateurs or tourist with little to no trekking experience. The views, as one might expect, are nothing short of jaw-dropping, and the main reason why visitors take up this challenge.
After the climb, you'll descend towards Panagia Drosiani, an historical byzantine church that is simultaneously the most important and impressive in all of Naxos. Last, but certainly not least, your adventure will come to an end at the adorable village of Apeiranthos, one of the island's crown jewels. Despite its staggering beauty and authenticity, this small town somehow managed to remain in the unknown for most visitors, standing as one of Naxos' last hidden gems. After exploring Apeiranthos at your own pace, it's time to make it back to the capital. Your time in Naxos has come to an end!
Third day wrap-up:
Mount Zas
Panagia Drosiani Church
Apeiranthos
Cheap restaurants in Apeiranthos + surroundings: