This Kos 3-day itinerary is a part of our broader Dodecanese Islands travel guide. We recommend you check it out for the best travel tips and the most accurate information about the archipelago, regarding transportation, hotels and restaurants for the islands of Rhodes, Kos, Chios and Karpathos.
Kos 3-Day Itinerary – What to see and do in 72 hours
Despite its small size, Kos is one of the most popular islands in the Dodecanese. After all, there are very few places across the Aegean Sea that can sound so appealing to either families, with their pristine beaches and relaxed atmosphere; culture lovers and history buffs, with their vast array of ancient ruins; and partygoers, with the bustling town of Kardamena and its bars and nightclubs. As you can see, this is a truly versatile destination!
As such, if you're on your way to Greece and looking for what to see and do in Kos in 3 days, we leave you with a detailed Kos 3-day itinerary, complete with all the tourist landmarks and points of interest you don't want to miss.
Bus between Kos Airport and Kos Town
Before properly introducing you to our Kos 3-day itinerary, it's important to know what to do right after landing. As expected, using the bus is the cheapest way to reach civilization upon touching ground at the airport, with a local vehicle taking you to Kos Town and stopping at the Port of Mastichari along the way.
The buses depart directly from the arrivals' terminal and a single ticket will cost you 3,20€. As for running times, there are 6 daily departures from the airport towards Kos Town (08h00, 10h00, 13h00, 14h30, 16h30 e 21h00). If you're not staying in Kos Town, there are also other buses leaving to Kardamena (2€) and Kefalos (2,50€).
Once again, and though it might be infinitely easier, using a taxi is a lot more expensive as well. In order to take the same 30-minute trip to Kos Town, your taxi fare will be around 30€-40€.
Kos 3-Day Itinerary – Day 1: Kos Town
As usual on our individual itineraries for every Greek island, you will start your adventure by exploring the local capital: Kos Town! Along with Rhodes, the main urban center in Kos is also one of the most historically important cities in the Dodecanese, something you may put to the test with a walk along its Old Town and its countless archaeological findings. That being said, your first stop in Kos Town will be the imposing Neratzia Castle. Although it currently stands in ruins, this structure used to be the island's shining beacon, defending it against the ottoman invaders. A few meters ahead, you'll find the Tree of Hippocrates. The famous ancient Greek doctor – after which the current medical oath is named – was actually from Kos, and according to legend, he used to teach his students right under this tree. Follow that up with a visit to the Archaeological Museum of Kos (6€), before digging deep into the Ancient Agora, the island's former trading center, currently filled to the brim with archaeological remains and ruins of ancient buildings. To this day, it is still considered one of the biggest agoras in all of Greece.
However, there is far more to see regarding Kos' historical legacy, which is why you should explore the Casa Romana (6€), the Odeon Theater and the Western Archeological Zone, a widespread area where you can find ruins of stadiums, bathhouses, porticoes and residential buildings, once belonging to a city abandoned ages ago by the Knights of the Order of Malta. Finally, your day will come to an end at the Asklepion (8€), the most popular tourist attraction in Kos. This complex was built millenniums ago in honor of Asclepius, the Greek God of Medicine, with historians suspecting this could have also served as the very first hospital in history. Currently, you can visit what is left of a few temples, as well as the remains of a school of medicine, a healing bathhouse and several rooms where patients used to sleep and receive treatment.
First day wrap-up:
Kos Town – Old Town
Neratzia Castle
Tree of Hippocrates
Archaeological Museum of Kos
Ancient Agora of Kos
Casa Romana
Odeon Theater
Western Archeological Zone of Kos
Asklepion
Cheap restaurant suggestions in Kos Town:
Kos 3-Day Itinerary – Day 2: Abandoned Cities, Vineyards and the Sea
Remember when I mentioned how versatile Kos could be? Well, you have a pretty uncommon day ahead of you, so this is the perfect time to vouch for that label. First, you need to find a way to get to Mount Kieo, so that a taxi or a local bus can drop you off at the unassuming village of Palio Piti. Though this may be hard to believe at first sight, this small town used to be the island's capital, until it was abandoned in the 19th century after a particularly violent outbreak of cholera. It's a pretty surreal place, filled with abandoned houses and even an old castle, which you can visit for a phenomenal view over all of Kos, all the way to the Turkish coastline.
Once you're done, it's time to slowly make your way towards the sea, strategically stopping at tiny Zia, one of the most adorable villages in Kos. If you have some time to kill, make sure to explore every nook and cranny of its old center. On the other hand, if you take pride in being the guy all your friends and relatives go to when they want to know which wine to pair with their Sunday roast, then you'll want to resume your hike until you reach the Triantafyllopoulos Winery, one of the many winehouses in Kos. Once there, you can actually have a free tour of their facilities and even try a glass or two of their magical elixir. Finally, once you make it to the shoreline, you may relax and take a dip in the Aegean Sea while visiting Tigaki Beach, one of the most pleasant in the island.
Second day wrap-up:
Palio Piti
Zia
Triantafyllopoulos Winery
Tigaki Beach
Cheap restaurant suggestions in Zia and Tigaki:
Kos 3-Day Itinerary – Day 3: The South of the Island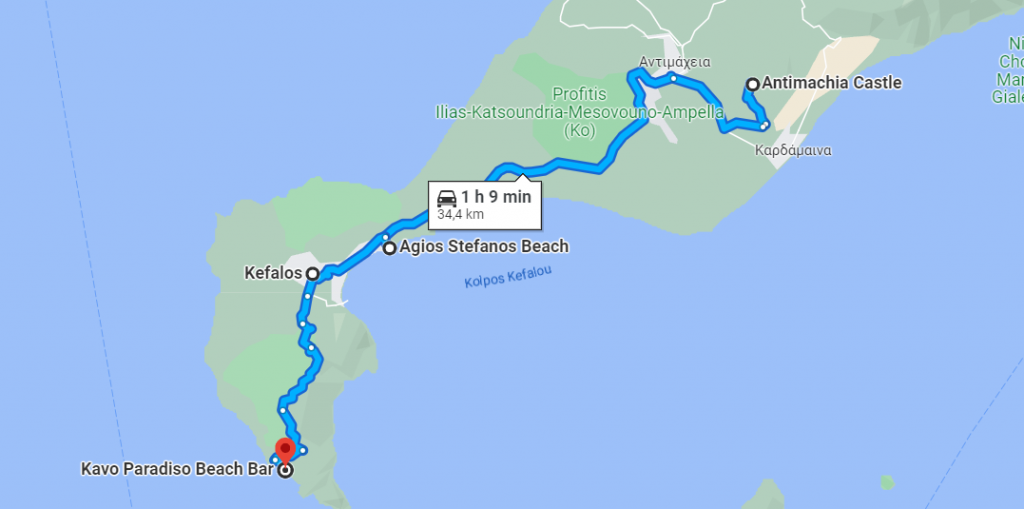 And so we got to your final day in the island! Curiously, this is also the only day in our Kos 3-day itinerary where having your own vehicle is a must in order to see all the places we'll recommend. As such, and without further ado, your first stop will be the Antimachia Castle, the most popular in the island. Built by the Venetians, it has been watching over the village of the same name for over 700 years, providing breathtaking views over the city of Kardamena, the sea, and even the neighboring islets of Nisyros and Gyali.
From Antimachia, you'll start making your way to the south of Kos, a peninsula that often gets overlooked by tourists. On the way, make sure to stop by the Agios Stefanos Beach, which is located right by the ruins of two byzantine cathedrals and a stone throw away from the rocky islet of Kastri. Afterwards, make a quick break for lunch in Kefalos, the main town in the south, before getting back to the pristine stretches of sand and crystal-clear waters at the Cavo Paradiso Beach, one of the rawest and most remote beaches in Kos. Once you're satisfied with your daily dose of salt, sand and sun, it's time to make your way back to Kos Town and bid farewell to the island.
Third day wrap-up:
Antimachia Castle
Agios Stefanos Beach
Kefalos
Paradiso Beach
Cheap restaurant suggestions in Antimachia and Kefalos: