Located right next to Turkish coast, the Dodecanese is formed by a staggering 165 different islands. However, and although this number may seem quite high, the truth is that most of these islands are little more than uninhabited rocky cliffs populating the Aegean Sea. That being said, and out of all the 165, there are 15 inhabited islands along the Dodecanese, with a handful of them turning into bustling tourist hotspots during the Summer season. Such is the case of Rhoades, by far the most famous and visited of all the islands in the group.
Without further ado, we present you our ultimate Dodecanese travel guide, containing all the information you need on transportation and travel scams, hotels/restaurants suggestions and 4 individual itineraries for each of the archipelago's most popular islands, such as Rhodes, Kos. Chios and Karpathos.
Dodecanese Travel Guide
How to get to the Dodecanese Islands – Flights from the UK
Despite the insanely high number of islands, there are only 3 international airports in the Dodecanese, mostly attending to seasonal flights. Those airports are located in Rhodes, Karpathos and Kos. However, the Karpathos Island National Airport has very limited connections, neither of which serving Ireland or the UK.
So, if you're traveling from the UK, you can fly into the Dodecanese through Rhodes from London–Gatwick (British Airways, Easyjet and TUI), London–Heathrow (British Airways), London–Luton (Easyjet and TUI), London–Stansted (Jet2, Ryanair and TUI), Belfast (Easyjet, Jet2 and TUI), Bristol (Easyjet, Jet2 and TUI), Edinburgh (Easyjet, Jet2 and Ryanair), Birmingham (Jet2, Ryanair and TUI), East Midlands (Jet2, Ryanair and TUI), Glasgow (Jet2 and TUI), Leeds/Breadford (Jet2), Manchester (Jet2, Ryanair and TUI), Newcastle upon Tyne (Jet2 and TUI), Aberdeen (TUI), Cardiff (TUI), Bournemouth (TUI), Exeter (TUI). On the other hand, if you wish to fly into Kos, you can do so from London–Gatwick (British Airways, Easyjet and TUI), London–Heathrow (British Airways), London–Luton (TUI), London–Stansted (Jet2 and Ryanair), Belfast (TUI), Bristol (Easyjet, Jet2 and TUI), Edinburgh (Jet2), Birmingham (Jet2 and TUI), East Midlands (Jet2 and TUI), Glasgow (Easyjet and Jet2), Leeds/Breadford (Jet2), Manchester (Easyjet, Jet2 and TUI), Newcastle upon Tyne (Jet2 and TUI), Cardiff (TUI) and Liverpool (Easyjet).
As an alternative, passengers can also choose to fly to Athens and then get on a domestic flight into any of the Cyclades' main islands. Those flights can be operated by Aegean Airlines, Sky Express or Olympic Air. Another option would be to ditch that second flight and hop on a ferry towards your desired destination. You can find out more information regarding this subject on our Dodecanese travel guide's section about transportation between islands (down below).
Dodecanese Travel Guide – Best time to visit the region
Much like the rest of the country, the Dodecanese are also an extremely seasonal destination, receiving most of its tourists during the Summer months. However, as one can assume by looking at prices and crowds, your wallet will very much appreciate it if you give it a break during the months of July and August, particularly when it comes to Rhodes and Kos
As an alternative, and so that you can still enjoy the islands' beaches and good weather, we suggest booking your visit the shoulder-season, specifically for the period between May-June or September-October.
Dodecanese Travel Guide – Documents needed for your trip
Since Greece is part of the EU, British citizens do not need a visa to visit. You'll just need your passport, which must have been issued within the last 10 years and remain valid for at least 6 months from the date of your trip.
However, keep in mind that starting November 2023, British passengers will need to apply for ETIAS in order to enter any EU country.
Dodecanese Travel Guide – Withdrawals, banking fees and travel budget
With the Euro (€) as Greece's official currency, any withdrawal using a UK bank card might incur in the payment of several different fees. Besides the percentual fee referring to the currency conversion, some UK banks may also charge a flat commission for withdrawals made outside the UK. In some instances, you may well end up paying 5%-6% of your original withdrawal in banking fees.
On the other hand, exchanging money before your trip is not a viable solution either. Besides not being any cheaper, it's also not safe or wise to carry so much money on you during your trip. As such, we recommend using the services of online banking fintech companies such as Revolut, N26 or Monzo.
Although each have their own limitations and fees, they allow you to withdraw a certain amount in foreign currency without any fees involved. And even after that threshold is reached, costs are much smaller when compared to traditional banks. Sign up for Revolut for free >> to get 3 months of Premium.
Dodecanese Travel Guide – Common scams and frauds
Generally speaking, Greece is an extremely safe destination for visitors. Although you may come across a few shady areas in the capital of Athens, that problem pretty much ceases to exist when visiting the Dodecanese, where most economic activities are dependent on tourism to survive and crime has virtually no statistical expression.
We only recommend that you pay special attention to your belongings around crowded areas or at the beach, and never accept a taxi ride where the meter is not working. Here, much like everywhere else in the country, you just need to use your common sense to stay out of trouble. On a side note, never order anything at a restaurant without looking at the menu first, especially around the most touristy areas. Otherwise, you might end up with a very unpleasant surprise once the waiter hands you the bill.
Where to sleep in the Dodecanese – Hotels and Accommodation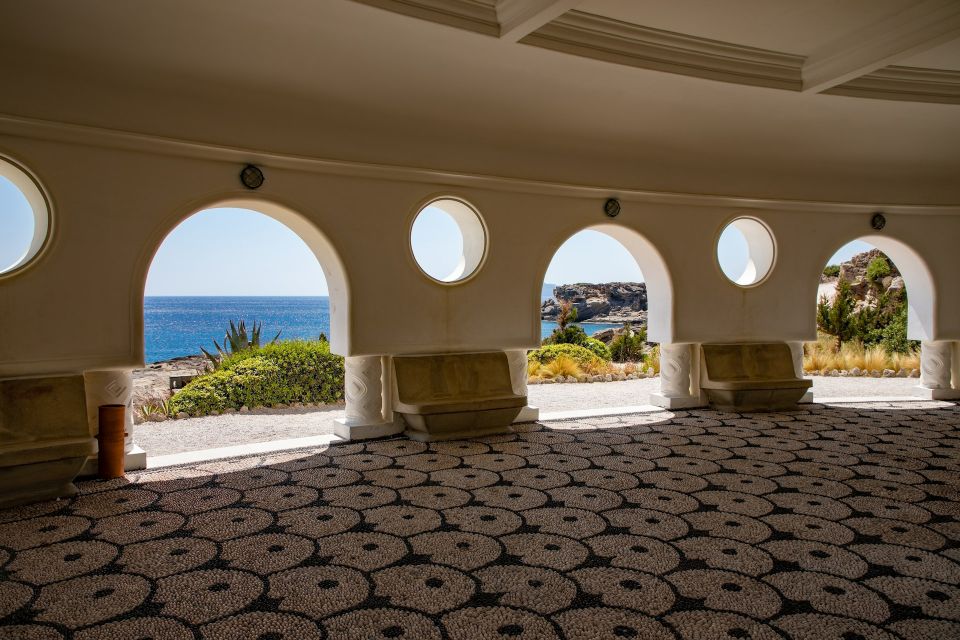 If you're looking out for a place to stay on our Dodecanese travel guide then we got you covered!
Similarly to what already happens in many other Greek regions highly reliant on tourism money to survive, hotel prices also tend to be quite high in the Dodecanese, especially during high season. Nevertheless, and especially for people coming from most places in Western Europe, North America or Scandinavia, tourists may still find the island group to be mildly affordable when compared to what they're used to back at home.
That being said, here are some options based on the cities we recommend you to stay at on our itineraries of the Dodecanese Islands, in Greece:
Dodecanese Travel Guide – Hotels in Rhodes
Dodecanese Travel Guide – Hotels in Karpathos
Dodecanese Travel Guide – Hotels in Chios
Dodecanese Travel Guide – Hotels in Kos
Dodecanese Travel Guide – Using the ferry to move around between islands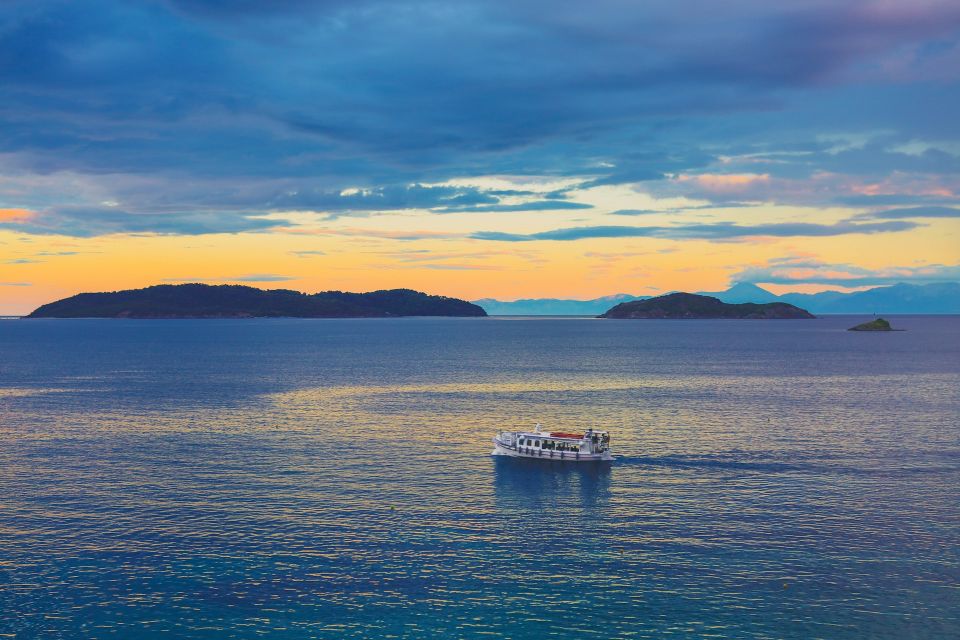 If you're already planning your itinerary along the Dodecanese, then you will necessarily have to figure out the best way to move around between all the different islands. Either way, it's not like you have a lot of options to choose from, as the ferry is by far the best and most popular way to do so.
Fortunately, there are over 20 ferry companies operating all over Greece, with Blue Star, Golden Star, Minoan Lines and Hellenic Seaways standing out as the most popular. However, and so that you don't have to search for a specific route on dozens of websites, you can use the platform FerryHopper, which aggregates the offers of several different local companies. That way, you can easily compare prices and times on the same browser tab.
If you intend to visit all of the main islands across the Dodecanese in a single trip, then this is the itinerary you'll want to look for:
Rhodes – Karpathos: 22,50€, 3h40
Karpathos – Kos: 30,50€, 11h00
Kos – Rhodes: 17,50€, 3h30
The island of Chios has no direct connections to any of the other islands in the group, so you'll always need to have a stopover at the port of Piraeus, in Athens. The ferry journey between Athens and Chios takes about 8h and tickets cost 39€ (one-way).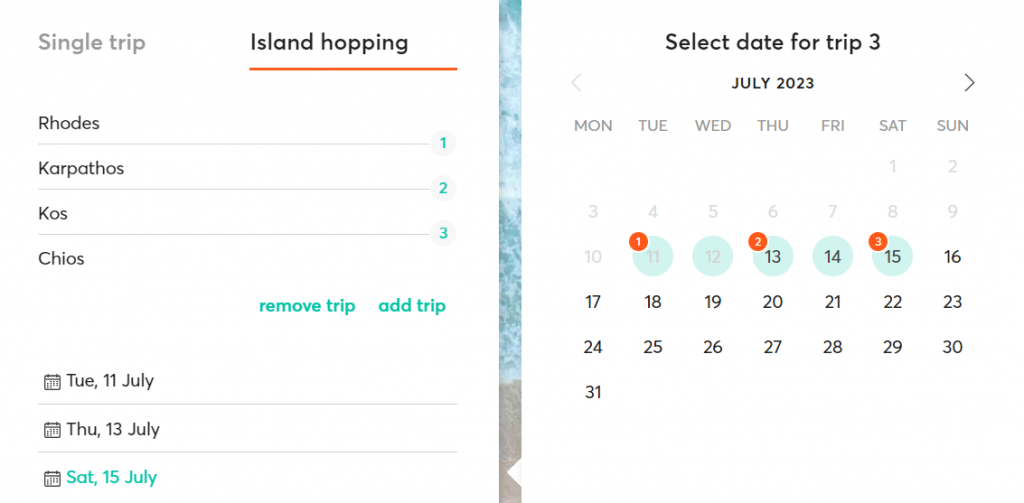 Using the Island Hopper tool from their website, you can plan out all the ferry trips you need to take and then buy all the tickets (up to a maximum of four) using a single purchase.
Dodecanese Travel Guide – Transportation inside each island
Moving around in the Dodecanese Islands – Buses
As stated above, every island (even those without an international airport) is served by a local public bus service. Although there is no integration between the networks of different islands, they all follow the same basic premises.
For example, and regardless of the island, ticket prices range between 2,00€ and 3,50€ depending on distances, and it is quite rare to be able to find buses running after 23h30, even on weekends. Besides, do not expect to find bus stops in the middle of nowhere, as the services' goal is to connect the areas where people actually live across the islands.
Moving around in the Dodecanese Islands – Renting cars, scooters or quads
In every single one of the main Dodecanese islands, you can easily find companies where you can rent different motorized vehicles, such as cars, scooters or quads. However, and before you make up your mind on this solely based on your budget or personal preferences, it's equally important to assess the topography and type of terrain you will find on the island you're visiting, as well as your experience behind the wheel.
When looking at islands where the most popular areas are simultaneously the ones where roads have the most inclination, renting a quad or a scooter with low engine capacity might not be the way to go, since you probably won't be able to complete the steepest roads. We should also mention that, in case you have no experience driving scooters, Greece is definitely NOT the place where you want to figure things out. Roads are narrow, visibility isn't always the best and Greek drivers are famous for being downright reckless behind the wheel.
Plus, keep in mind it is mandatory to have a motorcycle license in order to drive any scooter over 50cc. In case you think you'd still be comfortable driving such a limited vehicle, we remind you that you will definitely struggle while trying to drive a 50cc scooter through some of these steep roads. As for quads, a regular license is enough.
That being said, if you wish to rent a scooter or a quad in the Dodecanese, you can check these local companies:
As for cars, you can browse for prices and availability on Rentalcars.com!
What to eat in the Dodecanese Islands, Greece – Local staples and culinary delights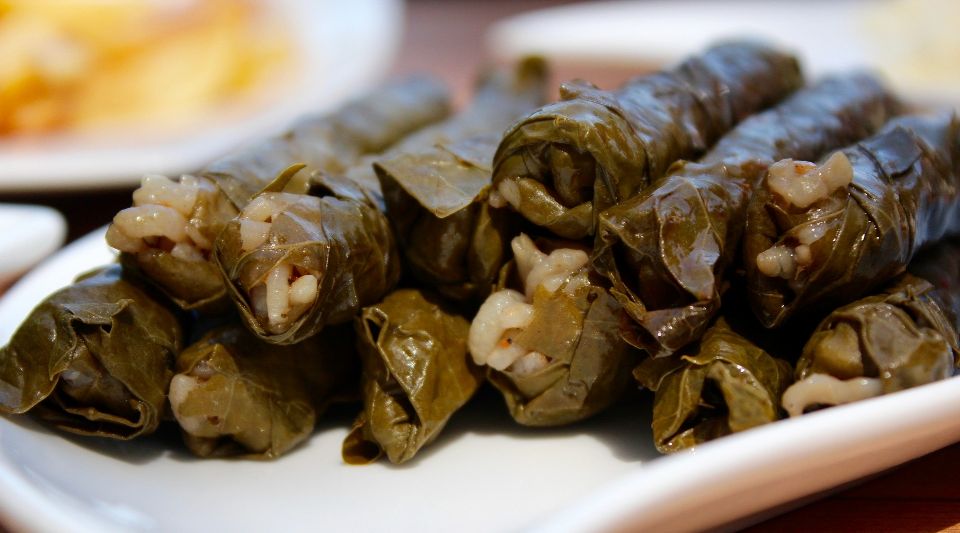 Considering just how close the Dodecanese Islands are to the territory of Turkey, as well as the unbelievable multitude of republics and empires that have taken over the islands throughout history, it's far from surprising that food at the Dodecanese has suffered a stronger foreign influence when compared to the rest of Greece. That doesn't mean that you won't find your fair share of Moussaka, Souvlaki, Gyros or Taramasalata, but tradition here is still quite different.
For something truly local, you'll have to try out Lacan, probably Rhodes' most symbolic dish. A stew of goat meat, chickpea, tomato and spices, this is a delicacy that takes a full day to prepare, which is why is mostly reserved for special events and occasions. For something way easier but just as equally satisfying, don't forget to eat as many Pitaroudias as you can, as this cross-over between a meatball and a fritter – made with chickpea and mint – is nothing short of delicious! Also in Rhodes, and as off-putting as this may sound to some, snails are part of the menu as well, usually cooked in a stew with tomato and cumin powder. As a last piece of advice, do not comeback until you try Giaprakia, a mixture of rice and minced meat, all wrapped up in grape leaves. Besides being surprisingly tasty, these stand as a perfect sample of what we mentioned in the first paragraph. After all, it is possible to find extremely similar (if not the exact same) dishes in countries such as Turkey, Armenia, Iran, Syria, Romania or Palestine – usually under the designation of "Dolma".
When it comes to desserts and sweets, and although this isn't really the Dodecanese's strong suit, it is still worth trying melekouni, soft bars made with sesame seeds and honey; and mantinades, soft pieces of fried dough drizzled with honey and rose water and toppled with almonds.
Dodecanese Travel Guide – Hidden Treasures
So that you can get a chance to do a little more than just scratching the surface, we have compiled a list of lesser-known places in the Dodecanese that are just equally as impressive as the main sights. Here are a few hidden gems you cannot miss:
Yeni Hammam – Rhodes
Filerimos Hill – Rhodes
The Seven Springs – Rhodes
Limni Beach – Rhodes
Cave of Saint Luke – Karpathos
Agios Minas Beach – Karpathos
Pyli Byzantine Castle – Kos
Kos Vineyards – Kos
Pyrgi – Chios
Lovokomeio Leper Colony- Chios
Dodecanese Islands Travel Itineraries – Rhodes, Kos, Chios and Karpathos
So that reading and consulting this guide can remain as user-friendly as possible, we have created four different posts, one for each of the main islands' itineraries.
You can move on and read them through the links below: