Best things to see and do in Kefalonia in 3 days. Discover the island's most famous landmarks and tourist hotspots – like Argostoli, Fiskardo or Assos – in our Kefalonia 3-day itinerary!
This Kefalonia 3-day itinerary is a part of our broader Ionian Islands travel guide. We recommend you check it out for the best travel tips and the most accurate information about the archipelago, regarding transportation, hotels and restaurants for the islands of Corfu, Lefkada, Kefalonia and Zakynthos.
Kefalonia 3-Day Itinerary – What to see and do in 72 hours
Much like Zakynthos, Kefalonia was also largely devastated by the 1953 earthquake, with pretty much all of its historic quarters reduced to rubble. Still, the island knew how to turn things on its head and establish itself as one of the most popular and important tourist hotpots of the Ionian Islands. Obviously, it doesn't hurt to have pristine beaches and dramatic landscapes contributing towards that effort, as Kefalonia is one of the very few places in the region where you can complete a hiking trail at an altitude of 1500 meters in the morning and soak in turquoise water in the afternoon.
That being said, if you're on your way to Greece and looking for what to see and do in Kefalonia in 3 days, we leave you with a detailed Kefalonia 3-day itinerary, complete with all the tourist landmarks and points of interest you don't want to miss.
Bus between Kefalonia Airport and Argostoli
Before properly introducing you to our Kefalonia 3-day itinerary, it's important to know what to do right after landing. As expected, using the bus is the cheapest way to reach civilization upon touching ground at the airport, with a local vehicle taking you to Argostoli. If you're not staying at the capital, you may then change vehicles to anywhere else in the island.
The buses depart from the main road located on the left side of the arrivals' terminal, and a single ticket will cost you 2,00€. As for running times, buses operate daily between 09h00 and 22h00, with a new vehicle leaving every 90 minutes to 2 hours, depending on the time of day. The total distance between the airport and Argostoli is about 8km, with the trip taking about 20 to 30 minutes, depending on traffic conditions.
Once again, and though it might be infinitely easier, using a taxi is a lot more expensive as well. In order to take the same 30-minute trip to Argostoli, your taxi fare will be around 20€-30€.
Kefalonia 3-Day Itinerary – Day 1: From the Coast of Argostoli to the Peak of Mount Ainos
Fresh off the boat in Kefalonia, your first day will be split between the island's capital and its highest peak. Without further ado, you'll kick things off with a gentle stroll through Argostoli, a relatively modern town whose architectural past was widely eradicated after the 1953 earthquake. Be that as it may, it's still worth exploring a few of its highlights, such as the Saint Theodore Lighthouse, the Archaeological Museum of Kefalonia (3€) or the Debosset Bridge where you can snap the capital's postcard picture. About 5km outside of the capital, we also recommend visiting the Castle of Agios Georgios, an ancient Venetian fortress built on the top of a hill.
Afterwards, you'll stop briefly at the Monastery of Agios Gerasimos, a pretty church where the island's patron saint was laid to rest, before starting your ascension to the top of Mount Ainos, the highest point in Kefalonia, 1500 meters above sea level. There are several mountain trails to choose from, though the most famous connects the small village of Gigaleto to Megas Soros, the official peak of Mount Ainos. This specific trail has a length of 6.5 km and takes about 4h30 hours to complete.
First day wrap-up:
Argostoli
Saint Theodore Lighthouse
Archaeological Museum of Argostoli
Debosset Bridge
Castle of Agios Georgios
Monastery of Agios Gerasimos
Mount Ainos
Cheap restaurant suggestions in Argostoli:
Kefalonia 3-Day Itinerary – Day 2: A Shadow of the Old Kefalonia
Yet another day, yet another journey! Today, it's time to discover what little remained after the infamous earthquake. Though definitely small and scattered all over the island, the glimpses of pre-1953 Kefalonia are nothing short of impressive, with the adorable town of Fiskardo standing out. Located up north, Fiskardo was one of the very few settlements that actually survived the catastrophe, keeping its 300-year-old Venetian architecture. As a result, it's usually dubbed as the most beautiful town in Kefalonia. Though not quite on pair, it's also worth paying a visit to the lovely village of Assos, a few kilometers down south. Located on a small natural cove, we recommend going up to the local castle to enjoy the views and the village's extremely picturesque setting.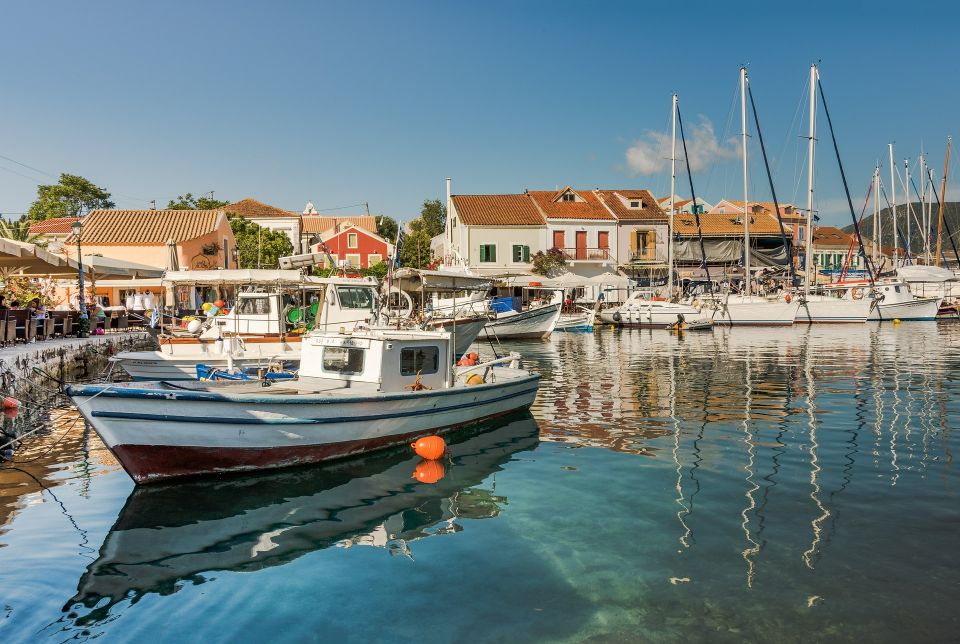 Now that the cultural segment is taken care of, you're finally able to dip your toes in one of the many beaches along Kefalonia's shoreline! Therefore, in the afternoon, you'll be paying a visit to two of the island's most idyllic beaches, starting with Myrtos Beach, arguably the most famous in Kefalonia. Surrounded by the signature halfmoon-shaped Ionian limestone cliffs, it's the kind of place you may expect to find on any travel agency's honeymoon galore. Gorgeous, pristine, wide – what else can you ask for? Fortunately, the following beach on your itinerary is no less impressive, as Petani Beach seems to enjoy rave reviews from most beachgoers.
Second day wrap-up:
Fiskardo
Assos
Myrtos Beach
Petani Beach
Cheap restaurant suggestions in Fiskardo and Assos:
Kefalonia 3-Day Itinerary – Day 3: Sami and the Caves of Kefalonia
Lastly, your final day in Kefalonia will be spent exploring the island's eastern coast, discovering its two most famous caves along the way. And speaking of the devil, your first stop will take place precisely at the Drogarati Cave (4€), a natural underground complex of tunnels and chambers, allowing visitors to explore 900 meters below ground level. Some of its rock formations are so perfect that seem to have been sculpted by humans! For a completely different experience, you also recommend visiting the Melissani Cave (7€), a water cavern, flooded by a lake, whose only access is through a row boat.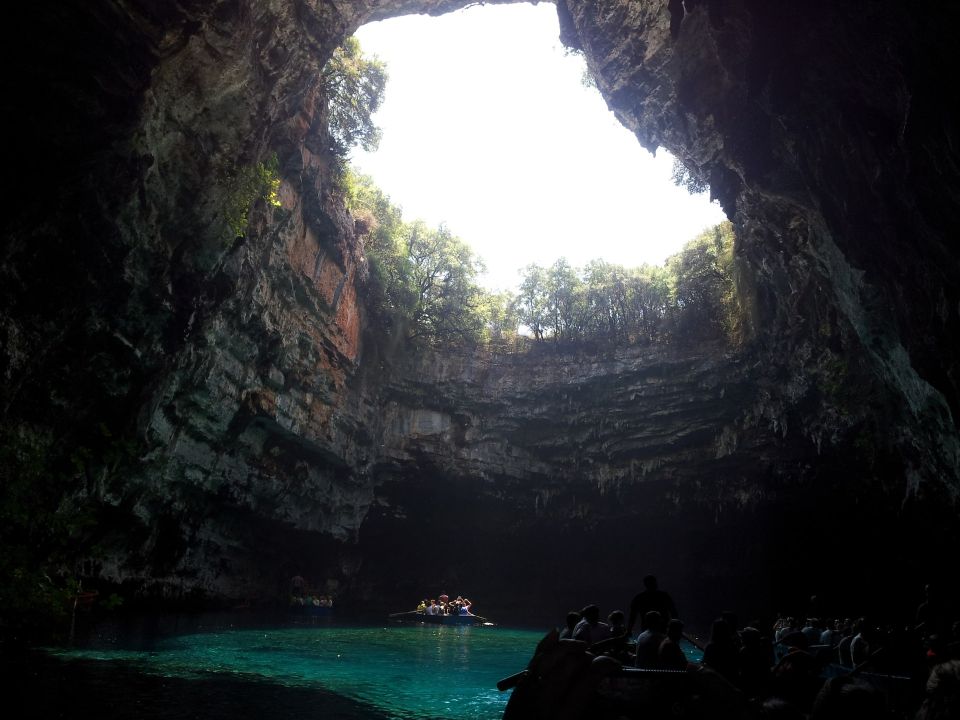 Afterwards, it's time to head to Sami, the main village in this region. Once there, you can explore the ruins of an ancient city founded by the Hellenic civilization. Just climb the hill leading to the Acropolis of Sami and soon you'll find yourself wandering among the remains of this old settlement. After a well-deserved lunch break and a refreshing dip at the Antisamos Beach, you'll hop on a ferry at the Port of Sami and explore the neighboring island of Ithaca. Though it may not look like much at first sight, Ithaca is actually filled with cool hiking trails and ruins of old monasteries. If you wish to, you may also rent a boat and explore freely around its coastline. Either way, just make sure to find the perfect spot to watch the sun setting over Kefalonia, illuminating its escarpments and rock faces in a glorious shade of orange.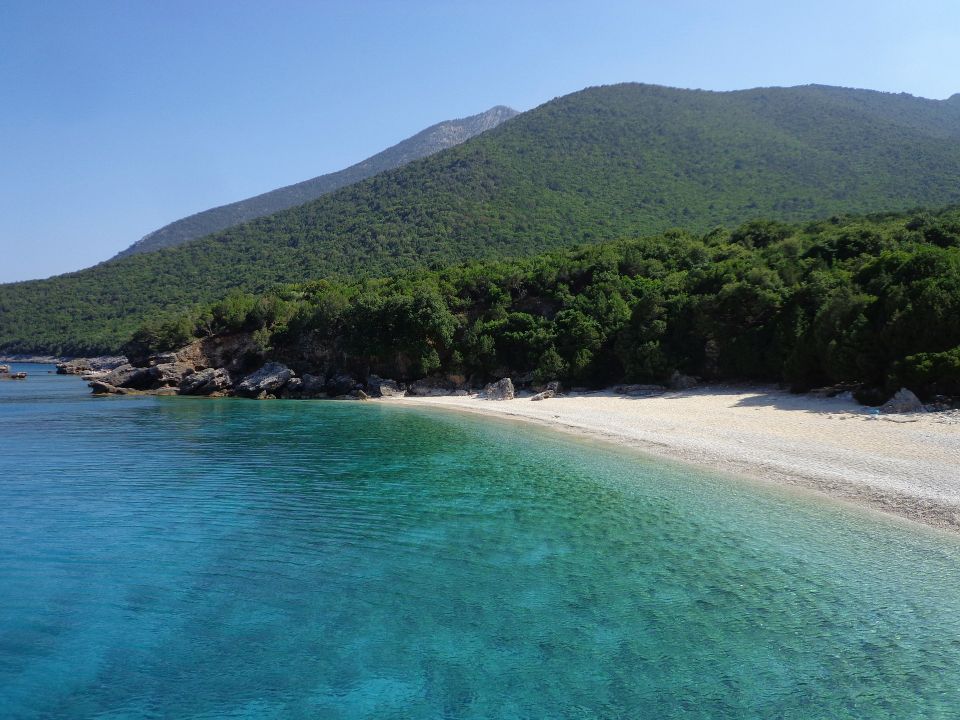 Third day wrap-up:
Drogarati Cave
Melissani Cave
Acropolis of Sami
Antisamos Beach
Ithaca
Cheap restaurant suggestions in Sami and Ithaca: