This Tenerife 7-day itinerary is a part of our broader travel guide for the island. We recommend you check it out for the best travel tips and the most accurate information on transportation, hotels, restaurants and best beaches in Tenerife.
Tenerife 4-Day Itinerary – Where to go in 4 days
If you find yourself exploring the stunning island of Tenerife but have a limited vacation time, worry not – we're here to assist you! Naturally, with just 4 days in hand, you'll need to be a bit selective when it comes to places to visit and activities to experience. Nevertheless, even within this shorter timeframe, you can still soak up the best of what Tenerife has to offer, from its pristine beaches to its historic villages and captivating volcanic landscapes.
So, without further ado, let us introduce you to the cities, beaches and attractions that you should visit on our Tenerife 4-day itinerary:
Tenerife 4-Day Itinerary – Day 1: San Cristobal de La Laguna
Since time is limited and Santa Cruz de Tenerife is far from being the prettiest or most interesting city on the island, you'll leave capital behind as soon as you land and take the short journey to San Cristobal de La Laguna, hailed as one of Tenerife's most captivating cities and the island's very first settlement. As you step into its UNESCO-designated historic center, adorned with vibrant colors, charming pedestrian squares and exotic trees, you can't help but conjure up images of a typical Latin American colonial village. Along your path, you'll encounter architectural wonders like the Abbey of San Benito, the awe-inspiring Church of La Concepción or the magnificent Cathedral of San Cristobal de La Laguna, the city's most important church. As you make your way to the delightful Plaza del Adelantado, you'll stumble upon other noteworthy attractions, including the Town Hall, the charming Ermita of San Miguel Church and the majestic Nava Palace. For an unforgettable farewell, ascend to the panoramic San Roque Viewpoint, where a breathtaking vista awaits.
After lunch, it's time to hit the road and venture into the spectacular Anaga Rural Park, a breathing ecosystem of stunning trails and mesmerizing viewpoints along the island's northeastern coastline. Amidst the dense forest and towering mountain peaks, you'll stumble upon secluded and wild beaches such as Benijo Beach, a remote and picturesque black stretch of sand nestled between high-rising cliffs.
First day wrap-up:
San Cristobal de La Laguna
Abbey of San Benito
Church of la Concepción
Cathedral of San Cristobal de La Laguna
Plaza del Adelantado
Town Hall
Ermita San Miguel Church
Nava Palace
San Roque Viewpoint
Anaga Rural Park
Benijo Beach
Cheap restaurant suggestions in La Laguna:
Tenerife 4-Day Itinerary – Day 2: Teide National Park
Immersed in a landscape that looks straight out of a sci-fi blockbuster, the Teide National Park is an absolute gem that should not be missed on your Tenerife 4-day itinerary. Prepare to be awestruck as you gaze the magnificent Teide Volcano, considered the third-largest volcano in the planet.
Nature enthusiasts will find themselves spoiled for choice when it comes to hikes and viewpoints, so being selective is a must when visiting the park. As such, we recommend starting with a ride along the Mount Teide Cable Car (40,00€ round-trip; 22,00€ one-way), the only mode of transportation that will get you to the very summit of this famous volcano. As one would expect – you can't beat the view! Once you descend back to the base of the volcano, set out on the Sendero Roques de Garcia trail, find the popular "Queen's Shoe" rock formation and make your way up the awe-inspiring Boca Tauce Viewpoint.
Second day wrap-up:
Teide National Park
Teide Volcano
Mount Teide Cable Car
Sendero Roques de Garcia
Queen's Shoe
Boca Tauce Viewpoint
Tenerife 4-Day Itinerary – Day 3: Costa Adeje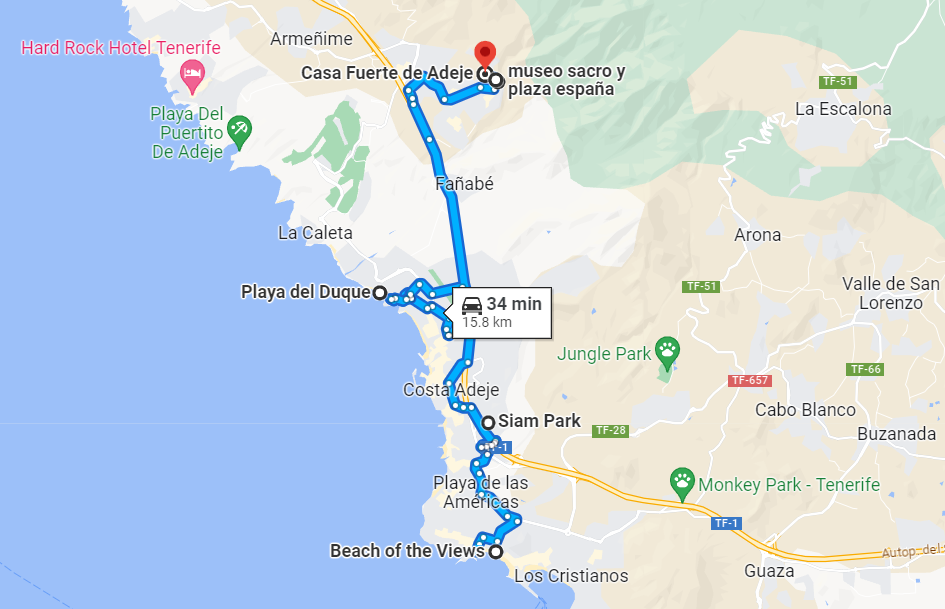 On the third day of our adventure in Tenerife, it's time to switch gears and embrace a day of relaxation at the beach. We headed to the vibrant and idyllic Costa Adeje, known for its stunning beaches that rank among the island's very best. Our first stop is the lively Las Vistas Beach, located in Los Cristianos. Buzzing with activity, the beach offers a vibrant promenade and all the amenities one could need for a perfect day. Furthermore, the sea here is considerably shallow, making it perfect for swimming and allowing children to feel more at ease. And speaking of the little ones, a visit to the renowned Siam Park (42,00€ for adults; 30,00€ for children) is a must, as this is considered one of the best water parks in Europe.
After an exhilarating time at the park, you'll want to chill out and visit yet another beautiful stretch of sand. Enter Duque Beach, which is surrounded by some of the most luxurious hotels in all of Tenerife, making it an extremely popular and exclusive spot in the Costa Adeje region. As expected of such a place, the beach is clean and well-maintained. Once you feel like you've had plenty of R&R for the day, venture into the heart of the town of Adeje, exploring its quaint center. While you're at it, discover the delightful Plaza de España, the elegant Church of Santa Ursula and the historic Adeje Fort House, a fascinating reminder of the island's past, originally constructed to protect against invaders and pirates.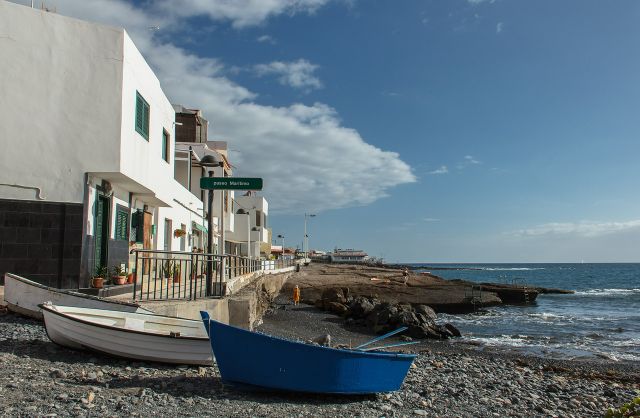 Third day wrap-up:
Costa Adeje
Las Vistas Beach
Siam Park
Duque Beach
Adeje
Plaza de España
Church of Saint Ursula
Adeje Fort House
Cheap restaurant suggestions in Costa Adeje:
Tenerife 4-Day Itinerary – Day 4: Garachico, Puerto de la Cruz and Orotava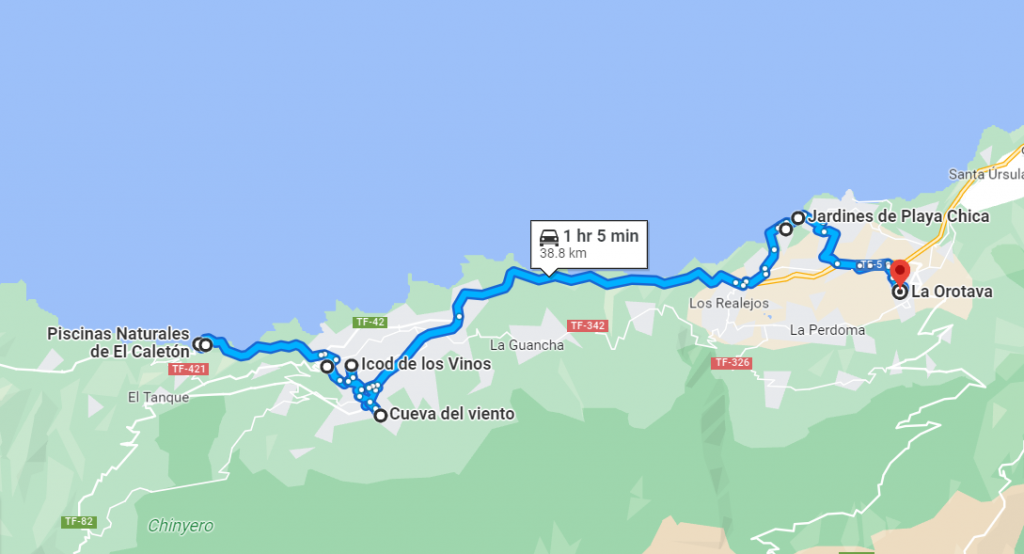 On your final day in Tenerife, it's time to explore the captivating northern coast, visiting charming towns that stretch from the island's northwest tip to the city of Puerto de la Cruz, where your journey will come to an end. Without further ado, your first destination is Garachico, a place that once held great importance in the Canary Islands. Despite losing its economic prominence due to a violent eruption, Garachico has emerged as a popular tourist spot, thanks to its colonial architecture and scenic viewpoints scattered across the village's elevated terrain. Beside visiting Plaza de la Liberdad, the Convent of San Francisco and the San Miguel Fortress, don't leave town without taking a dip at the Salt Pools of Garachico, a series of natural pools formed within volcanic craters. Afterwards, hop back on the road and make your way to Icod de los Vinos, another picturesque village, known for housing Tenerife's most famous tree. Nestled inside the Drago Park (5,00€), the local dragon tree is the oldest of its kind in the Canary Islands and is surrounded by a delightful botanical garden. While in the vicinity, we highly recommend a visit to the awe-inspiring natural wonder known as Cueva del Viento (20,00€).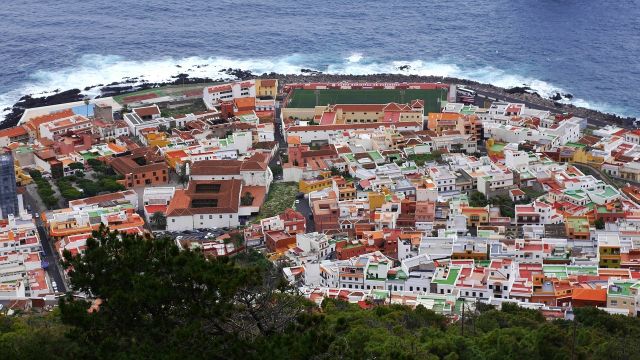 Please note that exploring this extensive lava tube and its intriguing underground passages requires booking a guided tour in advance through their online platform. If you're traveling with children, you may want to save this experience for another time and head straight to Puerto de la Cruz, where a delightful surprise awaits the little ones at Loro Park (42,00€ for adults; 30,00€ for children). However, don't be fooled into thinking this is just a kid's attraction – Loro Park has earned the prestigious title of the world's best twice, according to the renowned TripAdvisor platform! As a tip, if you plan on visiting both Siam Park and Loro Park, consider purchasing a combined ticket for 74,00€ per adult (10€ discount) and 53,00€ per child (7€ discount). Before bidding farewell to the island's stunning beaches, make sure to visit Jardín Beach. Surrounded by a collection of botanical and tropical gardens designed by Cesar Manrique, you can take a stroll through the green area and enjoy great views of Mount Teide in between dips. Finally, as the sun begins to set, embark on a short journey to the village of Orotava, renowned for its vibrant art galleries, colorful colonial houses and numerous balconies with unobstructed views of the bright-blue sea. Find a cozy spot on one of these balconies and let the captivating sunset serve as a fitting backdrop for your farewell.
Fourth day wrap-up:
Garachico
Plaza de la Liberdad
Convent of San Francisco
San Miguel Fortress
Salt Pools of Garachico
Icod de los Vinos
Drago Park
Loro Park
Jardín Beach
Orotava
Cheap restaurant suggestions in Garachico, Puerto de la Cruz and Orotava: