Known as one of the most vibrant cities in the world, Barcelona's reputation precedes it. It's a place where you can enjoy the beach, a great atmosphere and vibrant nightlife, without having to pull any punches on the cultural side of things. From outstanding museums to awe-inspiring cathedrals and distinctive architectural wonders, Barcelona's cultural diversity sets it apart from anywhere else in Europe.
Barcelona is, above all else, an extremely versatile destination, capable of catering to different demographics. However, this popularity has come at a cost, with prices soaring over the past few years, making it a challenge for both visitors and residents to manage their budgets.
That being said, if you find yourself exploring the inebriating streets of the "Ciudad Condal", we're here to lend a helping hand and provide you with 10 amazing free things to do in Barcelona. This diverse selection of attractions, landmarks and activities includes strolling through vibrant street markets, discovering historic neighborhoods and unwinding in beautiful ancient gardens. Time to enjoy Barcelona!
10 free things to do in Barcelona
Attend a service at Sagrada Familia
First and foremost, let's make something clear: visiting the Sagrada Família is far from being a free activity, as standard ticket prices can reach a whopping 26,00€! That's quite a hefty price to pay, even if we're talking about the top attraction in all of Barcelona.
However, here's a nifty little trick for those who still want to experience this iconic place without breaking the bank. Every Sunday morning, at 09h00, a mass is held at the cathedral and everyone can walk in and attend it for free! If you wish to take advantage of this opportunity, make sure you arrive about an hour in advance to secure your spot.
Now, bear in mind that this isn't a typical tourist visit, so you won't have the freedom to wander around and snap 1358 pictures of every nook and cranny of the Sagrada Familia. Nevertheless, if getting a glimpse of its interior is a must for you, this is by far the cheapest option on the menu.
Montjuic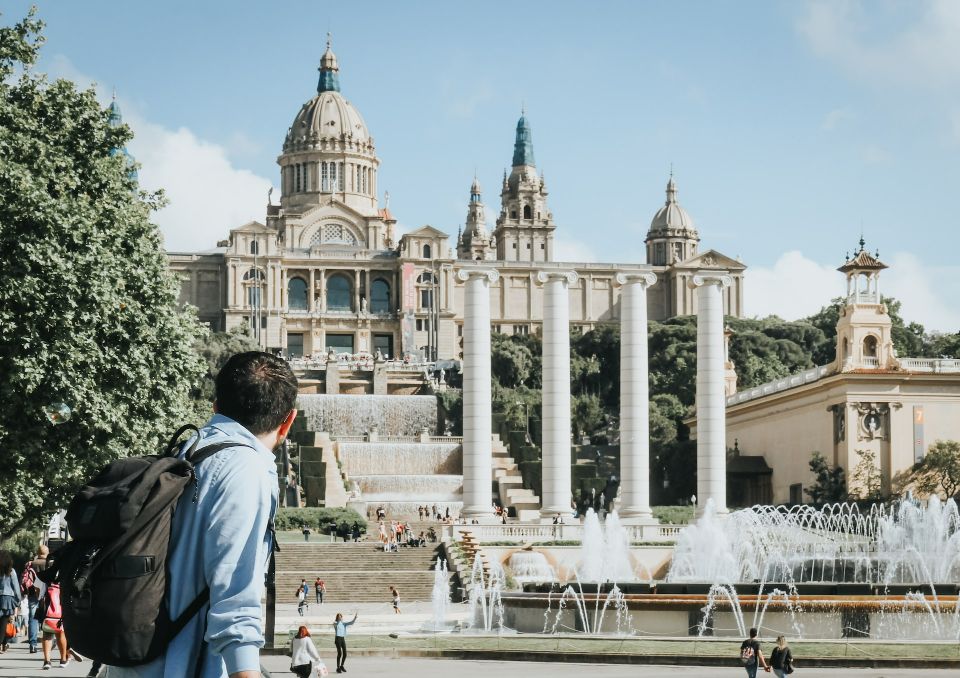 Known as the city's old fortress and the preferred spot where locals used to establish their defensive structures, the hill of Montjuic has evolved into one of Barcelona's most beloved tourist hotspots. A much-welcomed respite from the bustling city center.
While there's a paid cable car that can take you all the way to the hilltop, a pleasant stroll up the monumental staircase leading to the Palau Nacional will do the trick. Along the way, you can pause and just indulge in one of the most breathtaking views of Barcelona. Once you've reached the summit, delve into the array of attractions Montjuic has to offer, including the Castle, the Botanical Garden (both free on Sundays after 15h00) and the Olympic Park.
As you make your way back, take the opportunity to watch the sunset from atop the staircase. Afterwards, head over to Carles Buigas Square, where the next item on our list of free things to do in Barcelona awaits your arrival.
Magic Fountain
Even though its age – originally built for the 1929 EXPO – doesn't allow it to compete with its extravagant counterparts of Dubai, Seoul or Las Vegas, the Magic Fountain is undoubtedly one of the world's most famous dancing water shows. Located right at the bottom of the staircase leading up to Montjuic hill, it's the perfect spot to wrap-up your day.
The show times depend on the seasons, so it's always a good idea to check the schedule online to avoid any unpleasant surprises. When the fountain is operational, each spectacle of synchronized music, enchanting lights and dancing water jets lasts around 15 minutes, usually featuring two different performances each night.
While you're in the area, we also recommend checking out Plaza de España to admire its magnificent Venetian Towers, which drew inspiration from Venice's iconic St. Mark's Campanile.
Park Güell
Just like the Sagrada Familia, Park Güell is also one of the most popular paid attractions in Barcelona. However, there's not where the resemblances stop, and similarly to our previous example, there is a way to enjoy Park Güell without spending a single dime.
First and foremost, it's worth noting that the majority of Park Güell is already free to explore, apart from the so-called "Monumental Zone". This is the juiciest section, where you'll find the stunning works of Gaudí, and it does require a ticket for entry. However, if you're up for the challenge of visiting the Monumental Zone for free, there are two time slots (07h00 to 09h30 and 18h00 to 22h00) when admission is exclusive for locals… and it's totally free! While technically you would need to prove you're a resident, there have been reports suggesting there is close to no control upon entry. Nevertheless, even if you don't manage to access that specific area, the rest of Park Güell is still a must!
Other free green areas in Barcelona also deserving a visit include the Parc del Laberint d'Horta and, most importantly, the Parc de la Ciutadella, where you can find the Cascada (Waterfall) and the iconic Arc de Triomf.
Gothic Quarter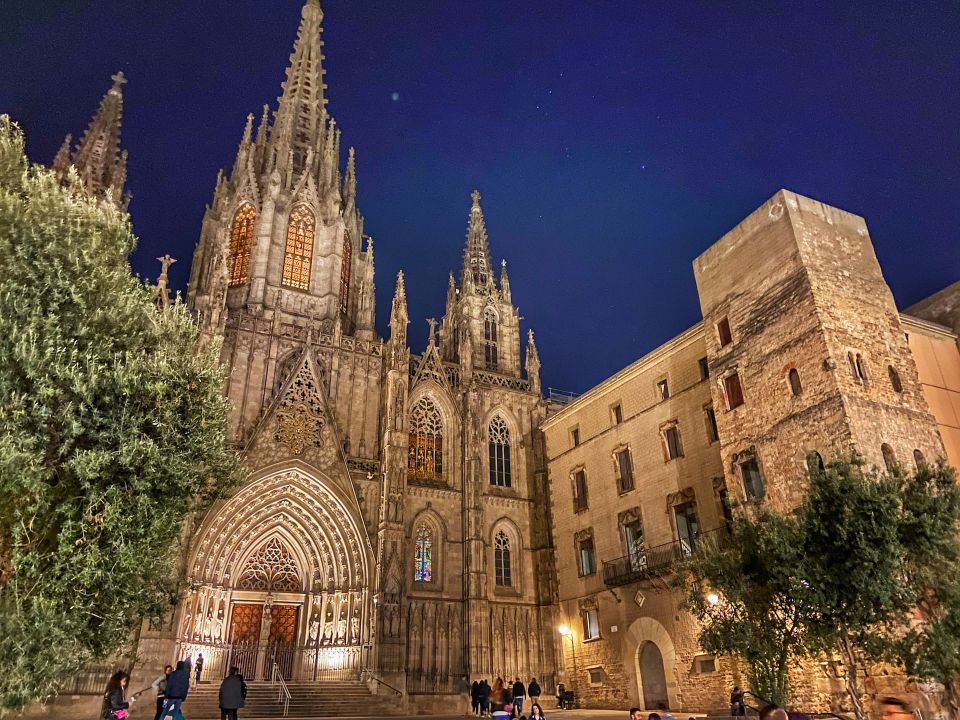 Considered the true historic center of Barcelona, the Gothic Quarter is the city's oldest neighborhood, famed for its maze of narrow winding streets, ancient walls and medieval architecture. Definitely a place with a a unique atmosphere that sets it apart from the modernism Barcelona is so well-known for.
Amidst back alleys and pedestrian squares, there is plenty to see and do in the Gothic Quarter! Don't miss the sights such as Plaça del Rei, Plaça Reial, the Cathedral of Santa Eulalia (just like the Sagrada Familia, you can visit for free during Mass), and the enchanting Basilica of Santa Maria del Pi. While you're at it, make sure to wander through the former Jewish quarter and discover its rich heritage, including the impressive Major Synagogue, the intriguing ruins of the Temple of Augustus and the iconic Pont del Bisbe, probably the Gothic Quarter's most photographed element.
Curiously, much of what you see today was reconstructed during the first half of the 20th century, helping transform the once unsafe and gloomy area into one of Barcelona's most vibrant and popular tourist destinations.
La Rambla
From one tourist hotspot to another, the avenue of La Rambla remains the city's beating heart. Encapsulating both the best and worst of Barcelona, everything about the city can be found along this thoroughfare's 1200 meters.
On one hand, you'll find a sample of all the amazing little things that make Barcelona such a great destination, such as the grandeur of Catalunya Square, the artistic mosaic of Pla de l'Os by Joan Miró, or the majestic architecture of the Gran Teatre del Liceu. However, none can compare to the vibrant Mercat de la Boqueria, the most iconic and popular market in Barcelona, drawing in crowds of locals and tourists alike.
And yet, like any bustling city, La Rambla also has its challenges, serving as a major hub for pickpockets and various scam artists who target the numerous visitors who flock here. However, with a little extra vigilance and caution, this is still an essential destination to explore in Barcelona.
Visit a free museum
As a city with such a rich cultural landscape, Barcelona is home to some of the finest museums in Europe. It comes as no surprise that while many of these museums charge admission fees, they also offer free entry on designated days each month.
Much like in Madrid, Barcelona seems to have an unofficial tradition of granting free access to museums on the first Sunday of every month. This practice extends to several renowned institutions, including:
Picasso Museum (also free on Thursdays from 16h00 to 19h00)
Palau Güell
Barcelona City History Museum (also free during other Sundays starting at 15h00)
MNAC (also free during other Sundays between 10h00 and 15h00)
Centre for Contemporary Art Barcelona (also during other Sundays starting at 15h00)
Santa Maria de Pedralbes Monastery (also free during other Sundays starting at 15h00)
Bunkers del Carmel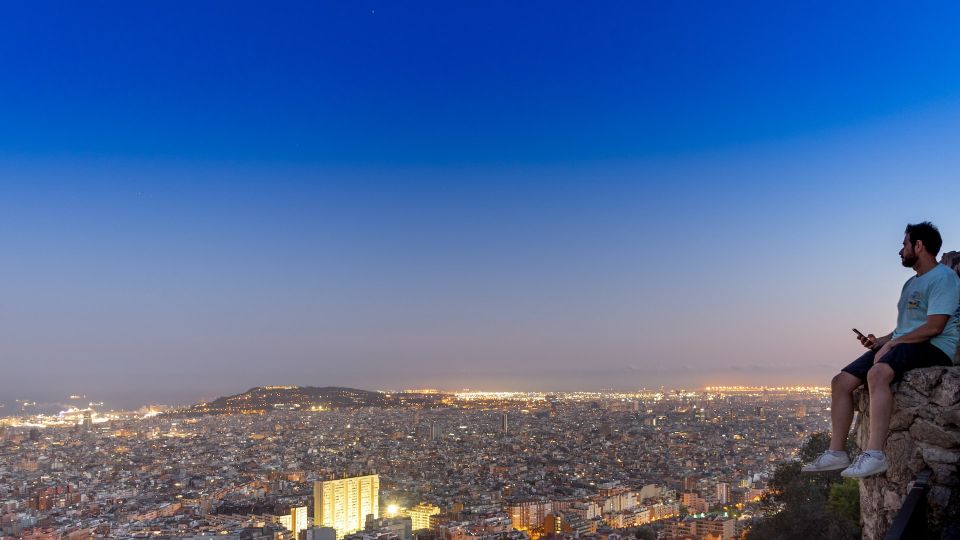 Just like Montjuïc and the Tibidabo mountains, the Bunkers del Carmel also deserve a spot on the exclusive list of the best places to witness Barcelona's breathtaking sunsets. Located at the top of a hill known as Turó de la Rovira, this viewpoint has recently gained recognition after years of being hidden away as one of the city's best-kept secrets.
Despite its name, the truth is that no actual bunkers were ever built on this hill. Instead, it served as HQ for the Republican faction during the Spanish Civil War, playing a crucial role in the anti-Franco resistance. The structures that today are commonly referred to as "bunkers" were actually anti-aircraft defense facilities.
Miscommunications aside, what remains is one of Barcelona's most spectacular viewpoints, offering awe-inspiring panoramic vistas of the entire city.
Barceloneta Beach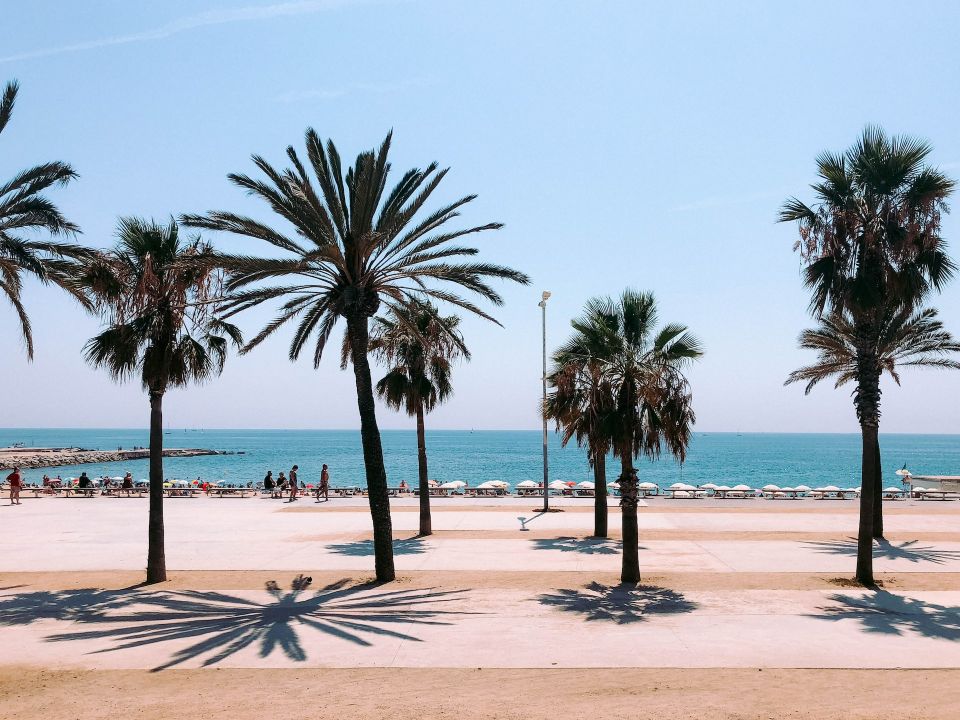 Considering the vast stretch of coastline that embraces the entire city of Barcelona, it's only natural that one of its many beaches would find its way onto this article. After all, strolling along the promenade and taking a refreshing dip in the Mediterranean waters is a beloved activity for a significant number of visitors who flock to the Catalonia's capital.
While we mentioned the iconic Barceloneta Beach, it's important to note that any other beach in the city would be a worthy contender. It's all about exploring the vibrant waterfront, testing the waters (literally) and taking in the lively and inebriating atmosphere this giant metropolis is so well-known for.
If you wish to discover other equally enticing beaches, you can consider Llevant, Bogatell or even Mar Bella, the latter of which underwent a complete renovation for the 1992 Olympics and boasts a dedicated nudist section.
El Born CCM
And so we cap off our list of the best free things to do in Barcelona with the Center for Culture and Memory (CCM) of El Born. Still flying under most tourists' radars, this hidden gem is a relatively recent addition to Barcelona's cultural landscape, having been inaugurated in 2013.
Housed inside the historic building of the former El Born market, the CCM provides a fascinating opportunity to step back in time and experience 18th century Barcelona. The building itself is a standing masterpiece of Catalan modernism, having undergone extensive restoration following years of neglect. It was precisely during these renovation works that the ancient ruins were accidentally discovered, leading up to the creation of a pretty unique museum/exhibition.
Nowadays, the CCM offers a captivating journey through the city's history, standing as the only place where you can watch the seamless blend between ruins from the Middle Ages and the vanguardist style we all came to expect from Barcelona.