This Malta 3-day itinerary is a part of our broader travel guide for the country. We recommend you check it out for the best travel tips and the most accurate information on transportation, hotels, restaurants and best beaches in Malta.
Malta 3-Day Itinerary – Best Places to Visit on a Weekend Getaway
With a long weekend approaching and your trip to Malta all booked-up, it's time for us to lend a hand! While it's true that three days might only give you a small taste of what this amazing country has in store, it doesn't mean you can't soak up its top tourist spots and have a fabulous getaway in one of the sunniest destinations in Europe! And hey, at least you'll have a great excuse to plan another visit in the near future.
Fim-de-semana prolongado à porta e tens viagem marcada para Malta? Então nada temas – estamos aqui para ajudar! Sendo verdade que com apenas 3 dias poderás apenas ter um vislumbre do que este fantástico país tem para oferecer, isso não significa que não possas, pelo menos, desfrutar dos seus principais pontos turísticos e fazer uma escapadinha fabulosa numa das nações mais solarengas do Velho Continente! Para além disso, fica a excelente desculpa para regressar em breve.
So, without further ado, let us introduce you to the cities, beaches and attractions that you should visit on our Malta 3-day itinerary:
Malta 3-Day Itinerary – Day 1: La Valletta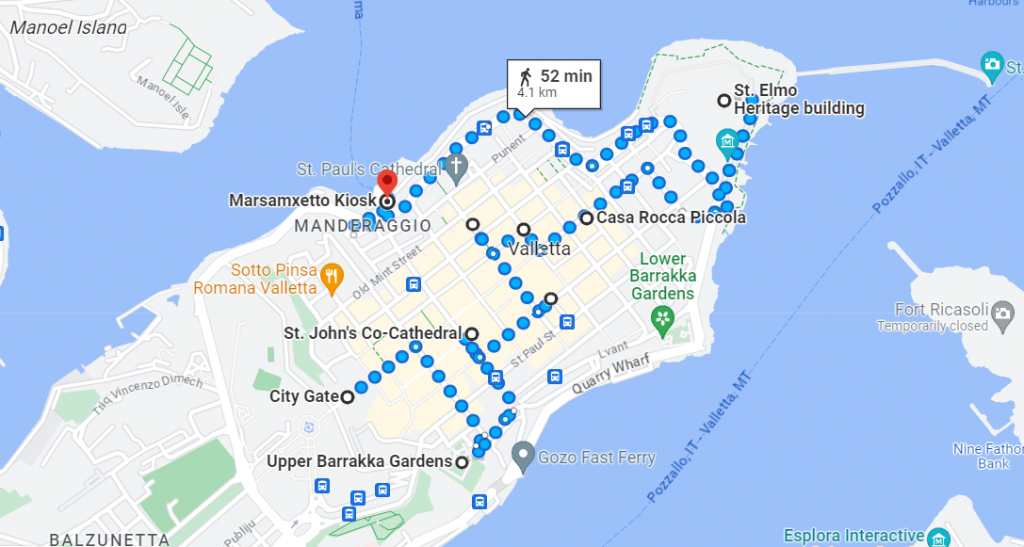 Fresh off the plane for your Maltese adventure, we'll kick things off at the insanely beautiful city of La Valletta, the country's capital. Although it may resemble more of a bustling village (in Malta, everything seems to be pocket-sized) than a nation's biggest city, there is so much to discover and experience here, as Valletta stands as the historical and cultural heart of an island steeped in ancient history. As you step into Valletta through the City Gate, a symbolic entrance where the original gate once stood, prepare to be amazed by the breathtaking Barrakka Gardens, home to best panoramic view of the capital, overlooking the Grand Harbour and the so-called "Three Cities". While enjoying the gardens, we highly recommend a visit to the Lascaris War Rooms (14,00€), an underground complex that served as HQ for the island's defense during World War II. If you're still around by noon, make sure to watch the Saluting Battery (everyday at 12h00 and 16h00).
Next, prepare to be awe-struck as you visit the city's most renowned landmark: the magnificent St. John's Co-Cathedral (15,00€). An architectural marvel adorned with stunningly ornate interiors, it's no wonder this cathedral is considered one of the world's most beautiful churches. Just a few steps away, you'll discover the Grandmaster's Palace (10,00€ with access to the armoury), the former official residence of the legendary Knights of Malta, before making a detour to the Manoel Theatre (5,00€ for a guided tour), one of the oldest and most opulent theaters in Europe. As you continue your journey along Straight Street, Valletta's main pedestrian thoroughfare, make sure to stop by Casa Rocca Piccola (9,50€), a former aristocratic manor house whose owners had strong connections to the British Crown. However, the best is saved for last, as you'll get the opportunity to delve into the underground bunker where the family sought refuge during the intense air raids that plagued Malta during World War II. To bring your very first day in Malta to an end, head to the majestic Fort Saint Elmo, situated at the city's northernmost tip, before making your way to Marsamxett Kiosk, the small terminal where the ferries connecting Valletta and Sliema depart from. The journey will only take about 10 minutes (2,80€ round trip), but you'll be rewarded with a scenic view, especially during the magical sunset hours when the capital's silhouette shines in golden hues.
First day wrap-up:
City Gate
Barraka Gardens
Lascaris War Rooms
Saluting Battery
John's Co-Cathedral
Grandmaster's Palace
Manoel Theater
Straight Street
Casa Rocca Piccola
Fort Saint Elmo
Ferry Valletta-Sliema
Cheap restaurant suggestions in La Valletta:
Malta 3-Day Itinerary – Day 2: Mdina, the Silent City
Mdina, famously featured in the iconic series "Game of Thrones," takes center stage on the second day of our Malta 3-day itinerary. Known as the "Silent City," this enchanting medieval village and its intricate maze of cobblestoned streets, lovely squares and city walls are one of the prettiest and most picturesque places in Malta. As you step through the Mdina Gate, you'll be transported back in time to an era untouched by cars, as traffic within the fortified walls is strictly limited. Once inside the old city, take some time to visit the Vilhena Palace, the St. Paul's Cathedral, or the Palazzo Falson, before bidding farewell with a breathtaking view of the surrounding valley from Bastion Square.
Adjacent to Mdina, within walking distance, lies the neighboring town of Rabat. Although technically distinct, these two towns seamlessly blend into one another. Begin your tour of Rabat at the Domus Romana (6,00€), a museum built over the ruins of an ancient Roman house. The highlight of the museum are the remarkably preserved mosaic floors, considered among the finest in the entire Mediterranean basin. However, no other place in Rabat is as famous as the extraordinary Basilica of St. Paul. Beyond its impressive façade, you'll have to go underground to see the legendary St. Paul's Grotto (5,00€), a place of great significance where the apostle Paul is said to have sought refuge for 3 months after surviving a shipwreck on the Maltese coast. For you last stop of the day, hop back on the bus and make your way to the Rotunda of Mosta (2,00€). You may have already seen it from afar when visiting Bastion Square in Mdina, but nothing beats the up-close experience, since, according to records, this church holds the third largest dome in the world! Definitely a place that should not be missed.
Second day wrap-up:
Mdina
Mdina Gate
Vilhena Palace
Paul's Cathedral
Palazzo Falson
Bastion Square
Rabat
Domus Romana
Basilica of St. Paul
Paul's Grotto
Rotunda of Mosta
Cheap restaurant suggestions in Mdina:
Malta 3-Day Itinerary – Day 3: The Blue Lagoon of Comino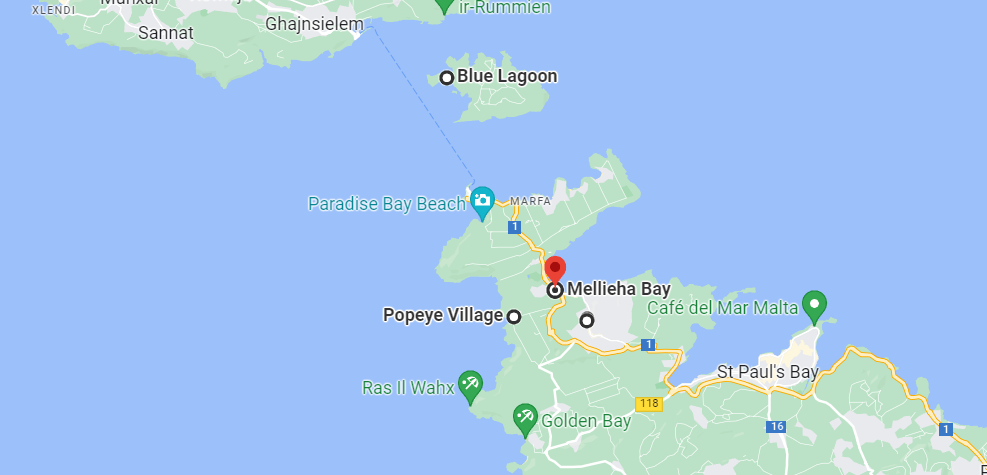 And here we are, on the last day of your adventure! To end things on a high note, you absolutely must visit the popular Blue Lagoon of Comino, arguably the most famous place in the country. If you've looked up anything about Malta online, chances are you've already seen countless breathtaking images of this turquoise lagoon! To get there, you'll need to make your way to the Cirkewwa Ferry Terminal (more details can be found in the transportation section of the general guide) where several companies operate this route. As for the lagoon itself, there are no words left to describe its beauty that haven't been used before. It truly lives up to the hype. However, I highly recommend getting there early in the day to beat the crowds, as it can get frustratingly busy later on.
In the late morning, you'll take the ferry back to the island of Malta and head towards Popeye Village (20,00€), a charming theme park that served as the set for the 1980 live-action film about the famous sailor. Located along the scenic Anchor Bay, it's a fantastic place to spend a few hours with your family and enjoy the village's lively atmosphere. As for the rest of the afternoon, it will be dedicated to Mellieha, the last town before the ferry terminal where boats leave to Comino and/or Gozo. Upon arrival, you'll immediately notice the magnificent Parish Church of Mellieha, majestically perched at the top a hill, overlooking the entire area. Afterwards, don't miss the chance to visit the Mellieha Air Raid Shelters, original bunkers from the wartime period, used by the local population during air raids. Last but certainly not least, and to end the day on a perfect note, take some time to relax and enjoy another refreshing swim in the crystal-clear waters of Mellieha Bay. A suitable location to mark the end of your fantastic weekend getaway!
Third day wrap-up:
Blue Lagoon of Comino
Popeye Village
Mellieha Parish Church
Mellieha Air Raid Shelter
Mellieha Bay
Cheap restaurant suggestions in Mellieha: