Located right off the African coastline of Western Sahara, Tenerife stands proudly as the largest and most populous of the enchanting Canary Islands. A true haven for holidaymakers, drawing millions of visitors each year, Tenerife is popular for its warm climate, picture-perfect beaches and untouched natural beauty.
But let me assure you, Tenerife is far more than the heavily combination of sun, sand and sea. Beyond its turquoise waters and expansive dark shores, lies a treasure trove of quaint colonial villages, awe-inspiring trails and one of Europe's most extraordinary volcanic landscapes that will surely kick-start your sense of wonder.
So, if you're planning a trip to this stunning destination, our ultimate Tenerife travel guide is here to help. In addition to practical information about hotels, restaurants, transportation and beaches, we've also put together two comprehensive itineraries, including all the places you must see and visit in Tenerife in 4 days or one week.
Tenerife Travel Guide
How to get to Tenerife – Flights from the UK
Considering its outstanding popularity, the island of Tenerife is served by two different international air hubs: the Tenerife North Airport and the Tenerife South Airport.
However, if you're coming from the UK, you can only fly directly into Tenerife South. You can do so from London-Heathrow (British Airways), London-Gatwick (British Airways, Vueling, TUI and Easyjet), London-Luton (Easyjet, TUI and Ryanair), London-Stansted (Ryanair, TUI and Jet2), Belfast (Easyjet, TUI and Jet2), Edinburgh (Easyjet, Ryanair, TUI and Jet2), Bristol (Easyjet, Ryanair, TUI and Jet2), Liverpool (Ryanair and Easyjet), Manchester (Easyjet, Ryanair, TUI and Jet2), Glasgow (Easyjet, Ryanair, TUI and Jet2), Birmingham (Ryanair, TUI and Jet2), East Midlands (Ryanair, TUI and Jet2), Leeds/Bradford (Ryanair and Jet2), Newcastle upon Tyne (Jet2, TUI and Ryanair), Bournemouth (Ryanair and TUI), Aberdeen (TUI), Cardiff (TUI), Exeter (TUI) and Norwich (TUI)
Tenerife Travel Guide – Best time to visit the region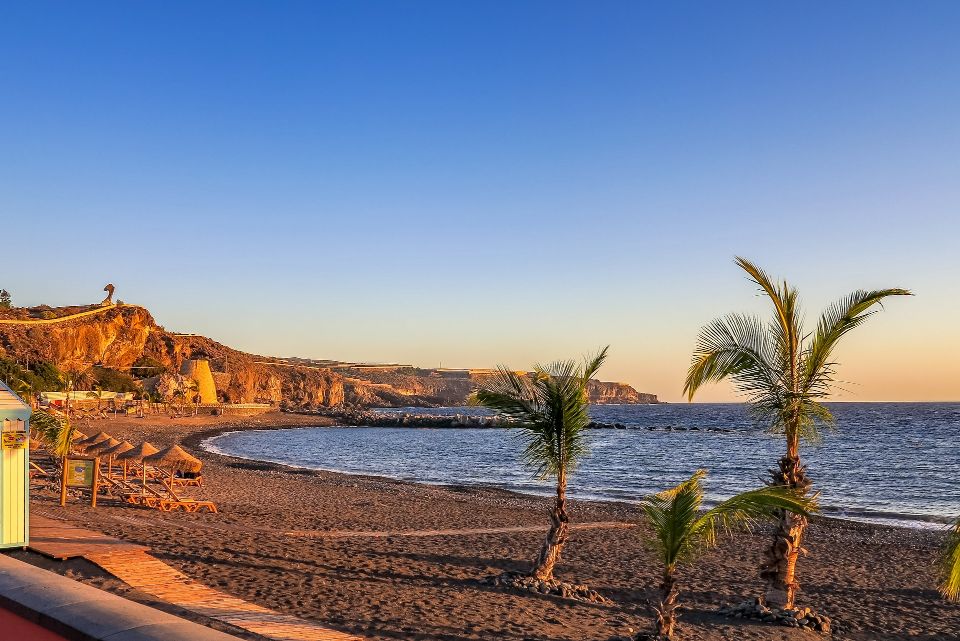 Much like the rest of the Canary Islands, Tenerife is also an extremely seasonal destination, receiving most of its tourists during the Summer months, especially in July and August. That being said, it might be a good idea to skip the island during those months, both for the sake of your well-being and your wallet. Plus, the weather will be scorching hot, making it pretty difficult to enjoy the overall experience.
As an alternative, and so that you can still enjoy the islands' beaches and good weather, we suggest booking your visit the shoulder-season, specifically for the period between May-June or September-October. Be that as it may, even if you choose to go to Tenerife during the Winter, the weather will still be mild and pleasant, though probably not hot enough to hit the beach.
Tenerife Travel Guide – Documents needed for your trip
Since Spain is part of the EU, British citizens do not need a visa to visit. You'll just need your passport, which must have been issued within the last 10 years and remain valid for at least 6 months from the date of your trip.
However, keep in mind that starting November 2023, British passengers will need to apply for ETIAS in order to enter any EU country.
Tenerife Travel Guide – Withdrawals, banking fees and travel budget
With the Euro (€) as Spain's official currency, any withdrawal using a UK bank card might incur in the payment of several different fees. Besides the percentual fee referring to the currency conversion, some UK banks may also charge a flat commission for withdrawals made outside the UK. In some instances, you may well end up paying 5%-6% of your original withdrawal in banking fees.
On the other hand, exchanging money before your trip is not a viable solution either. Besides not being any cheaper, it's also not safe or wise to carry so much money on you during your trip. As such, we recommend using the services of online banking fintech companies such as Revolut, N26 or Monzo.
Although each have their own limitations and fees, they allow you to withdraw a certain amount in foreign currency without any fees involved. And even after that threshold is reached, costs are much smaller when compared to traditional banks. Sign up for Revolut for free >> to get 3 months of Premium.
Tenerife Travel Guide – Common scams and frauds
Generally speaking, Tenerife is an extremely safe destination for visitors, since a huge part of its economy revolves around tourism.
We only recommend that you pay special attention to your belongings around crowded areas or at the beach, and never accept a taxi ride where the meter is not working. Here, much like everywhere else in the country, you just need to use your common sense to stay out of trouble. On a side note, never order anything at a restaurant without looking at the menu first, especially around the most touristy areas, as you may end up with a very unpleasant surprise once the tab comes your way.
Where to sleep in Tenerife – Hotels and Accommodation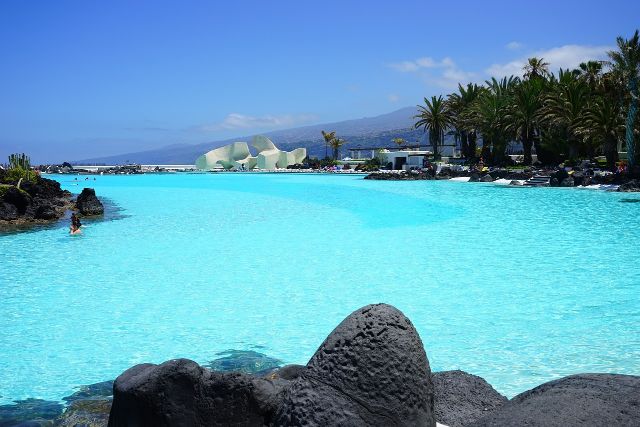 If you're looking out for a place to stay on our Tenerife travel guide, then we got you covered!
Although the current economic context shows an increasingly expensive and exclusive Europe, Tenerife is a fantastic beach destination that is still somewhat affordable. However, during the high season, prices on the island soar, especially when it comes to accommodation.
That being said, here are some options based on the cities we recommend you to stay at:
Tenerife Travel Guide – Hotels in Santa Cruz de Tenerife
Tenerife Travel Guide – Hotels in Costa Adeje
Tenerife Travel Guide – Hotels in Puerto de la Cruz
Tenerife Travel Guide – Transportation between Tenerife South Airport and the center of Santa Cruz
Upon landing in Tenerife, the cheapest way to reach the capital is by using Line 10 run by local  bus company TITSA. These buses depart directly from the arrivals' terminal, running every day between 05h10 and 21h40 and leaving every 30 minutes. The trip to Santa Cruz takes about an hour and tickets cost 9,35€. As an alternative, you may also take line 111, whose ticket is a beat cheaper (7,60€).
As an alternative, you can hire a taxi to take you straight to your place of accommodation, although this will naturally turn out to be a lot more expensive than just using the bus. As an example, the same exact trip will set you back around 100€.
On the other hand, if you wish to head straight to other cities on the island, you may also use these routes:
Puerto de la Cruz – Line 343 (14,60€ – 90 minutes)
Costa Adeje – Lines 343, 111, 40 and 711 (3,70€ – 40 minutes)
Tenerife Travel Guide – Transportation and how to move around
Although public transportation in Tenerife is surprisingly extensive and efficient, the truth is that you'll still find yourself struggling to reach all the places on our travel guide if you're totally reliant on local buses.
For that reason alone, and in order to get as much autonomy and flexibility as possible, renting your own vehicle is the way to go.
Public Buses in Tenerife
When it comes to getting around the island, TITSA buses are the go-to public transportation in Tenerife, conveniently connecting the main urban hubs. Luckily, TITSA has a pretty seamless website where you can check routes, schedules and tickets. Plus, their system is integrated into Google Maps, so you can easily spot the right bus line and find your nearest stop in real-time.
Regarding prices, fares vary depending on the distance you're traveling. However, there's a caveat: if you have multiple adventures planned, it might be worth considering a daily pass (€10) or a weekly pass (€50 for 7 days). Alternatively, instead of purchasing individual tickets for each trip, you can go for a Ten+ card. Just load it with the desired amount and each time you hop on a bus, the fare will be automatically deducted from your balance at the end of the journey. You can buy a Ten+ card, as well as the daily and weekly tickets, from vending machines, TITSA offices and tram stations, or through the official Ten+ app, which turns your phone into your transport ticket.
Now, let's take a look at some specific routes and prices for the destinations covered in our itineraries (excluding airport transfers):
Santa Cruz – San Cristobal: Line 15, 102, or 103 – 1,65€
San Cristobal – Puerto de la Cruz: Line 102 or 103 – 4,10€
Puerto de la Cruz – Mount Teide: Line 348 – 6,20€
Mount Teide – Costa Adeje: Line 342 – 8,05€
Costa Adeje – Los Gigantes – Costa Adeje: Line 473 or 477 – 6,50€ (round trip)
Costa Adeje – Icod de los Vinos: Line 460 – 7,00€
Icod de los Vinos – Puerto de la Cruz: Line 354 or 363 – 3,60€
Keep in mind we didn't include transportation between Costa Adeje and Masca because the round trip would take up a significant amount of time on the road. Therefore, we only recommend visiting the picturesque mountain village of Masca if you're renting a car.
Tram in Tenerife
While the tram system in Tenerife may be relatively short, it can still be a convenient choice for traveling between the capital city and San Cristobal de La Laguna. You'll find several stops conveniently located throughout the center of Santa Cruz, with the tram ride concluding at La Trinidad station, in San Cristobal.
When it comes to tickets, they're priced at a flat rate of 1,35€ per ride. You can easily purchase them at the same platforms mentioned earlier for bus tickets.
Renting a car or scooter in Mallorca and Menorca
Finally, we leave you with our most recommended transportation option on this Tenerife travel guide. You know the drill – when it comes to convenience and spontaneity, there's nothing like having our own vehicle when traveling!
You can easily find companies where you can rent different motorized vehicles, such as cars or scooters, while traveling in Tenerife. However, and before you make up your mind on this solely based on your budget or personal preferences, it's equally important to assess the topography and type of terrain you will find, as well as your experience behind the wheel.
When looking at Tenerife's Teide National Park or at the mountainous village of Masca, where roads tend to be quite steep, renting a scooter might not be the way to go. Plus, keep in mind it is mandatory to have a motorcycle license in order to drive any scooter over 125cc. On the other hand, according to Spanish law, a type B driver's license is sufficient to rent a 50cc scooter. However, if you opt for a 125cc motorcycle, you must have a type A driver's license OR a type B license issued more than 3 years ago.
That being said, if you wish to rent a scooter in Tenerife, you can check these local companies:
As for cars, you can browse for prices and availability on Rentalcars.com!
What to eat in Tenerife – Local staples and culinary delights
When it comes to Tenerife's cuisine, it's no surprise that the island's local fish takes center stage. Being located strategically close to the African coast and serving as a stopping point for ships from all around the world, particularly from the American continent, Tenerife's culinary traditions have been influenced by various cultures. As a result, you'll notice similarities between some local dishes and the flavors found in many Latin American countries.
So, without further ado, let's dive into some must-try delicacies. Start your culinary journey with Patatas Arrugadas, the island's most popular appetizer and side dish. These small potatoes are boiled in saltwater and then roasted until they develop a crispy, wrinkled skin. Speaking of appetizers, Tenerife is renowned for its Goat Cheese, which can be breaded and then grilled or deep fried, usually served with a dollop of honey to balance things out. Another treat not to be missed are the Croquetas Caseras, delightful bite-sized croquettes made with potatoes and Spanish ham (jamon). This is where it's worth adding that almost every appetizer (and many mains as well) is served with Mojos, probably the most distinctive element in the local cuisine. These sauces, made with a base of peppers, olive oil, vinegar, garlic and salt (sometimes thickened with a piece of stale bread), add a burst of flavor to every dish. The most cherished varieties include the picón (spicy, with cayenne pepper), the verde (refreshing, with coriander and cumin), and the negro (savory, made with black garlic).
Now, let's move on to main courses. In addition to the delightful Grilled Fish, always accompanied by their beloved mojos, be sure to try Conejo al Almorejo. This dish features stewed rabbit marinated in white wine, tomatoes, peppers, garlic and thyme. Another flavorful choice is Arroz a la Cubana, a simple yet satisfying delicacy made with rice, fried eggs, minced meat, pork sausages and – the special ingredient – fried bananas. Furthermore, if you're craving a hearty stew, don't miss out on Ropa Vieja. This comforting masterpiece combines chickpeas, potatoes and vegetables, with various leftover meats from the previous night (hence its name, "old clothes").
Tenerife Travel Guide – Hidden Treasures
Although Tenerife can be extremely popular and touristy, there are still some pretty great places that have managed to remain somewhat off-the-grid. Therefore, we want to introduce you to some lesser-known spots, so that you can truly get to know the absolute best that this magnificent Canary Island has to offer!
Therefore, here are some not-so-popular sights we've added to our Tenerife travel guide:
Anaga Rural Park
Acantilados de los Gigantes
Masca Gorge
Garachico
Orotava
Tenerife Travel Guide – Best Beaches on the Island
Praia de Benijo: A remote and picturesque black sand beach nestled between towering cliffs in the heart of the Anaga Rural Park. It's famous for its strong waves, making it ideal for surfers and other water sports enthusiasts.
Praia de Las Teresitas: Located near the island's capital, Las Teresitas is actually an artificially constructed beach with purposefully planted palm trees and sand imported from Africa (which explains its light color). Nevertheless, it is one of the most beautiful beaches in Tenerife.
La Tejita: You can find this beach right next to the El Médano resort in the south of the island. It is flanked by the spectacular Red Mountain, creating a perfect contrast with the turquoise blue of the sea. A small and secluded part of its area is designated for nudist beachgoers.
Praia de Las Vistas: A bustling beach in Los Cristianos, with a lively promenade and all the necessary services and amenities for a relaxing day. The sea here is considerably shallow, making it perfect for swimming and allowing children to feel more at ease.
Praia del Duque: In the surroundings of this sandy beach, you'll find some of the most luxurious hotels in all of Tenerife, making it an extremely popular and exclusive spot in the Costa Adeje region. As expected of such a place, the beach is clean and well-maintained.
Los Gigantes: A stunning black sand beach situated beneath imposing cliffs, with crystal-clear waters and a laid-back atmosphere. Its port is also the departure point for the island's main whale-watching tours.
Praia Masca: By far the most secluded beach on our list, access to this black sand stretch is only possible by boat or through a beautiful hike through a gorge. Surrounded by dramatic cliffs, it offers untouched natural beauty and is a great spot for snorkeling or diving.
Praia Jardin: One of the most popular beaches on the island, it is surrounded by a collection of botanical and tropical gardens designed by Cesar Manrique. In between swims, you can take a stroll through the green space and enjoy picturesque views of Mount Teide.
Tenerife Travel Guide – Full itineraries for 4 and 7 days (1 week)
So that this blog post doesn't turn into an encyclopedia, we've decided to create separate articles for each itinerary.
You can check them through the following links: