When it comes to popular European beach destinations, we're all familiar with the usual suspects: the Balearic Islands, Sardinia, the Algarve, the Greek Islands and so on. However, while these places have undoubtedly earned their well-deserved reputation, it's hard to ignore the downsides that come with their popularity, such as overcrowding, gentrification and soaring costs of living, making them less enjoyable for many.
That being said, and because it's always good to diversify, it's worth having a look at some alternative spots on the European map. Offering a delightful escape from the exorbitant prices and hordes of summer tourists, these are some of the most surprising and underrated beach destinations in Europe:
Note: We are considering Turkey and the Caucasus as part of Europe. If it's good enough for UEFA, then it's good enough for us 😊
10 of the most underrated beach destinations in Europe
Albanian Riviera, Albania
A destination that was completely under the radar for tourists until just a few years ago, Albania is now on its way to becoming one of the hottest beach destinations in all of Europe. And to no surprise, I might add! After all, there are only a few places in the Old Continent that can boast such a perfect blend of natural beauty, pristine beaches, majestic mountains and charming historic Ottoman villages—all within such a small country. Plus, it is quite affordable for the average tourist coming from Western Europe.
If you're seeking a beach getaway, there's nothing quite like renting a car and embarking on an unforgettable road trip along the Albanian Riviera. Alongside the well-known gems like Ksamil and Sarande, it's absolutely worth making a detour to explore the Butrint National Park, wander through the tiny villages of Vuno, Dhermi and Upper Qparo, and take a refreshing plunge into the crystal-clear waters of Himare, Bosh, and, of course, the crown jewel – the breathtakingly beautiful and secluded Gjipe Beach.
Black Sea Coast, Bulgaria
When it comes to underrated beach destinations in Europa, Bulgaria's Black Sea Coast, as a member of the EU, is definitely worth considering. Stretching for about 300 km, it offers a diverse and eclectic region, similar to the Albanian Riviera, with plenty to explore and enjoy in addition to its stunning beaches. While Sunny Beach is the most famous resort, there are several other charming spots for those seeking a more laid-back experience, such as Golden Sands, Albena or Kiten.
During your visit, I highly recommend exploring the likes of Varna and Burgas, the largest and most prominent cities in the area, where you can conveniently set up your base. Here, you'll find a wide range of shops and services, allowing you to stock up on local delights like Banitsa and Mekitsa before setting off for a full day of beach adventures. Among the highlights, don't miss the must-visit historical coastal towns of Nessebar and Sozopol, each with their own unique charm and well-preserved centers.
Karpathos, Greece
As Greece boasts such an abundance of islands and regions, it is still perfectly possible to find off-the-beaten-path spots while massive hordes of tourists flock to the same old places, just a few hundred kilometers away. Among the many possible choices, I've decided to highlight the island of Karpathos as one of Europe's most underrated beach destinations.
By far the most secluded island in the Dodecanese, Karpatos remains a well-kept secret, known only to the most observant travelers, while the crowds usually go for like Rhodes or Kos. With its pristine beaches, charming mountain villages and a distinct culture (including its very own dialect) that differs from the rest of Hellenic nation, Karpathos is the Greek destination you never knew existed!
Klaipeda, Lithuania
To the surprise of many, who probably don't conjure up images of the Baltic when picturing their dreamy beach vacation, it's worth noting that both Latvia and Lithuania actually have pleasant coastal areas. In fact, during the times of the Soviet Union, these destinations were quite popular summer getaways, attracting tourists from all the different soviet republics. Out of all the once popular spots, none was more beloved than Klaipeda, which remains to this day an underrated European beach destination.
If you're visiting, the main attraction in the region is the Curonian Spit, a national park designated by UNESCO as a World Heritage Site, where you'll discover some of the most breathtaking beaches in Northern Europe. This is the perfect stop for those who appreciate a blend of history and culture, but don't really want to feel like they're wasting away their precious summer holiday by not going to the beach.
Korcula, Croatia
Another example of a country that has long captured the spotlight is Croatia, having become one of the go-to summer destinations in Europe, thanks to its perfect weather, pristine beaches and historic cities. However, while popular places like Dubrovnik, Split and Zadar have already felt the impact of mass tourism, there are still a few hidden gems in the country waiting to be discovered (although it's getting harder to find them).
One such place is Korcula. Perhaps because it's an island, this incredibly picturesque and heavenly place hasn't received the same level of overwhelming attention as its counterparts, even lagging behind other islands such as Hvar and Brac when it comes to tourist arrivals. Nevertheless, Korcula is a true Adriatic pearl, offering secluded beaches and a charming walled historic center with its signature terracotta roofs.
Slovene Istria, Slovenia
Capping off the Balkan presence on our list, let's hop over to Slovenia, a country that, despite its renowned natural beauty, isn't typically known as a beach destination. However, hidden within its compact coastal region, which stretches for just 46 km along the northern part of the Istrian Peninsula, lies a truly beautiful area. Here, you'll discover an array of 21 breathtaking beaches, some located right next to historic towns, while others are tucked away amidst the famous Slovenian trails.
Among the towns of the Slovene Istria, none stands out quite like Piran, an ancient medieval city capable of going toe-to-toe with the more popular coastal villages of Croatia or Montenegro. Strolling through its streets, you can't help but feel a nostalgic Italian influence… and that's because Piran was once part of Italy until the 1950s when it was reluctantly handed over to Yugoslavia after WWII.
Batumi, Georgia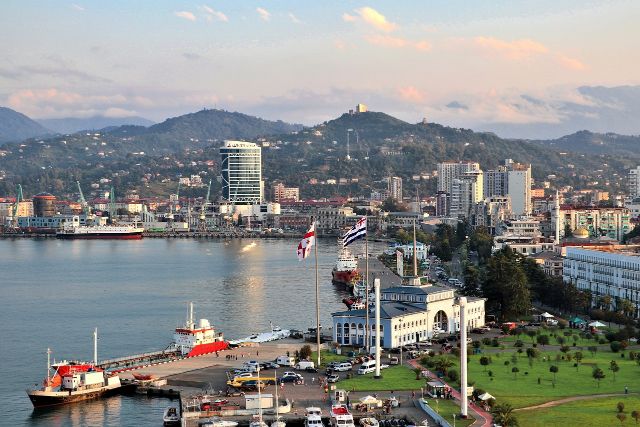 Once a humble Soviet port city, the Georgian metropolis of Batumi has transformed into a lively destination, that has turned out to be as eccentric as it is bizarre. With its modern casinos, weird towers and dazzling lights, it has earned itself the nickname "the Las Vegas of the Black Sea", standing in stark contrast to the beauty of Tbilisi, the tranquility of rural Georgia or the awe-inspiring scenery of the Caucasus Mountains.
However, when planning a trip to Georgia, Batumi is a must-visit, especially during the summer months. Beyond the flashy city center, Batumi (along with the entire Adjara region) offers scenic beauty and lush greenery, embraced by a subtropical climate that perfectly complements its blacked pebble beaches. Furthermore, it is in Batumi where you can indulge in the best Khachapuri in the country, which is certainly no small feat when talking about Georgia!
Bodrum, Turkey
Located in southwestern Turkey, where the enchanting jagged Anatolian coastline intertwines with Greece's numerous islands and islets, you'll find the delightful port city of Bodrum. Wandering through its Old Town, it's hard not to notice the unmistakable influence of its Hellenic neighbors, as you set eyes on the quarter's whitewashed houses and deep blue details.
Beyond its cultural heritage and legacy, Bodrum offers a more budget-friendly alternative to its Greek counterparts, while still boasting the same mesmerizing turquoise waters of the Aegean Sea. Besides taking scenic boat tours along the coastline, you may also venture beyond the city limits to explore the finest beaches in the entire peninsula. If you choose to do so, we recommend visit Ortakent, Bitez, Gumbet or Turgetreis, renowned for their pristine sandy shores that rate among the most beautiful in the region.
Ayia Napa, Cyprus
Once mainly known as a party destination, especially during the notorious and raunchy Spring Break trips of the 2000s, Ayia Napa has now grown into a more mature and diverse hotspot. While it still offers plenty of vibrant nightlife and entertainment options, the coastal resort has expanded its appeal to cater to a wider range of visitors.
Though it may not be as cheap or off-the-beaten-path as most other destinations on this list, Ayia Napa remains one of the most underrated beach destinations in Europe, fueled by reasonably priced options, as well as some of the most breathtaking and unspoiled sandy beaches in the continent. Beyond its historical monasteries and archaeological sites, if what you're really seeking is turquoise waters and some good old R&R, make sure to visit the stunning Konnos Bay or the famous Nissi Beach.
Lake Sevan, Armenia
To wrap up our list of the 10 most underrated and affordable beach destinations in Europe, I couldn't resist being a tad bit creative. Now, don't let the name fool you, Lake Sevan may not have a traditional coastline or stand by the sea, but that doesn't mean it can't offer beach-like experiences. Plus, I never said this list was closed off to lake beaches! That being said, it is time to head to Armenia, where we'll discover one of the world's most stunning lakes.
Nestled at a higher altitude, with inviting waters that beckon you to take a dip, Sevan Lake offers a much welcome respite from Yerevan's scorching heat, especially once peak Summer hits. Along its shores, you'll find designated swimming areas (most of them paid), phenomenal landscapes and even historic monasteries to explore. It's an absolute gem for those venturing to Armenia or exploring the captivating Caucasus region.