Disneyland Paris Guide – an unforgettable experience
Needless to say, Disneyland Paris has a lot to offer, both to kids and grown-ups alike. If you're an adrenaline junkie, then you will absolutely love the park's roller coasters, such as the iconic Hyperspace Mountain. And while some of these Disneyland rides might be a little too extreme for the little ones, they will still have the chance to wander through the parks and awe at the sight of their favorite movie characters. In the end, and after such an eventful day, the whole family can enjoy Disneyland's famous light-show and fireworks display. A true spectacle to behold!
Located just a 40-minute train ride away from the city centre of Paris, you will definitely want to extend your stay in the French capital, spending a couple of days immersed in the fantasy world of Disneyland, while also taking some time to stroll through the city's wide, glamorous avenues, visit some of its iconic cafes and maybe cross off a couple of "must-do's" from your travel bucket list.
Where to stay in Disneyland Paris – Hotels and Accommodation
Did you know you can actually stay in one of the several themed hotels located within Disneyland's premises? But don't celebrate just yet! Sure, sleeping in bedrooms whose decoration was inspired by some of your childhood's greatest memories/heroes is great and all, but it's not so fun when it requires Scrooge McDuck's vault combination in order to do so (mainly during high season). However, staying in one of these themed hotels might actually turn out to be the wisest decision, especially if you're visiting during low season or planning to stay for at least 2 days or more. You can find out more about this in the "Tickets" section of this Disneyland Paris guide.
On the other hand, staying at non-themed hotels located close to Disneyland will probably turn out to be a budget-friendlier option. If you're potentially worried about distances, rest assured many of these hotels offer a shuttle service to accommodate guests commuting between their place of accommodation and the Disneyland Parks. And those who don't provide such services are usually located by the Val D'Europe RER station, which is quite literally a 2-minute train ride away from Disneyland. You can check some of those options right here.
However, and if you're not in the city exclusively for a visit to Disneyland, our recommendation is that you stay in Paris proper. This is by far the most preferred option among visitors who wish to explore the French capital as well.
Public Transportation in Disneyland Paris – Daily and Multi-day passes
Arriving between Monday and Thursday: Navigo Decouverte Week Pass
1. You can buy this pass directly at any RATP or SNCF booth in Paris. They're not only available at both Charles de Gaulle (at the airport's TGV/RER station) and Orly (next to the OrlyBus stop) airports, but also across several metro stations all around the city. Keep in mind you cannot buy these passes from automatic vending machines.
2. Although a weekly pass might sound a bit too much for your needs, it provides unlimited trips across all 5 of Paris public transportation zones (including Airport Charles de Gaulle, Airport Orly and Disneyland) for an extremely advantageous price tag of 27,80€ (card included). If you really want to assess how good of a deal that is, keep in mind that a Paris Visite Pass for just 1 day and equally valid for all 5 zones costs staggering 25,25€.
3. The only downside about Navigo Week Pass is that it's not exactly valid for any 7-day period. When you purchase this pass, you can take as many trips as you please – but only between Monday and Sunday! That means you end up paying exactly the same whether you're going to use it from Monday to Sunday or between Thursday and Sunday. For example, if you're taking a trip to Paris that starts on Thursday and ends the following Tuesday, then you'll need to top-up your pass twice. In that case, you will have to do your own planning and decide whether it is best to charge your pass a second time or just buy each ticket individually.
4. Bear in mind that if you top-up your card on Friday, you will not be able to use it throughout the weekend, as it will only become available the following Monday. If you want to use your pass over the weekend, then you will need to load it by Thursday the latest.
5. In order to buy this pass, you will need a passport-sized photo and to write down your name in the appropriate, highlighted area. Otherwise, you might end up getting a ticket from inspectors.
Arriving between Friday and Sunday: Paris Visite Pass
1. Similar to Navigo Decouverte (valid for all public transportation in Paris across the pre-determined 5 zones, except Orlyval), but without any of the constraints regarding specific top-up days.
2. This pass is available at automatic vending machines.
3. Paris Visite Pass is more expensive than Navigo Decouverte. For example, a 3-day ticket valid for 3 zones (encompassing the center of Paris) will set you back €26,65 for each adult and €13,30 for each child in your group. If you want that same pass to be valid across all 5 zones, prices will naturally go up: €53,35/adult and €26,85/child.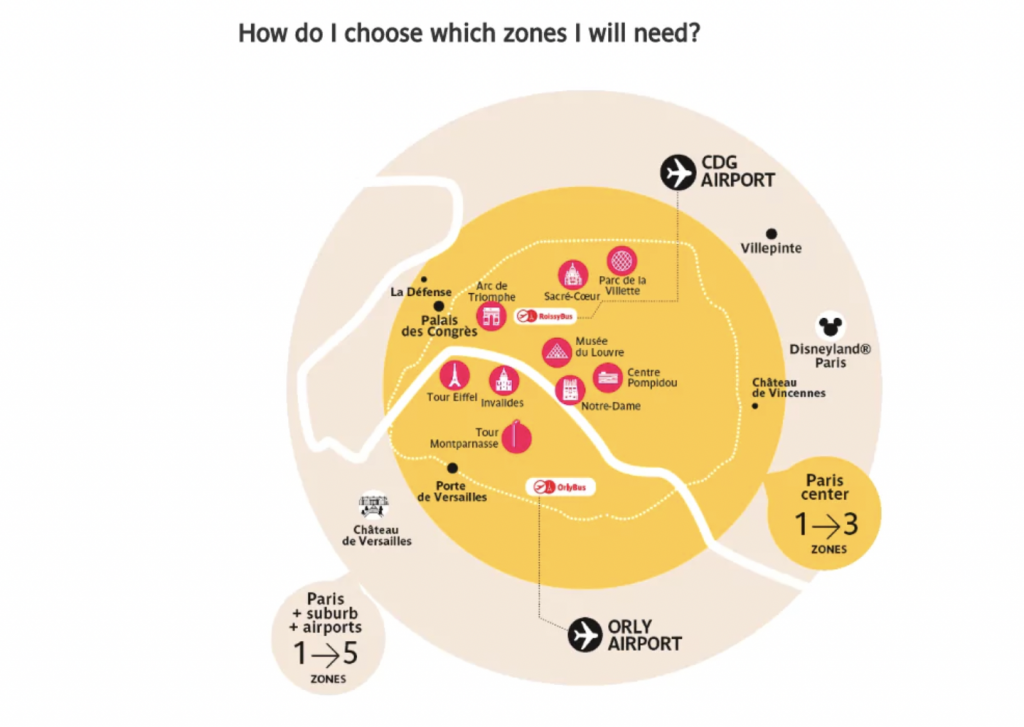 How to go from Paris city centre to Disneyland – trains and tips on transportation
In case you decide to set up base in the city centre, making it all the way to the "House of the Mouse" is actually quite simple with our Disneyland Paris guide:
For around €7-8 you can catch the RER A train (which is the red line of the RER service). The most centrally-located stations in Paris are Charles de Gaulle – Etoille, Auber, Chatelet Les Halles or Gare de Lyon. If you buy one of the daily passes inclusive of all 5 public transportation zones (which is the most expensive), all your trips will be covered.
Just be sure to board the train heading to Marne-la-Vallée Chessy (depicted with a green arrow), located just a 2-minute walk away from the park's main gates. The central stations in Paris are highlighted with red arrows in the image below: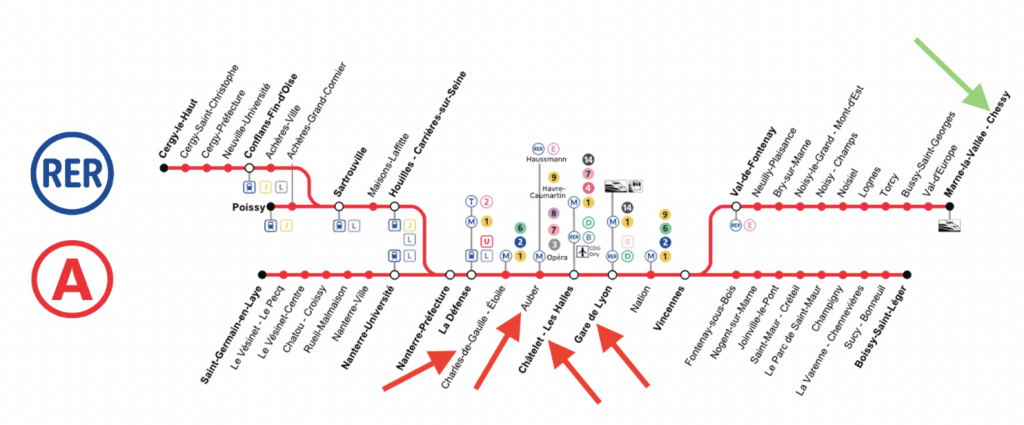 When buying your Disneyland Paris tickets, you also have the option to include a special shuttle service departing from several different locations scattered across Paris. However, this option is only available for those who buy 1-day tickets and will set you back an extra €40 fee, which is why using public transportation is always lighter on the wallet.
How to go from the airports to Disneyland Paris – trains and shuttle buses
From Orly Airport to Disneyland Paris:
• If you choose Navigo Decouverte/Paris Visite or any other pass which includes all 5 public transportation zones (available for purchase at the booth located right next to the OrlyBus stop), then you can take OrlyBus (keep in mind Navigo Decouverte does not include OrlyVal) and leave at the terminus in the Denfert-Rochereau RER B station. Once there, you will catch the train and leave at Chatelet – Les Halles, where you will need to change trains to RER A (red line) heading towards Marne-la-Vallée Chessy.
• If all of this sounded like too much of a hassle and you prefer to travel directly between the airport and Disneyland, then you can book your seat at the Disney-run Magical Shuttle Bus. Tickets are available at a cost of €23 per adult (€10 per child) and it takes around 1 hour to get you there.
From Charles de Gaulle Airport to Disneyland Paris:
• The quickest option is to simply take the TGV (€17,50 one-way) heading directly to Marne-La-Vallée-Chessy.
• If you choose Navigo Decouverte/Paris Visite or any other pass which includes all 5 public transportation zones (available for purchase at the booths inside the airport's very own TGV/RER station), then you can take a RER B train and leave at Chatelet – Les Halles, where you will need to change trains to RER A (red line) heading towards Marne-la-Vallée Chessy.
From Beauvais Airport to Disneyland Paris:
• In case you are in the unfortunate position of landing in this godforsaken airport, your best option is to get the regular shuttle to Paris (dropping you off at Porte Maillot) and then take the Line 1 of the metro system in the direction of Château de Vincennes. Get out of the metro at Charles de Gaulle–Étoile and switch to a RER A train (red line) heading towards Marne-la-Vallée Chessy.
Disneyland Paris Guide – How many days should I spend at Eurodisney?
Truth be told, if you're visiting the "City of Lights" and all you want is to give it a go at some of Disneyland's most popular rides, you can take in a lot of fun in just 1 day. Just try to get in as early as possible (park opens up at 9h30) and stick around for the amazing lightshow at the Disney Castle to make the most of your visit (on a personal note, the show is an absolute must).
However, and as a side note for the most hardcore Disney fans, a single day will definitely feel rather short. The same applies if you're travelling with children and wish/need a more relaxed and laidback experience. If you fit into any of these two categories, then we recommend that you stay for at least 2 days or more.
The Disneyland Paris complex is actually split into two different parks: Disneyland Park and Walt Disney Studios Park. When people think and talk about Disneyland, chances are that they're referring to the former, where visitors will find the most popular attractions, such as the Pirates of the Caribbean ride, the Star Wars Hyperspace Mountain or the Buzz Lightyear Laser Blast. This is also the park where you will find the insanely recognizable Sleeping Beauty Castle.
When buying your tickets, you're going to have to choose between visiting both parks or just one of them. The right choice will obviously come down to the attractions you wish to visit, but keep in mind it is pretty much impossible to see both parks in a single day. As such, and if 1 day is all you got, then the Disneyland Park is the way to go, providing the quintessential Disney experience visitors are usually looking for.
On the other hand, if you choose to spend 2 or more days at the compound, then the Walt Disney Studios Park is very much worth a visit. This is where you will find the rides and attractions pertaining to the most recent Disney movies, Pixar and the Avengers franchise.
Disneyland Paris tickets – prices and ticket types:
You can buy your tickets directly on Disneyland's official website. We strongly advise you pick up a ticket with a specified date on it. Not only are these actually cheaper, but they will also save you the hassle of having to register the day of your visit later on.
In order to visit just the Disneyland Park (considered the "main one"), a regular 1-day ticket price for adults starts at 50,87£. As explained above, Disneyland Paris is actually composed of two different parks, so you're going to have to decide whether you wish to visit both or just one of them when you purchase your ticket.

For those wishing to see both parks, 1-day tickets are available from 73,58£.

Multi-day tickets are only available for those keen on visiting both parks. As one would expect, prices depend on the number of days and time of your visit (high season or low season). For example, the cheapest 3-day ticket available on the platform will still cost you around 182,59£ per adult.

Can children get a discount on Disneyland Paris tickets?
Children aged between 3 and 11 have a £4-£7 discount depending on the type of ticket you choose. For babies and toddlers under 3 admission is free!
How can I save on Disneyland Paris tickets?
Admission prices vary according to the day of the week and the time of the year, with weekends and summer months recording higher prices. By accessing Disney's calendar, their website will show you the cheapest dates to visit, as well as the most expensive.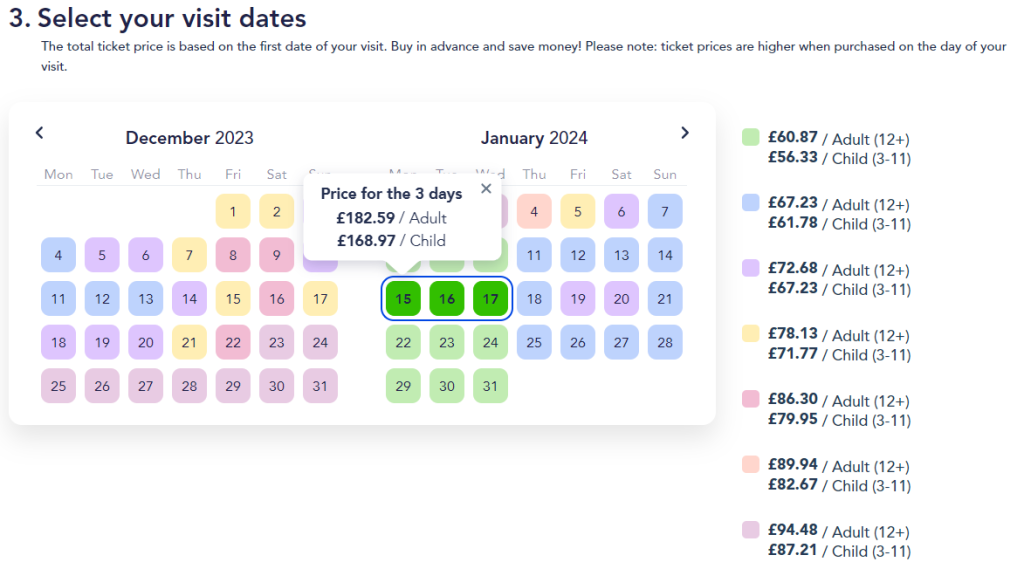 Saving your visit for a weekday and/or shoulder season (Spring and Fall months) is actually a good idea if you want to save on tickets while still safeguarding a reasonable chance of getting good weather.
For example, a family of 2 adults and 2 children visiting during the Christmas Holidays ended up paying a total of £436,06 for a 1-day ticket valid for both parks.

On the other hand, if that same family chooses to visit on a weekday in mid-January, the whole group would have ended up saving a generous £149-sum on tickets, setting the family back £287,06.

Am I allowed to enter and exit from the Disneyland Paris Park?
Yes, you're free to come and go from both parks anytime during the opening hours specified on your ticket for that day.
Staying in a Disneyland themed hotel – Is it worth it?
If you've made it this far in our ultimate Disneyland Paris guide, then you must know by now that the answer to this question will obviously depend on the number of days you wish to spend at Disney. Let us elaborate:
For example, the cheapest hotel for the January dates we've shared above costs £574,84 for that same family of 2 adults and 2 children. The hotel is located less than 15 minutes away from the parks, though a free shuttle service is provided.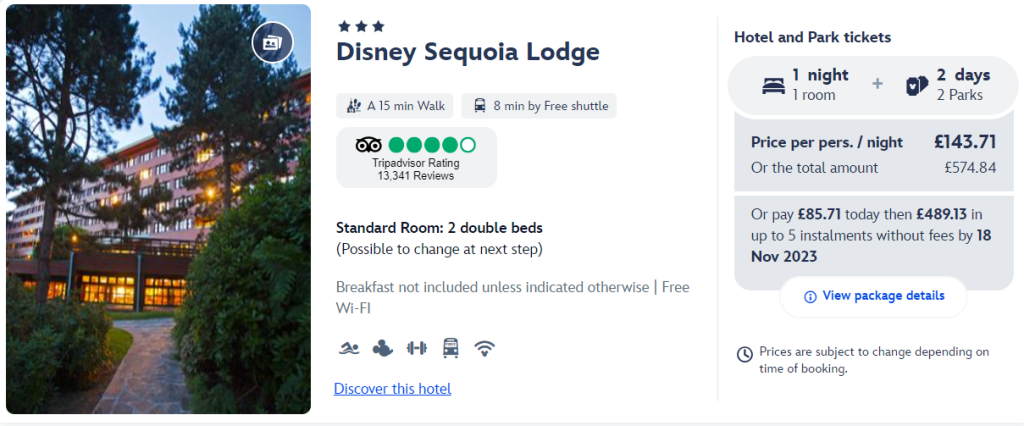 We get it, the difference between £287 and £574 is quite steep. However, keep in mind those £287 would only grant the family a 1-day admission. On the other hand, staying at one of Disneyland's official places of accommodation, all guests are automatically granted a 2-day ticket for both parks (if staying for 2 nights, then they get a 3-day ticket, and so on), making this offer sound more compelling, especially when it comes to the cheapest 2 or 3-star options.
Another big advantage when it comes to staying at a themed hotel is an access to the so-called Extra Magic Time. While those visiting on a regular ticket can only enter the park at 9h00, guests staying at one of Disneyland's hotels will have the park all to themselves for at least an hour before the official opening times (exact times change depending on the season). This can come quite in handy for those wishing to skip lengthy waiting times on the most popular attractions or do a complete photo-op with all their favorite Disney characters.
But is it really worth it?
Well, if you only have 1 day to visit Disneyland then this isn't likely to be a good deal for you, since you won't be using the second day-ticket in the offer.
However, if you're planning to stay for 2 days or more, this might be an option to consider. Especially during low-season (October-March), when prices for themed hotels can get quite the discount, staying at an "official" hotel may actually turn out to be the most interesting offer on the table.
Even for those not visiting as a family (such as couples, for example), this can still be the most advantageous option. You just need to do the math and make your own judgement. Maybe you'll end up with a pleasant little surprise in hands!
On both times we visited Disneyland Paris, we stayed at themed hotels and we really enjoyed the experience, since these places are quite interesting and also located near the park's entrance. If this is already super convenient for adults, it truly stands out as a game-changer for those traveling with kids. If our budget allows, this is definitely our top choice.
Tips for Disneyland Paris – Is there any way to reduce waiting times for attractions and rides?
Short answer: yes, there is!
However, this wouldn't be a complete Disneyland Paris guide if we didn't show you how to do it, so here it is:
1. Extra Magic Time
Upon our latest visit to Disneyland, we made the conscious decision of staying at a themed hotel, partly because we really wanted to give this a test. In our specific case, the Extra Magic Time allowed us to ride one of the most sought-after attractions in the Park (Big Thunder Mountain – whose waiting times are usually never short of a full hour) without having to wait a single second. Nothing, nada, zero! However, Extra Magic Time only lasts for an hour, which means that – best case scenario – you'll be able to go on maybe 3 different rides within that time limit. That means if you take advantage of Extra Magic Time on both days of your stay (you can actually use it on your day arrival, so just head straight to the hotel, collect your passes, leave your bags and go enjoy the park – they'll notify you once the room is ready), then you'll be able to enjoy a total of 6 rides without having to queue. Just remember that Extra Magic Time is only limited to that specific timeframe very morning.
2. Single Rider Lines
At Disneyland, you will find that many of the attractions have what they call "Single Rider Lines". But what does this mean? Well, this is basically a specific line for people who don't mind riding the attractions alone whenever there are empty spots to fill in. This is actually a pretty neat time-saving method, as seen per the image below, where normal lines had an average waiting time of 40 minutes, while single riders would only have to queue for around 10 minutes.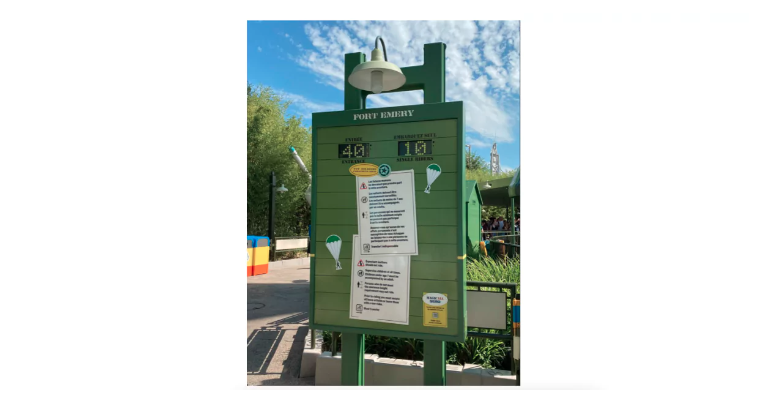 The downside? You probably won't be able to ride along with your group and will be placed at a specific spot assigned by the staff.
3. Premier Access One and Premier Access Ultimate
Disney Premier Access grants you access to a quicker, dedicated line for 12 of the most popular attractions in the park. Through Disney's official mobile app, you can either buy a Premier Access One, a pass which only grants you entry into one specific ride (costing between €5 and €25), or a Premier Access Ultimate, which you can use to buy your way into every single one of those 12 attractions within a selected day (prices range between €90 and €140, depending on the day of the week and volume of demand).
Although the latter is actually more expensive than a full adult ticket, using Premier Ultimate Access might actually be worth the splurge since the extremely reduced waiting times will probably allow its users to visit both parks in a single day.
On our most recent visit to Disneyland Paris in September, we decided to go for the Premier Access Ultimate, and we barely spent any time queuing. The difference was monumental, allowing us to easily enjoy the top attractions in both parks in a single day. We're talking about taking us just 4 minutes to hop on rides that had an estimated 90-minute wait in the regular line.
Though admittedly quite expensive (much like the hotel), it's worth the splurge if money isn't really an issue!
What is the smartest investment? Buying Premier Access or staying at a Disneyland Paris Hotel?
If you have some flexibility in your budget and are facing a choice between these two options (the cost difference for a family isn't that substantial), we'd recommend going for the Premier Access Ultimate if you have only one day to spend at Disneyland Paris.
However, if you've got two days, we believe that staying in a park hotel offers a lot more bang for your buck. You can make use of the Extra Magic Time to skip some lines and purchase one or two Premier Access One passes for the attractions you couldn't fit within that timeframe. Yes, waking up early for Extra Magic Time can be a bit of a hassle, but keep in mind you're just a 10-15 minute walk away from your hotel, meaning you can take advantage of this perk and return to your room for a power nap, or, as we did, enjoy a more relaxed breakfast while everyone else is visiting in the park.
Use Disney's official mobile app – a useful tip in our Disneyland Paris Guide
Keep in mind that waiting in line is pretty much guaranteed when it comes to the park's most famous rides. That being said, installing Disneyland Paris' official mobile app will allow you to monitor waiting times for each ride, while also keeping an eye out for scheduled show times and restaurant menus. Besides, it is also through this app that you'll be able to book a table at one of the restaurants or purchase special Premier Access passes. It is a very useful tool to help you optimize your time at Disneyland Paris.
Am I allowed to bring food and water into Disneyland Paris?
Inside Disneyland's premises, food and beverages don't come cheap… like, at all! In fact, don't get too surprised if eating and drinking turns out to be one of your biggest tabs while at Disney, since everything adds up quite fast – especially if you're visiting as a family. The cheapest sandwich costs about €7 and any sit-down meal can quickly set you back around €30 per person. That being said, the park does allow you to take snacks and water into the compound, which is why we recommend you to prepare a few quick bites before-hand in order to cut back on expenses.
You can also find countless drinking water fountains (usually next to the bathrooms) where you can fill up your reusable water bottle throughout the day.
Restaurants at Disneyland Paris
Even though they might lean toward the pricier side, during our two visits – especially since we had half-board as part of our package – we ended up exploring four different in-house restaurants. For those on the half-board plan, there's a menu offering a variety of choices for starters, mains and desserts, ranging between €45 and €55 per person (including a draft drink or water) for regular clients.
Although its entrance is slightly off to the side, the restaurant is located right inside the Pirates of the Caribbean ride, with pirate boats sailing by while customers dine. It focuses on Creole cuisine, and it was our favorite among all the spots we tried. The only minor drawback is that at some of the tables, especially those further from the center, the lighting can be a bit too dim. It's a good idea to secure a reservation through the app as early as possible, though you can always pop in and ask if there are any available slots if you find that reservations are fully booked. During less busy times, you might get lucky.
The papaya salad with smoked chicken as a starter and the rice pudding dessert with mango puree were particularly good. As for the main course, we went with the Caribbean-style chicken. It was tasty, just not as good as the other two.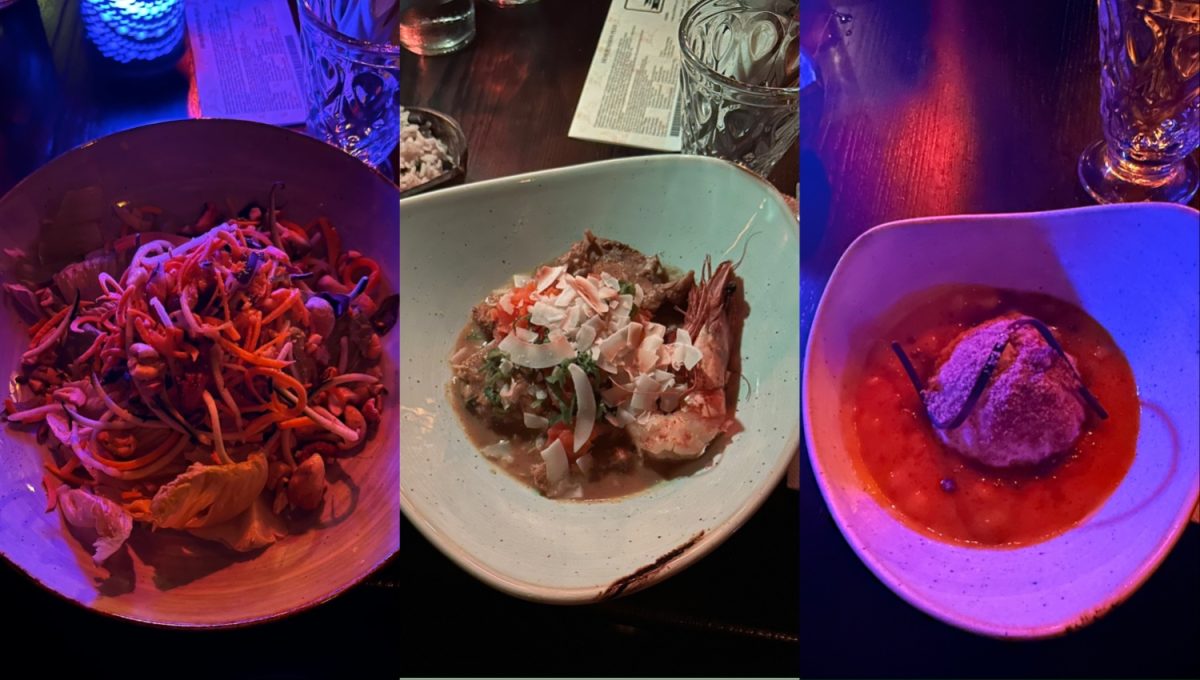 A Mexican fast-food restaurant located right in front of the Big Thunder Mountain. It's a good choice for a quick lunch, with a burrito and some fries setting you back €16. Plus, they offer a click-and-collect service, which means that while you're walking there, you can place your order through the app, complete the payment, and then simply join the dedicated queue to pick up your meal.
One of the park's most popular restaurants, serving Walt Disney's personal favorite dishes. Just like with Captain Jack's, it's a good idea to book your table well in advance or check for same-day availability as early as possible. During our visit, we started with a chicken pie for an appetizer, followed by mac and cheese as the main course, and wrapped up with lemon tart for dessert. While the appetizer and dessert didn't quite match up to those at Captain Jack's, the mac and cheese turned out to be the best main from all the restaurants we tried.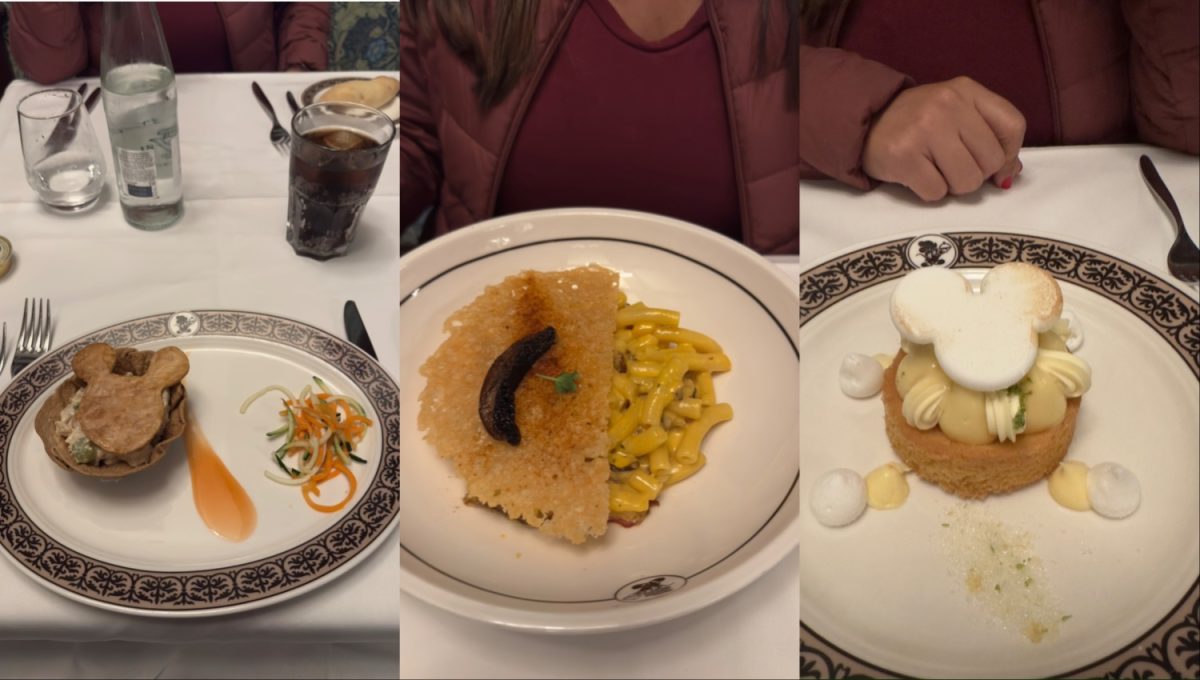 The Steakhouse is located in Disney Village, just outside the Parks, and specializes in meat dishes. We decided eat here mainly because they always have available seats, even on short notice. The carpaccio was quite good, while the angus steak and the chocolate and custard cake, though perfectly fine, were nothing to write home about.
Disneyland Paris rides you simply cannot miss
We'll try not to spoil too much!
Disneyland Park
It's the magical parade featuring all of your beloved Disney characters – An absolute must-see! Be sure to check the app for the exact timing.
A true classic, this traditional roller coaster offers a longer ride than most, and it's well worth the experience. It happens to be one of my personal favorites. Keep in mind, the wait times can get quite long, so consider riding during the Extra Magic Time.
Indiana Jones and the Temple of Peril
Regrettably, it was under maintenance during our last visit, but it's also a fan favorite. It's a thrilling experience without ever going over the top. The lines usually move fairly quickly, but it might be worth looking into the Disney Premier Access One option, since rates are quite fair.
Disneyland's most classic water ride. It's worth the thrills, and queues aren't usually that long.
Not exactly an adrenaline rush, but it's a lovely concept, taking passengers on a journey through different parts of the world on a brief boat ride. Oh, and good luck trying to get those catchy tunes out of your head! Wait times can fluctuate, so it's wise to keep an eye on the app.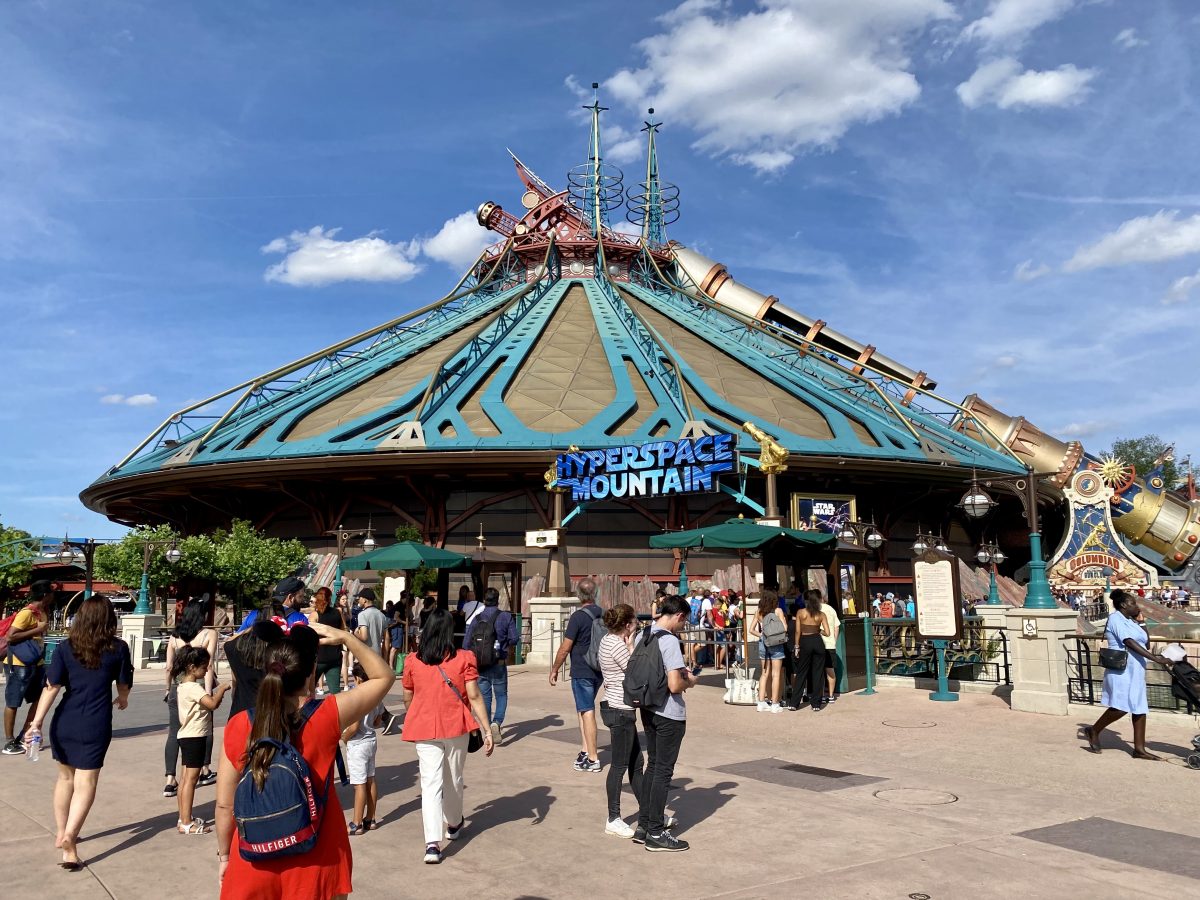 Another stand-out attraction, this roller coaster is a bit more hardcore than the others, as passengers take the thrilling experience in almost complete darkness. Since lines can get quite long, you might want to consider riding during the Extra Magic Time.
Star Tours: The Adventures Continue
C3PO takes over a spaceship with you onboard and takes you on a wild journey through some of the most iconic Star Wars settings. It's a super entertaining simulator, with some of the shortest wait times in the park.
Fancy target shooting while in motion? It's loads of fun, and the wait times are generally quite manageable.
The Lion King: Rhythms of the Pride Lands
In addition to the rides and thrills, Disneyland Paris offers unforgettable musical performances: case in point, The Lion King show. Remember to book your spot as early as possible through the app or website. If you couldn't secure a reservation, you may still try to watch the show if there are any availability seats. However, try to arrive early because non-reserved seats are limited.
Disney Dreams! – Light and Fireworks Show
An absolute must-see! Plan to arrive at the central square well in advance to secure a good spot.
Walt Disney Studios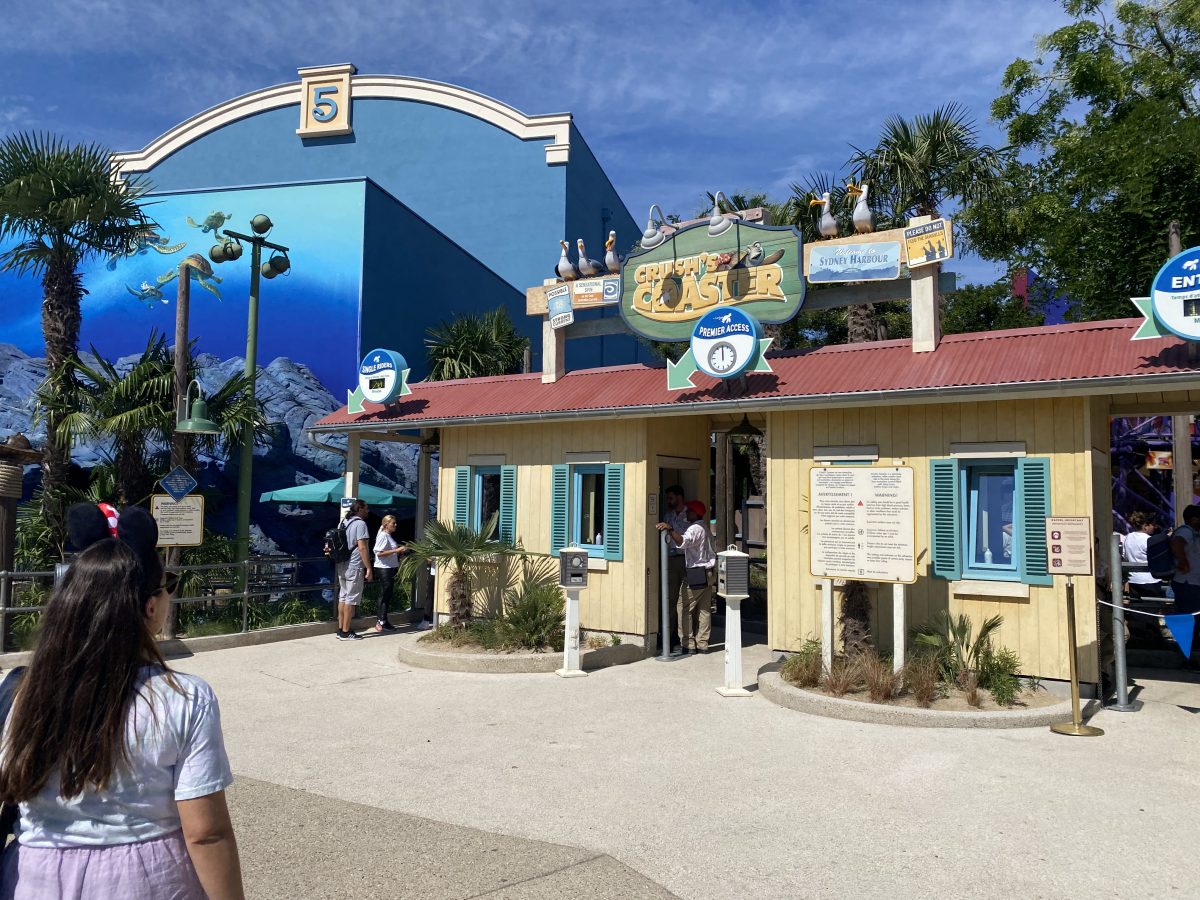 The ride with the longest waiting times from both parks, it offers a unique roller coaster experience that will certainly leave you spinning. It's a lot of fun but a bit too short. Definitely one to recommend getting the Extra Magic Time or investing in the Disney Premier Access One pass.
A great free fall experience! Plus, depending on the time of the day, wait times can be surprisingly short!
In our opinion, one of the Park's most underrated rides. It's not part of the Disney Premier Access lineup, but queues are typically quite manageable, possibly because it's a bit hidden away in the Toy Story section. Still, one not to miss!
Similar to Hyperspace Mountain, but with even more intense moments – the start will have you holding on tight to your seat! Well worth a ride, and the wait times are usually decent. Moreover, access through Disney Premier Access One is on the cheaper side.
Another show you absolutely shouldn't miss, this one's at Walt Disney Studios. Just like with The Lion King, it's wise to secure your reservation well in advance.
For a full list with all the shows, parades, rides and special attractions, you can check this link.