Cherished by many, disliked by others – truth is no one is indifferent to NYC! Yet, there's an undeniable appeal to this city that's hard to replicate anywhere else, as if you truly feel like you're right at the very center of the world, at the place where everything happens. Maybe it's the influence of Hollywood, the countless times we've seen NYC on the news, or the familiar settings of TV shows like "Friends", "How I Met Your Mother", "Sex and the City" or "The Marvelous Mrs. Maisel". Woody Allen's filmography, the 9/11, or the Late Night Shows on cable network. The melody of Frank Sinatra or the iconic duet between Jay Z and Alicia Keys. After all, what other city makes you feel like you know it so well even before setting foot there?
With a population of over 8 million, New York offers an overwhelming array of things to see and do, catering to every taste, style and budget imaginable. From numerous viewpoints set atop some of the most famous skyscrapers in the world, to top-class museums, diverse ethnic neighborhoods, musical performances, entertainment programs and the unmistakable Central Park, it would take a lifetime to truly embrace the full New York City experience.
That being said, we invite you to have a look at our New York City 3-day travel guide and discover the best the city has to offer, including hotels, restaurants, tips to avoid tourist scams, transportation and even a detailed list with everything you must see and do in New York City in 4 days.
New York City 4-Day Travel Guide
How to get to New York City – Flights from the UK
Considering just how massive New York City is, it comes as no surprise that the bustling metropolis is served three different major air hubs: LaGuardia Airport, John F. Kennedy International Airport and Newark Liberty International Airport (which is technically located in New Jersey).
As such, if you're traveling from the UK, it is possible to fly directly to JFK from London–Heathrow (British Airways, Delta, Virgin Atlantic, JetBlue and American Airlines), London–Gatwick (British Airways, Norse Atlantic Airways, JetBlue and Delta), Manchester (Aer Lingus and Virgin Atlantic) and Edinburgh (Delta). On the other hand, if you're flying to Newark, you can do so from London-Heathrow (British Airways and United Airlines) and Edinburgh (United Airlines).
New York City 4-day travel guide – Best time to visit the city
Just like in everything else, things tend to get rather extreme in New York City when it comes to the weather. While Summers can really scorch and winters are nothing short of freezing, the sweet spot for visiting the city falls in the shoulder seasons – Spring and Fall. Regarding the latter, that's when Central Park turns into a live canvas of brown and orange foliage, while entire blocks of Manhattan are closed off for the spectacular Greenwich Village Halloween Parade, the world's biggest Halloween procession!
But for those of you brave enough to embrace the cold, winter in the city can also be quite charming, thanks to the lavish Christmas decorations and the iconic New Year's celebrations. If you're looking to save a few bucks in a city known for its ludicrous prices, consider planning your trip for January and February, when crowds are noticeably smaller. Plus, January is when locals and visitors can take advantage of Hotel Week, Restaurant Week and Broadway Week, offering some fantastic discounts and deals on accommodation, dining and musical shows.
Documents needed for your trip to NYC
Considering this is a non-European destination and lacks any agreements with the EU for alternative forms of identification, it's an absolute must to have your passport ready if you plan to visit the United States of America. Your passport should also have a validity of at least 6 months beyond your intended date of entry.
Now, here's the good news for EU/British citizens – you won't need a tourist visa, meaning you can enjoy a stay of up to 90 days with just a stamp in your passport.
However, visitors still need to sort out the ESTA (Electronic System for Travel Authorization), an online form where you have to share personal details and answer a few questions about your intentions and travel history. Typically, applications are processed within a few hours, but it's a good idea to apply at least 3 days before your estimated day of arrival. It costs 21,00$ (17,00$ for the travel authorization + 4,00$ processing fee) and it's valid for 2 years.
New York City 4-day travel guide – Internet and SIM Cards
Since there is no special agreement in place between the UK and the US regarding international communications and roaming fees, using your regular phone plan is a big no-no!
That being said, our advice is to get yourself a SIM card once you touch down in New York. However, and here's the crucial part: DO NOT BUY ONE AT THE AIRPORT! The reason being that none of the American mobile carriers have physical stores at JFK or Newark airports. Inside their premises, your only options will be a generic phone stand or vending machines (yes, like the ones for snacks). The problem here is that SIM cards are ridiculously overpriced on both these alternatives, with 1GB of mobile data easily costing around 30,00$. Plus, if you go for the vending machines, you'll need to handle the subscription and activation of your selected plan yourself, and the instructions might not be all that clear.
Considering all these factors, it's a better idea to head to the city center and visit one of the physical stores of the major telecommunications providers in the country. However, just a heads-up, the prepaid SIM card market in the USA isn't as diverse as what you find in Europe, since there are only two companies selling this type of product in the entire country: T-Mobile and AT&T.
New York City 4-day travel guide –T< -Mobile SIM Card
10GB Plan

Price: 40,00$
Mobile Data: 10GB
Duration: 30 days
Texts and calls for US numbers: Unlimited
Unlimited Plan

Price: 50,00$
Mobile Data: Unlimited
Duration: 30 days
Texts and calls for US numbers: Unlimited
New York City 4-day travel guide – AT&T SIM Card
AT&T Prepaid 5GB Plan

Price: 30,00$
Mobile Data: 5GB
Duration: 30 days
Texts and calls for US numbers: Unlimited
AT&T Prepaid Unlimited Plan

Price: 65,00$
Mobile Data: Unlimited
Duration: 30 days
Texts and calls for US numbers: Unlimited
NOTE 1: Both companies technically have an activation fee of 10,00$ and 15,00$, respectively. However, this fee is waived for customers who buy any of these packages.
NOTE 2: Just like pretty much everything else in the US, these prices do not include taxes. For NYC, the sales tax hovers at around 8%, though it can vary according to the city district and the type of product/service.
New York City 4-day travel guide – eSIM Card from Airalo
Unlike most countries, the US stands out as one of the places where investing in an eSIM card can actually make sense from a budget perspective. Given that the options for 5GB and 10GB are noticeably pricey, and it's likely you won't require unlimited mobile data or extensive minutes/SMS for American numbers, you can save both time and money by going the digital route.
Here are a few of the eSIM options provided by Airalo:
5GB | 30 days | $16.00*
10GB | 30 days | $26.00*
20GB | 30 days | $42.00*
*These are the final prices, inclusive of taxes.
If you're unsure about the process of buying and activating a digital SIM card, we recommend checking out our article on the topic.
New York City 4-day travel guide – Withdrawals, banking fees and travel budget
With the US Dollar (USD – $) as the country's official currency, any withdrawal using a UK bank card might incur in the payment of several different fees. Besides the percentual fee referring to the currency conversion, some UK banks may also charge a flat commission for withdrawals made outside the UK. In some instances, you may well end up paying 5%-6% of your original withdrawal in banking fees.
On the other hand, exchanging money before your trip is not a viable solution either. Besides not being any cheaper, it's also not safe or wise to carry so much money on you during your trip. As such, we recommend using the services of online banking fintech companies such as Revolut, N26 or Monzo.
Although each have their own limitations and fees, they allow you to withdraw a certain amount in foreign currency without any fees involved. And even after that threshold is reached, costs are much smaller when compared to traditional banks. Sign up for Revolut for free >> to get 3 months of Premium.
It's also worth mentioning that electronic payments have become the standard in NYC, so the need to withdraw cash is becoming increasingly less common. However, in case you do find yourself needing to do so, almost all banks charge a fee for using a foreign card, which can range from a modest 1,00$ to a hefty 7,00$ per withdrawal. So, it's a good idea to withdraw as much as possible each time to avoid unnecessary additional fees.
On the other hand, if you prefer to have some cash on hand, we recommend exchanging your money for dollars back at home. Due to the high demand for the currency, the rates offered by currency exchange offices don't usually shy too much away from the official market rates (especially when compared to other currencies). Additionally, given the prevalence of the dollar, you could even contact your bank to inquire about the possibility of doing the money exchange through them. In these cases, the rate is often even better.
New York City 4-day travel guide – Safety, scams and frauds
Considering New York's status as one of the planet's largest and most famous cities, with a huge population and welcoming daily hordes of tourists, it's a fact that there are certain security challenges and tourist scams to be aware of. However, on the whole, the "Big Apple" remains a fairly safe destination. In fact, according to the 2023 report from Moneygeek, which relies on FBI crime statistics, New York City ranks as the 5th safest among all major US cities (with populations exceeding 300.000), ahead of destinations such as San Francisco, San Diego, Boston or Austin.
As a visitor, you'll likely stick to the central and most touristy areas of the city, where security and surveillance are more robust and the chances of coming across any issues are minimal. Additionally, it's no coincidence that NYC is known as "The City That Never Sleeps", since its streets are constantly busy at any time of day or night, making it safer to explore most parts of the city even after the sun goes down.
Be that as it may, and as anywhere else, it's essential to stay vigilant and be mindful of potential travel scams targeting visitors. Using your common-sense is key. That means no taxis whose drivers refuse to start the meter, no accepting help from strangers when you're using an ATM or trying to buy metro tickets and always keeping an eye out for your stuff when you're walking through busy areas, especially in the subway and around Times Square. Another thing to be aware of, which is terrifyingly common in many other American cities, is the prevalence of mental health issues among a significant portion of the homeless population in New York City. This may lead to you unwittingly watching some truly uncomfortable and distressing behaviors on the streets or in the subway. While most of these individuals are harmless, their misery and destitution are evident, and always difficult to witness.
Regarding the most common scams, you may come across individuals offering "free" music CDs near Times Square. Remember: "there's no such thing as a free lunch"! If you accept their offer, you'll likely find yourself surrounded by a group expecting a tip. Also, don't fall for individuals attempting to sell you tickets at lower prices for the subway/public transport, Broadway shows or other tourist attractions. This advice also applies to those who approach you on your way to the Staten Island Ferry, claiming that the ride isn't free. To make it clear: the Staten Island Ferry IS indeed free! As a final note, and although not a travel scam per se, whenever you see someone cosplaying as a famous character and want to take a photo with them, remember that this is basically their job and, for many, their main source of income. This means that each photograph comes at a cost, so don't be surprised if they request a payment for the "souvenir".
Where to sleep in New York City – Hotels and Accommodation
If you're looking out for a place to stay on our New York 4-day travel guide then we got your covered!
It's no secret that New York is an expensive city. It was already one of the costlier destinations in the world even before the pandemic, but prices have skyrocketed to levels that can feel downright unsustainable in recent years. Whether you're talking about dining out, finding a place to stay, getting around or visiting popular places, the Big Apple can quickly make a dent on your wallet! This is particularly true when it comes to hotels, apartments and hostels, especially in central areas (like Manhattan), where even the most basic rooms can easily set you back 200$ per night, often with cleanliness and service standards that leave something to be desired.
Best areas to stay in New York City
Officially, the city of New York is divided into 5 distinct boroughs, each with its own unique character and appeal. However, due to the sheer size of the city, these boroughs are further subdivided into various administrative districts, meaning you can have good and bad areas to stay within the same district. Here's what you should know about each of New York City's 5 boroughs:
Manhattan: The heart of the city and the borough that is usually portrayed in most movies and TV shows. This is the island where you'll find the majority of the city's renowned attractions, including the Empire State Building, Rockefeller Center, Central Park and Times Square. However, convenience comes at a cost, and in the case of Manhattan, a pretty steep one, as accommodation prices can feel otherworldly at times. Be that as it may, and even if you choose to stay in Manhattan, you'll still have to rely on public transport to explore its various neighborhoods, given the big distances (meaning you won't even get to save on transportation). That being said, unless you have a generous sum burning a hole in your pocket, it might be worth considering other boroughs as a base while visiting. In Manhattan, some excellent areas to stay include Midtown (known for its theaters), Upper West Side (adjacent to Central Park and the Museum of Natural History), Greenwich Village (near Washington Square Park), SoHo (home to alternative boutiques), the Meatpacking District (vibrant nightlife), Lower East Side (close to Chinatown and Little Italy) and the Financial District (encompassing Wall Street, the 9/11 Memorial and with easy access to the Brooklyn Bridge).
Brooklyn: Once playing second fiddle to Manhattan, Brooklyn has evolved into the hipster hub of New York and one of the city's most desirable places to live. However, this transformation has led to a significant surge in prices, to the point where, from a tourist's perspective, it may not differ that much from Manhattan anymore in terms of cost. As such, while Brooklyn is an attractive option for those planning to relocate or staying longer, for short tourist visits – and considering prices aren't all that different – Manhattan remains the smartest choice. Nevertheless, if you go with Brooklyn, the best areas to stay include Williamsburg (NYC's most alternative and bohemian neighborhood), Greenpoint (residential) and Fulton Ferry (good access to Manhattan and close to the Time Out Market New York).
The Bronx: Immortalized in countless rap and hip-hop lyrics, this borough stands out as a considerably more affordable area of New York. However, The Bronx isn't as safe as Queens, housing some of NYC's more challenging areas – such as Mott Haven, Hunts Point and Tremont. Nevertheless, given the Bronx's substantial size, it's easy to find accommodation in safer neighborhoods. Moreover, distances to Manhattan are smaller when compared to other boroughs, and transportation options are generally good. In the Bronx, it's advisable to stay in areas like Concourse (near Yankee Stadium), West Bronx (home to the city's most authentic Little Italy) and Parkchester (offering good access and safety).
Queens: By far the largest borough in NYC, Queens provides a budget-friendlier alternative (by New York standards) to Brooklyn and Manhattan. However, these smaller prices come with a longer subway commute to reach the city's major tourist destinations. Since you can't have the best of both worlds, you'll need to weigh in the pros and cons of staying in Queens. On a curious side note, Queens is known as a melting pot of cultures, with nearly half of its population born in foreign countries and the unofficial title of the most linguistically diverse place on the planet. If you choose Queens, consider staying in Long Island City (with excellent access to Manhattan) and Flushing (the most authentic Chinatown in NYC).
Staten Island: The fifth and final borough, Staten Island is the calmest and most suburban district in NYC. However, despite the free ferry ride to Manhattan with breathtaking views of the Statue of Liberty, there are barely any hotels in Staten Island, making it an impractical choice for lodging.
New Jersey: Considering its proximity to Manhattan and much nicer hotel prices, many visitors actually choose to stay in New Jersey, a different state altogether from New York. Although New Jersey is not part of NYC, it boasts excellent ferry and train connections, which, combined with the savings, make it a pretty popular choice. In New Jersey, it's best to stay in areas located along the Hudson River, such as Jersey City and Hoboken.
New York City 4-day travel guide – Where to sleep in Manhattan:
New York City 4-day travel guide – Where to sleep in Brooklyn:
New York City 4-day travel guide – Where to sleep in Queens:
New York City 4-day travel guide – Where to sleep in The Bronx:
New York City 4-day travel guide – Where to sleep in Jersey City:
New York 4-Day Travel Guide – Transportation between the airports and Manhattan
How to go from JFK Airport to Manhattan
The most convenient way to travel from JFK Airport to Manhattan is by using the AirTrain, a purposely-built rail service. The AirTrain station is conveniently located inside the airport premises, and it operates 24/7. Trains depart at different intervals: every 8 minutes between 11h00 and 22h30, every 12 minutes from 06h00 to 11h00 and every 20 minutes from 22h30 to 06h00, connecting the airport to Jamaica station. The fare for the AirTrain is 8,25$, plus 1,00$ for the MetroCard, a rechargeable transportation card that you can continue to use throughout your stay.
From Jamaica station, you have two options to reach Manhattan. First, you can catch the subway at Sutphin Boulevard/Archer Avenue/JFK Airport station (adjacent to the train station), with the E line heading to Midtown Manhattan, Washington Square Park, Soho and the World Trade Center, while the J/Z line takes you to Little Italy, Chinatown and the Financial District. The standard subway fare is 2,90$. Alternatively, you can choose the City Terminal Zone service offered by the Long Island Rail Road (LIRR). This train line departs directly from Jamaica Station and serves four distinct stops: Atlantic Terminal and Long Island City in Brooklyn; or Penn Station and Grand Central Madison in Manhattan. To ensure you're heading in the right direction, check the train's final destination displayed on the platform's electronic panel. To use the LIRR, you'll need to purchase a CityTicket, which costs either 5,00$ or 7,00$, depending on the time of the day (more details about it in the public transportation section).
How to go from Newark Liberty Airport to Manhattan
Just like JFK, Newark Airport also offers an AirTrain service. This AirTrain runs 24 hours a day, with a new vehicle departing every 3-5 minutes during the daytime (from 05h00 to 23h00) and every 15 minutes during the night (from 23h00 to 05h00). However, please note that this line only connects the different terminals within the airport to the Newark Liberty International Airport RailLink Station, where you then need to get out and switch to another train heading to Manhattan. This second train is managed by the NJ Transit system, and you can choose either the North Jersey Coast Line (blue) or the Northeast Corridor Line (red). In either case, your final destination will be the NY Penn Station, in Manhattan. The ticket fare covers both the AirTrain and the NJ Transit train and costs a total of 15,50$. Also, keep in mind that while the AirTrain operates round the clock, the same can't be said about the commuter trains, which do not run between 02h00 and 05h00. You can buy your ticket from the machines at the terminals/stations, and make sure to select NY Penn Station as your destination (don't mistaken it for Newark Penn Station, which is also an existing stop along the same line).
However, if your plan is to reach the southern districts of Manhattan (since Penn Station is in Midtown), Jersey City or Hoboken, there's a slightly faster option available. Instead of getting off at NY Penn Station, your journey on the same train lines will be shorter, ending at Newark Penn Station, where you can transfer to the PATH Trains, a railway system connecting the eastern districts of New Jersey to Manhattan. From there, you can take PATH's red line to the World Trade Center, in southern Manhattan, where you can switch to the subway or the LIRR in order to get to Brooklyn and/or Queens (if needed). For those staying on the New Jersey side of the Hudson, the same red line of PATH Trains will get you to Grove Street Station in downtown Jersey City. The fare for this journey is 13,75$, and it covers all the different legs from the airport. PATH trains run 24/7.
As a final option, you can consider taking the Newark Airport Express Bus, a shuttle bus service with 3 different stops in Manhattan: Grand Central Station, Bryant Park and Port Authority Bus Terminal. These buses depart from the airport every 30 minutes and operate between 04h00 and 01h00, with the trip taking from 45 to 60 minutes, depending on traffic. Tickets for this bus service cost 16,00$.
New York City 4-Day Travel Guide – Public transportation
As you've probably gathered from the detailed instructions on how to go from the airports to Manhattan, navigating New York City's public transportation system can be quite confusing. Unlike Europe, where collective transport is deemed essential, in the US everything was built with road traffic in mind, leading to far less efficient public transportation systems in its major cities.
However, in the fortunate case of NYC, the city's subway, buses, commuter trains and ferries are truly a game-changer for the millions who live and work there – but also for those who visit – playing a crucial role in easing the populational pressure in such a sprawling metropolis.
New York Subway – Maps, Tickets and Fares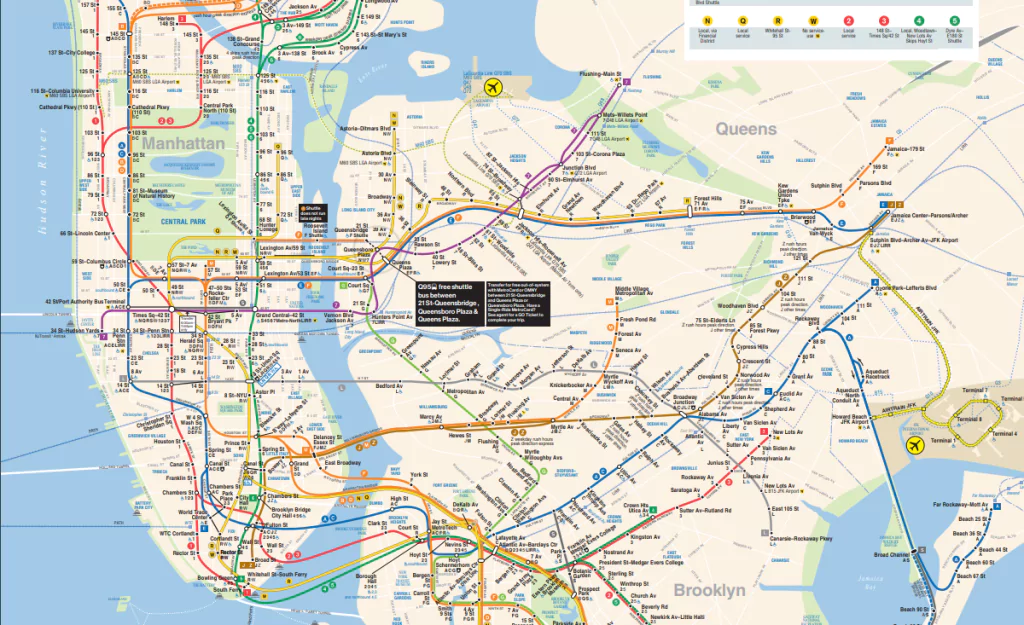 With 472 stations and 36 lines, the New York City subway system ranks among the world's largest and busiest, operating 24/7 and providing extensive coverage across Manhattan while reaching 4 out of the city's 5 boroughs.
In order to ride the metro/subway, there are three options available when it comes to tickets:
Single Ride: This is a one-time ticket for a single journey, priced at 3,25$.
MetroCard: It's a rechargeable card where the fare for each trip is deducted from the card's balance upon validation. The card itself costs 1,00$, and each ride is 2,90$.
OMNY: This contactless system allows you to use your credit/debit card (or smartphone) as your travel pass, with each trip costing 2,90$.
If you opt for the OMNY system, there's a weekly cap of 34,00$ per card or device, after which all subsequent trips are free for the rest of the week. Essentially, if you consistently use the same card for contactless payments, after your 12th weekly trip, all the others are free. However, if you're not comfortable with the idea of using your payment card as a transportation ticket, you can simply buy a MetroCard 7-Day Unlimited pass, which grants you unlimited subway and bus rides for the same 34,00$.
Furthermore, both MetroCard and OMNY payments allow for transfers to other subway lines or even buses within 2 hours of your ticket validation.
Buses in New York City
While not the most popular choice for tourists, you also have the option of using one of the more than 320 daily bus routes that serve all of New York City. The same fare rates and payment methods as the subway apply here, with a couple of notable differences.
When taking the bus, you can choose to pay your fare in cash, but keep in mind that it must be in coins, and you'll need to have the exact amount as no change will be provided. Another distinction from the subway is that there are buses with a higher fare of 7,00$! These special vehicles are known as Express Buses and typically connect Manhattan to the outer boroughs, making fewer stops along the route.
Train Services in New York City – New Jersey Transit, Long Island Rail Road e Metro North Railroad
Designed to connect Manhattan to its surrounding suburbs where the subway doesn't operate, there are several railway systems in NYC, each catering to a different borough. If you're staying in Manhattan, except for trips between the airport and the city center, chances are you won't need to use any of these networks. However, if your hotel is located in the suburbs, these railway systems can come quite in handy!
These are the different railway services available in New York:
Long Island Rail Road (LIRR): Also known as LIRR, it serves the borough of Queens. Ticket prices depend on the number of zones you travel through, but, if you're staying here, you'll most likely be within Zone 3. For traveling to Manhattan, consider purchasing a CityTicket, priced at 7,00$ or 5$, depending on whether you're traveling during peak hours (between 06h00 and 10h00 and from 16h00 to 20h00) or off-peak times.
New Jersey Transit: This system serves the eastern part of New Jersey, close to the Hudson River. It's particularly useful if you're staying in Jersey City or Hoboken. Much like the LIRR, fares also depend on how long your journey is. Additionally, the network includes PATH Trains, an above-surface metro system that reaches Manhattan. Unlike the rest of the network, PATH accepts MetroCards and OMNY (just like the subway) and each ride costs 2,75$.
Metro-North Railroad: Serving the northernmost districts of NYC and even extending to Connecticut, Metro-North is a great choice if you're staying in the Bronx, especially in areas not covered by the subway. Similar to LIRR, the CityTicket and peak-hour fare rates (5,00$ or 7,00$) also apply here.
Staten Island Railway: It covers the borough of Staten Island. However, if you happen to set foot in Staten Island, chances are you're only doing it for the amazing views from the deck of the Staten Island Ferry, which means you probably won't even need to use the local train. Nevertheless, the same fare structure as the subway applies, and both MetroCards and the OMNY contactless payment system are accepted.
Note: Unlike PATH Trains and the Staten Island Railway, none of the other railway networks/systems accepts MetroCards or the OMNY contactless payment option.
Ferries in New York City
With several bays nestled along the coast and the omnipresent East and Hudson rivers on each side of Manhattan, it's only natural that New York City boasts a pretty diverse network of ferries. Unlike the trains and subways though, ferry services aren't centralized into a common management, meaning there are multiple companies offering water transportation:
NYC Ferry: Offers 6 regular routes + 1 seasonal to Governors Island. Among the regular routes, 4 traverse the East River, linking Manhattan with Queens or Brooklyn; while the remaining 2 routes connect the Bronx to Rockaway Beach in Queens (with stops in Manhattan and Brooklyn) and Manhattan to Staten Island via the Hudson River. Tickets for each ride are priced at 4,00$ and can be conveniently purchased online or at the ferry terminals.
NY Waterway: Provides ferry connections between New Jersey and Manhattan, through the Hudson River. It's a useful yet relatively more expensive option for those based in Jersey City or Hoboken. Ticket prices range from 8,00$ to 9,00$ and can also be purchased online or at the terminals.
Staten Island Ferry: This is a completely free ferry service that links the southern end of Manhattan's Financial District to Staten Island. Operating round the clock, it offers departures every 30 minutes (or every 15 minutes during peak hours). Further details are available in the "Unique Experiences in the Big Apple" section.
Taxis in New York City
As seen in countless movies and TV shows, who hasn't daydreamed about flagging down one of those classic yellow cabs in the heart of New York City?
However, to avoid looking like an inexperienced idiot, there are a few key things to keep in mind. First and foremost, only the iconic yellow taxis are allowed to stop when a potential passenger signals them by raising their hand on the street. If another vehicle tries to do this, they could face a fine. Second, if the rooftop light on the taxi is off, it means the vehicle is either occupied or unavailable, so there's no use in continuing to hail it.
Regarding fares, and as you might expect, it's not exactly cheap! The base fare starts at 3,00$, with an additional charge of 0,70$ for every 320 meters the taxi travels above 20 km/h or for every 60 seconds spent in slow-moving or stopped traffic. On top of that, there are many extra fees to be aware of: 0,50$ for trips ending within the New York city limits, a 1,00$ Improvement Surcharge, 1,00$ for nighttime trips (between 20h00 and 06h00), 2,50$ for trips during the afternoon rush hours (from 16h00 to 20h00 on weekdays), and a 2,50$ Congestion Surcharge for each trip that begins, ends or passes through Manhattan south of 96th Street.
New York 4-day Travel Guide – Free walking tours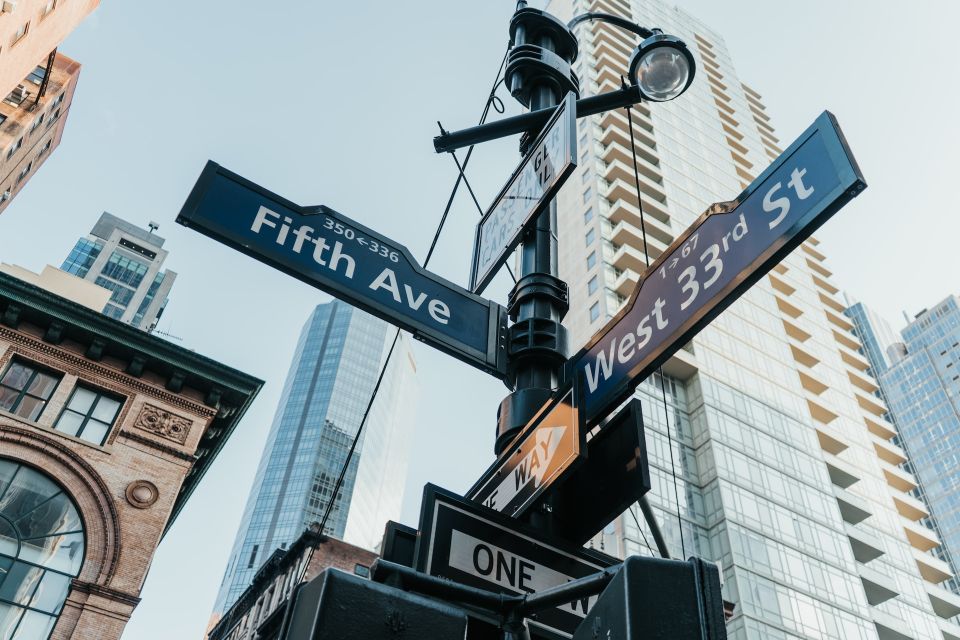 While in New York City, you have the option to explore several districts of Manhattan with a free walking tour. These tours, led by local guides or tour companies, offer guided visits to the historic center, sharing intriguing stories about each place and providing valuable cultural context. Even though these tours are technically free, it's customary to show appreciation for the guide's efforts by leaving a tip at the end. In NYC, a reasonable minimum tip would be around 7,00$.
That being said, here are a few companies that run free walking tours in New York:
New York 4-day Travel Guide – Unique Experiences in the Big Apple
For this segment of our New York City 4-day travel guide, I'd like to showcase a collection of truly unique experiences one can only enjoy in the Big Apple! It's important to note that these activities, while highly recommended, may not be feasible for everyone due to various factors, whether it's budget, time constraints or personal preferences.
However, if you enjoy any of the following suggestions and have the budget and/or time for it, they are highly recommended and really make a difference in your overall experience!
Watch a show on Broadway
Considering this is the absolute pinnacle of musical theater, it's only natural that many people dream of catching a Broadway show during their visit to NYC. After all, this famous Manhattan district boasts 41 professional theaters (not counting the off-Broadway productions) that currently host 25 distinct shows. Among the current lineup, you can discover timeless classics like "The Lion King", "Wicked", "Chicago", or "Sweeney Todd, the Demon Barber of Fleet Street", along with some of the most celebrated modern works such as "Hamilton" or "The Book of Mormon".
However, one must bear in mind that ticket prices can be quite steep, with the average ticket costing around 135,00$ during the 2023 season, soaring even higher for the most shows with the highest levels of demand. While the timelines for buying your tickets may vary for each show, it's generally possible to secure tickets for a specific date several months in advance. While this doesn't necessarily guarantee a lower ticket price, it does offer some flexibility in planning your itinerary and potentially avoiding the sessions with the highest ticket prices. To buy tickets in advance, you can visit the official Broadway website and choose the show you wish to attend. From there, the platform will direct you to one of the websites where you can complete your purchase, such as Ticketmaster, Telecharge or Seat Geek. Additionally, it might also be worth checking out websites dedicated to discounted ticket sales, as they often offer lower prices compared to the official Broadway site. Some reputable ticket aggregators include Playbill, Tix Culture (for tickets available one month in advance), TheaterMania and BroadwayBox.
On the other hand, if you're aiming to spend as little as possible and don't mind risking not getting a ticket, there are alternative options worth considering:
1. Probably the most popular choice, you can visit the TKTS Ticket Booths, where they sell same-day tickets – usually at good prices – for productions that haven't sold out. These booths open daily at 15h00 (or 11h00 for matinee performances), and you can check available tickets and prices on their official website.
2. Another option is to head straight to the box office of the theater where the show you wish to attend is playing (they usually open at 10h00) and ask about last-minute availability or Standing Tickets (as the name suggests, you won't have a seat).
3. However, your opportunities to find affordable tickets don't end there. In the most American thing ever, ticketing platforms organize daily digital lotteries, where fortunate winners have the chance to purchase tickets at prices typically ranging from 10,00$ to 60,00$. You can visit the Broadway on a Budget website and find the links to participate in the lottery for each show. The draft usually takes place on the day of the performance.
4. Alternatively, there are also nonprofit organizations dedicated to helping the youth gain access to cultural activities, allowing you to find tickets for 30$-35$. For instance, if you're under 40 years old, you can register for free with Hiptix and gain access to 2 tickets for each participating production. However, please note that the most popular Broadway shows are usually not included, and many of the productions are actually off-Broadway. Besides, once the tickets are distributed, you need to be quick and claim yours digitally, or you risk missing out. Similarly, if you're under 35 years old, there's also the 30 Under 35 program.
5. Lastly, and for one desperate last push, you can wait until the last minute and check ticket resale websites like StubHub. Tickets on such platforms are invariably more expensive than official sources, but you might stumble upon a seller willing to offer a reasonable price to minimize their losses (which is why it's crucial to check these platforms close to showtime).
Catch an NBA game at Madison Square Garden
When it comes to mixing up athleticism and entertainment, few experiences can match the thrill of the NBA, the number one basketball league in the world. In New York, you'll find two teams taking part in the iconic competition: the New York Knicks and the Brooklyn Nets. However, only the Knicks play their home games at the legendary Madison Square Garden, arguably the most famous arena on the planet!
Contrary to popular belief, it's not always wise to purchase your tickets well in advance. If you book several months ahead, you might end up paying over 100,00$ for cheaper section seats, while, if you're willing to take a bit of a risk, you can wait until closer to the game (even the day before or on the day itself) and check if ticket prices have dropped in an effort to fill the arena. This approach usually works, allowing you to score tickets for less than 50,00$. However, if it fails, you may end up having to pay a lot more to catch a game or to sadly give up on the idea. Furthermore, this strategy does not apply to games against major rivals (Miami Heat, Philadelphia 76ers, Boston Celtics, Chicago Bulls and – of course – the Brooklyn Nets), playoff matches or season openers. The official ticket-selling platform is Ticketmaster, and you can pick your preferred game on the NBA's official website (specifically on the Knicks' page).
As for the Brooklyn Nets, tickets are generally more affordable, even if you decide to buy them well in advance. You can often find tickets ranging from 30,00$ to 50,00$.
Finally, for our sports lovers out there, New York offers plenty of other options, including watching the New York Yankees and New York Mets in the MLB, the New York Giants and the New York Jets in the NFL, and the New York Rangers and the New York Islanders in the NHL.
See a live talk show taping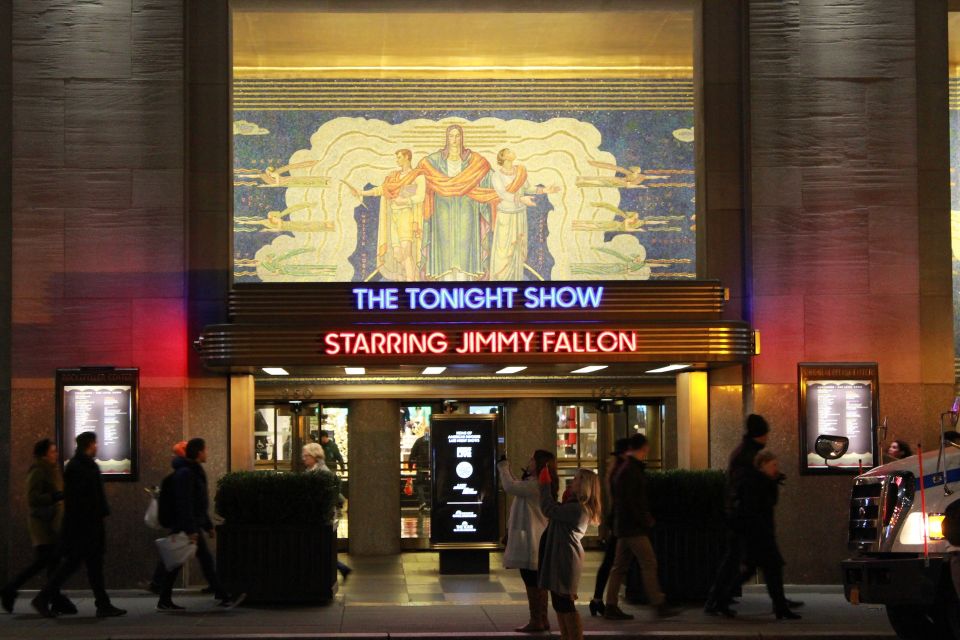 Who can forget those legendary talk shows, hosted by the likes of Conan O'Brien or Jay Leno, which were a staple on cable tv? Well, it probably doesn't come as a surprise that some of the most famous talk shows in the USA are actually taped right here in New York City… and anyone can be part of the live audience for free! However, to secure a seat in one of these coveted studio tapings, you'll need to act fast and, on top of that, have a little bit of luck on your side.
Here's an overview of some of the most famous talk and late-night shows you can catch in New York:
The Daily Show: A satirical news program that was once hosted by the iconic Jon Stewart, later succeeded by Trevor Noah (who has left the show in the meantime). At the time of writing, the new host hasn't been announced yet. Tapings are held from Monday to Thursday at 16h00.
Late Night with Seth Meyers: Late-night talk show made famous by the likes of David Letterman and Conan O'Brien, featuring news, comedy segments and interviews with celebrities from various fields. Tapings take place from Monday to Thursday at 16h00.
The Late Show with Stephen Colbert: Another show that was originally hosted by Letterman, it follows a similar format to Late Night but it's a lot more politics-oriented. Tapings are scheduled from Monday to Thursday at 17h30.
The Tonight Show with Jimmy Fallon: Probably the most famous talk show of the bunch, made legendary by Jay Leno. It's the format that most frequently features Hollywood celebrities and music stars, which makes getting tickets quite challenging. Tapings are held from Monday to Friday at 17h00.
Last Week Tonight with John Oliver: Similar to The Daily Show, this show is hosted by one of John Stewart's protégés. Tapings take place on Sundays at 18h15.
Saturday Night Live: The world's most famous sketch comedy show, which has been on the air for over 50 years! It's the only show that is broadcast live (on Saturday nights, as the name suggests) and getting tickets for it is extremely tough.
To score tickets, all you need to do is check the links posted above for each of these shows. Usually, tickets are released at the beginning of each month for the tapings scheduled to take place the following month. For instance, in early October, tickets for tapings in November will be made available. Tickets are distributed on a first-come, first-served basis, so you'll need to keep a close eye on the websites to secure your spot, especially for The Tonight Show and Late Night. For The Daily Show, it's usually possible to get tickets, even at the last minute. However, keep in mind that entry isn't guaranteed, as they'll admit the ticket-holders who get there first, until the studio is full.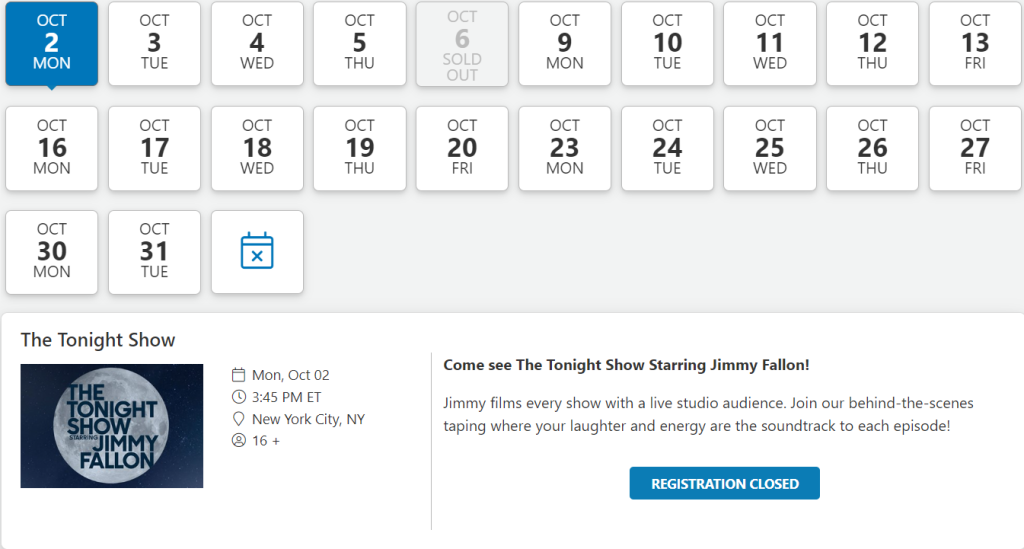 As for Saturday Night Live, there's only one single annual window for ticket requests, which takes place between August 1st and August 31st. To request tickets during this period, simply send an email to [email protected] with your request (up to 2 tickets) along with your personal information (name, phone number and address). At the end of August, if you're selected, you'll receive tickets for a random show date – yeah, you can't get to decide! This makes it a real challenge for tourists to attend unless your travel dates are flexible. Alternatively, you can try to snatch a Standby Ticket. To apply for these last-minute tickets, visit this link at 10h00 (local time) on the Thursday prior to the show you want to attend and enter your personal details. If luck is on your side, you'll receive a response with a designated reservation number in just a few hours. You must hold onto that number and head over to the NBC Studios on the following day (Friday) between 18h00 and 19h00. After you join the line, you'll need to wait until midnight, when the production will distribute the standby tickets. But does this guarantee you a seat? Well… Not exactly! Depending on the time stated on your provisional ticket, you'll go to the studio on the day of the show, and if there are any available or unclaimed seats (people who didn't show up or seats released by guests), standby tickets holders might get to fill those seats.
As a final note, your tickets will always mention all the practical information you need, such as the address, entry time and other relevant details.
Take the Staten Island Ferry
Since we won't be officially including it in our New York City 4-day travel guide, I wanted to take a moment to highlight the iconic Staten Island Ferry. Completely free to use, this ferry links the Whitehall Terminal, right at the southern tip of the Financial District, to the Saint George Terminal, in Staten Island.
However, what truly made this ferry pretty popular among visitors are the absolutely breathtaking views of the Manhattan skyline, as well as the fact that it sails quite close to the Statue of Liberty, allowing you to snap some incredible photos of this iconic monument! When you consider that the ferry ride to Liberty Island alone – where Lady Liberty stands – will set you back 24,50$ (and that's not even including the entrance ticket to the statue), it's easy to see why this is a popular choice for low-budget travelers visiting this outrageously expensive city.
So, now you know it: if you're running on a tight budget, feel free to exchange the visit to the Statue of Liberty on the 2nd day of our itinerary for a pleasant ride aboard the Staten Island Ferry!
Go on a Helicopter Tour through the skies of Manhattan
One of the most popular experiences among those who can afford it, there are many companies offering helicopter tours over the mesmerizing Manhattan skyline. Furthermore, they all seem to have somewhat similar offerings and pricing structures, usually providing three different options:
15-minute tour: It flies over the Statue of Liberty and Ellis Island, southern Manhattan and the picturesque Hudson River waterfront. Prices: Around 200$ + $40 facility fee and fuel surcharge;
20-minute tour: Beyond the 15-minute route, this tour extends into Midtown Manhattan and part of Central Park. Prices: Around 250$ + $40 facility fee and fuel surcharge;
30-minute tour: For those who want to see it all, this option goes beyond Central Park, venturing up to Harlem and The Bronx. Prices: Around 340$ + $40 facility fee and fuel surcharge.
New York City 4-day Travel Guide – Hidden Treasures
Considering the Big Apple is one of the biggest and most extraordinary cities on Earth, such a short visit won't obviously allow you to fully experience all it has to offer. Still, with a generous 4 full days in New York City, you can certainly check off the must-sees.
Nevertheless, and in order to spice things up a bit, we've also included a few off-the-beaten-path gems to add to your list of things to see and do in NYC:
New York Public Library: The fourth largest public library in the world, spread across four different branches. The main one is housed in the majestic Stephen A. Schwarzman Building in Manhattan, a building that certainly fits the part! Entrance is free of charge.
Coney Island: Having served as the setting for countless movies and TV shows, the lively Coney Island is a pretty popular seaside destination among New Yorkers, especially on sunny days! Besides the famous amusement park, you'll find plenty of eateries serving up the iconic Coney Island hot dog!
Ford Foundation Building: If you don't allow its unassuming exterior to fool you, the Ford Foundation Building hides what may be NYC's most unique garden. Spread across multiple indoor platforms, and decorated with fountains and pools, it's almost impossible to believe you're actually inside a building!
Stone Street: For a taste of old New York right in the heart of Wall Street and the Financial District, stroll down Stone Street, a charming pedestrian lane dating back to the days when NYC was just a Dutch colony, known as New Amsterdam.
The MET Cloisters: As a part of the renowned Metropolitan Museum of Art (MET), the Cloisters focuses on medieval European art and architecture. Beyond its impressive collection, the museum's setting is truly a sight to behold, with art pieces spread across replicas of 5 medieval cloisters (hence its name). If you buy a MET ticket, you can use it for the Cloisters on the same day (and vice versa).
Fort Tryon Park: While Central Park, Bryant Park and Washington Square Park may get all the attention, Fort Tryon Park is probably the most beautiful green space in NYC that you've never heard of! Plus, this is also where you'll find the MET Cloisters.
Hasidic Jewish Community in Brooklyn: Highly concentrated in Brooklyn, particularly in neighborhoods like Williamsburg, Borough Park and Crown Heights, this ultra-Orthodox community is known as one of the most traditional and closed-off in the country. While gaining access to their daily lives can be challenging, observing how they maintain their traditions in such a bustling, gigantic city is nevertheless fascinating. Currently, there are small companies and guides offering tours of the community, like Frieda Vizel (a former member) or Jewish Brooklyn (visits conducted by residents).
Whispering Gallery: Part of the extraordinary Grand Central Terminal, the Whispering Gallery is an indoor intersection with a particularly quirky feature. Thanks to its unique acoustics, any word/sentence you mumble while standing in one of the four corners, can be heard with clarity by anyone standing in one of the remaining three. This means you can have a hushed conversation with another person, even if you're meters apart and facing a wall!
New York Transit Museum: Located in a decommissioned station in Downtown Brooklyn, this museum shows the remarkable evolution of New York's public transportation systems.
New York City 4-Day Travel Guide – What to See and Do in 72 Hours
As mentioned earlier, even the most extended vacation wouldn't do justice to all that New York has in store. Nevertheless, I've tried to craft an itinerary that is as comprehensive as possible, aiming to cover the classics like Central Park, Times Square and the Statue of Liberty, along with cutting-edge spots such as the High Line and The Vessel, and world-class museums like the MET, the 9/11 Memorial and the Museum of Natural History. In between, I simply couldn't leave out the famous viewpoints at the Rockefeller Center and the Empire State Building, the iconic Brooklyn Bridge, and some of Manhattan's trendiest, picturesque and well-known neighborhoods / streets, such as Greenwich Village, SoHo, Wall Street, the Upper West Side, Fifth Avenue and the Chinatown/Little Italy duo. So much to see, so little time!
Without further ado, here's what to see and do in New York in 4 days:
New York City 4-Day Travel Guide: Day 1 – Midtown, all the Manhattan classics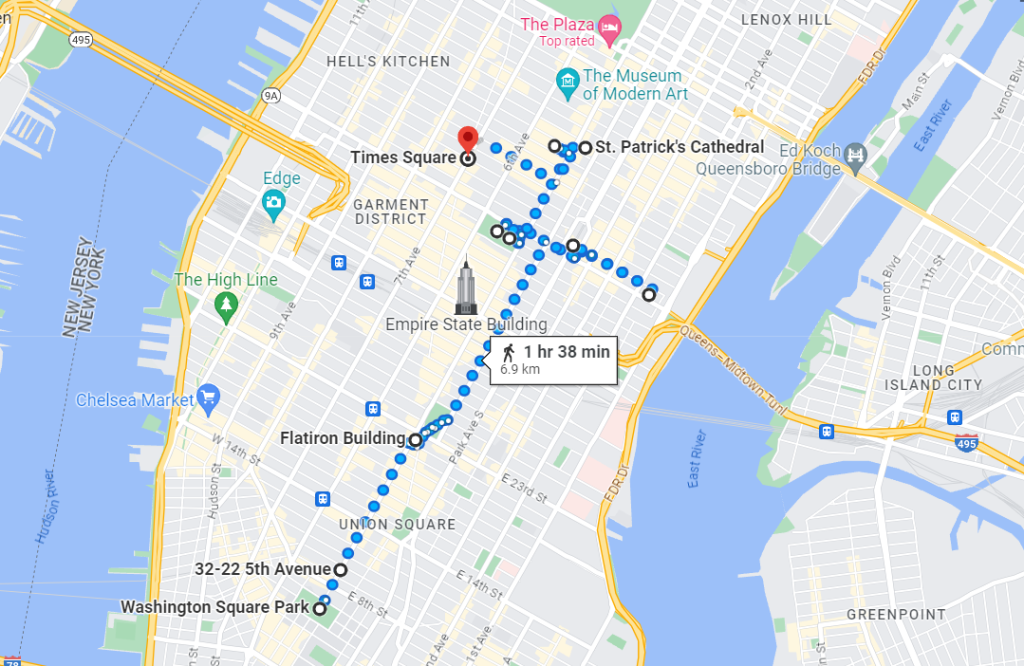 Fresh off the proverbial boat in New York City, it's only natural that you want to dive head straight into the quintessential classics of the Big Apple. And what better way to kick off your adventure than by spending a day in Midtown, the very heart of Manhattan, where you'll find most of the city's iconic landmarks. That being said, the starting point to your journey will be the lively Washington Square Park, a green space whose monumental triumphal arch marks the beginning of the famous Fifth Avenue, one of the world's most exclusive shopping streets! Stretching for almost 10 kilometers, this sprawling avenue was organically segmented, with sections dedicated to shopping, others to museums, and some to grand residential mansions. Plus, as you wander north along the boulevard, you'll come across many of the attractions planned for today, including the Flatiron Building, one of NYC's most captured landmarks.
Continuing your journey along Fifth Avenue, you'll pass by the iconic Empire State Building but move on onto Bryant Park, where you'll find the majestic Stephen A. Schwarzman Building, the main branch of the New York Public Library – the the fourth largest public library in the world. Like most public places, entrance is free of charge. From here, take a slight detour to the east to discover one of New York's best-kept secrets: the Ford Foundation Building! If you don't allow its unassuming exterior to fool you, it hides what may be NYC's most unique garden. Spread across multiple indoor platforms, and decorated with fountains and pools, it's almost impossible to believe you're actually inside a building! As you make your way back to Fifth Avenue, don't forget to admire the Chrysler Building, a marvel of Art Deco architecture and once the tallest building in the world, before stopping at Grand Central Terminal. Considered the world's largest train station, I'm pretty sure you've seen its main hall in countless movies. Plus, it's home to the Whispering Gallery, an indoor intersection with a particularly quirky feature. Thanks to its unique acoustics, any word/sentence you mumble while standing in one of the four corners, can be heard with clarity by anyone standing in one of the remaining three. This means you can have a hushed conversation with another person, even if you're meters apart and facing a wall!
After lunch, you'll finally get to see the city from above, one of the top activities in NYC. Truth be told, the city offers plenty of different viewpoints from many of its famous skyscrapers, from the classic Empire State Building to the more recent additions like the One World Observatory, the Summit One Vanderbilt and the Edge Observation Deck. However, in my opinion, none quite matches the experience of the Top of the Rock, the observation deck at the Rockefeller Center. The building just exudes that early 20th century charm that came to be synonymous with New York City, but at the same time you get phenomenal views that actually include the iconic Empire State Building. It's a win-win! Tickets for the Top of the Rock cost 40,00$ and you must purchase them online and select an allotted time slot. If you wish to visit during sunset, there's an additional 15,00$ fee per ticket. However, if you really want to get to the top of the Empire State Building, access to the main deck on the 86th floor costs 44,00$, with an additional 11,00$ during sunset times. You can buy your ticket here. Alternatively, for 64,00$, you can go for the AM/PM Experience, allowing you to visit the famous skyscraper at two different times on the same day – once in the morning and again at night.
After your panoramic experience, it's time to touch solid ground again and visit Saint Patrick's Cathedral. Built in the 19th-century in the European Gothic style, it stands as one of the city's most beautiful and famous churches. To wrap up your day, nothing better than seeing the lights at the legendary Times Square. Is this an iconic landmark or just a huge tourist trap? Well, probably a bit of both, really. But with its ad billboards, never-ending crowds and colossal neon signs, it's hard to deny that a visit here is a must for anyone visiting NYC for the very first time. While you're here, and if you're lucky enough to have secured tickets for a show, you can explore the legendary Broadway, the holy grail of musical theater, where you'll find no less than 41 professional theaters. For more information on how to get tickets, please refer to the "Unique Experiences in the Big Apple" section above.
First day wrap-up:
Washington Square Park
Fifth Avenue
Flatiron Building
Empire State Building
Bryant Park
New York Public Library
Ford Foundation Building
Chrysler Building
Grand Central Terminal (Whispering Gallery)
Top of the Rock – Rockefeller Center OR The Empire State Building
Saint Patrick's Cathedral
Times Square
Broadway
Cheap restaurants in Midtown Manhattan:
New York City 4-Day Travel Guide: Day 2 – The Statue of Liberty, Wall Street and Brooklyn
Another day in vibrant NYC, another fresh set of iconic destinations waiting for you! This time, we kick off with a visit to Liberty Island, home to the Statue of Liberty. To visit this emblematic monument, you'll need to buy ferry tickets through State City Cruises, the only ferry operator authorized to run transportation between New York/New Jersey and Liberty and Ellis Islands. For those visiting from New York, ferries depart from Battery Park, stopping at Liberty Island and Ellis Island before returning to Manhattan. The ticket costs 24,50$ and includes entry to the Statue of Liberty Museum and the Ellis Island Immigration Museum. However, if you wish to access the Statue of Liberty's pedestal or ascend to the crown's viewing platform, be prepared for an additional fee of 49,60$ (24,80$ for pedestal access + 24,80$ for crown access). As you can tell, visiting Lady Liberty doesn't come cheap, which is why, if you're happy enough with a relatively close view from water level, you can go for the free Staten Island Ferry instead. Although it doesn't dock at Liberty Island, the ferry's route, linking Battery Park to Staten Island, offers great views of the Statue of Liberty and the majestic Manhattan skyline as you sail along the waters of the Hudson. For more details on the ferry, please refer to the "Unique Experiences in the Big Apple" section above.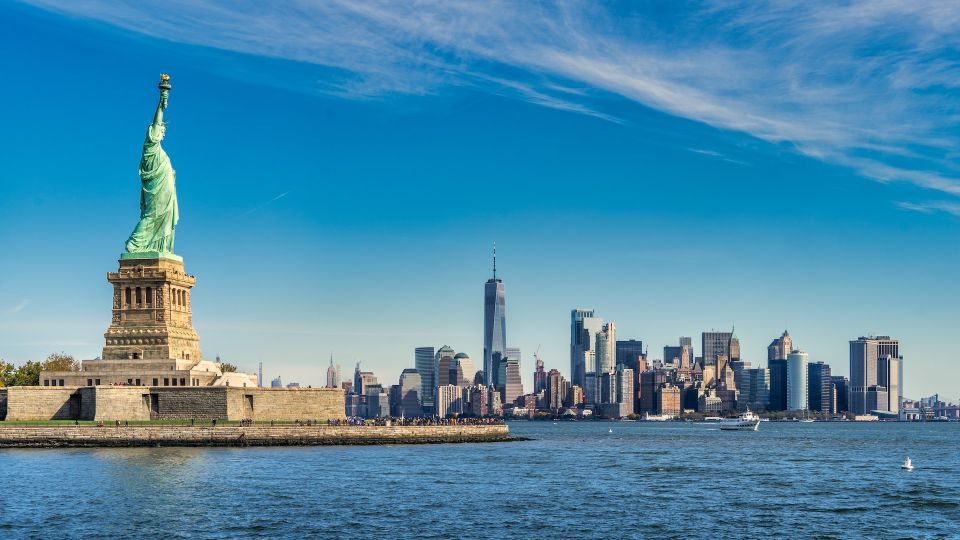 Regardless of your choice, once you're back on land, you'll be ready to explore the southern tip of Manhattan and its Financial District, home to the famous Wall Street. Here, among the concrete giants, you'll find the grand, opulent architecture reminiscent of Western Europe's greatest cities, as well as some of the most iconic symbols of American capitalism, including the Charging Bull statue and the New York Stock Exchange. For a taste of old New York, stroll down Stone Street, a charming pedestrian lane dating back to the days when NYC was just a Dutch colony, known as New Amsterdam. As you continue your journey northward, make a pit stop at Trinity Church, another of the city's most beautiful churches, whose cemetery serves as the final resting place of Alexander Hamilton, one of the Founding Fathers and a man with a remarkable life story that served as the inspiration for the hit Broadway musical "Hamilton". Near the church, it's also mandatory to visit the 9/11 Memorial & Museum (33,00$, free entry on Mondays from 17h30 to 19h00), an institution that portrays the events and impact of the most unimaginable terrorist attack in modern history, while paying tribute to all the victims and honoring the heroic efforts of the city's law enforcement and rescue teams. It's undoubtedly one of the most emotional museums in the city. Just outside, you can pay your respects at the memorial, which was erected at the exact spot where the Twin Towers once stood, and consists of a pair of reflecting pools, inscribed with the names of each of the 3000 victims. To lighten the mood after this somber experience, step inside the nearby Oculus, a futuristic shopping gallery, resembling a spacecraft, housed inside a public transportation hub.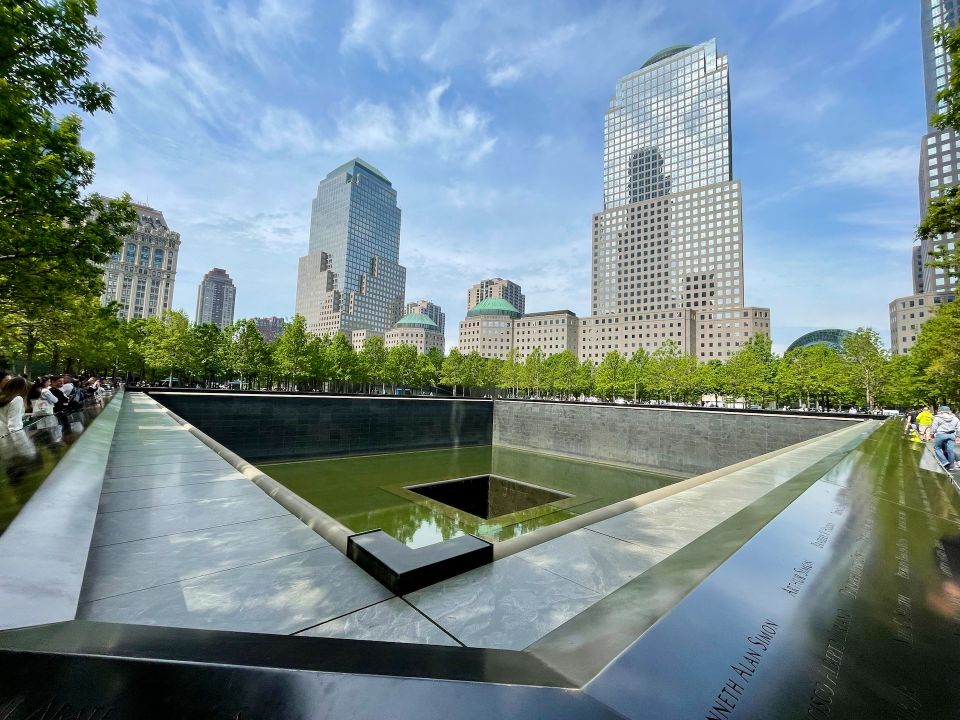 From there, it's time to leave Manhattan and visit the neighboring borough of Brooklyn, across the East River. The most picturesque way to do so is by strolling across the magnificent Brooklyn Bridge, famous for its stone arches and suspension cables, whose pedestrian promenade offers breathtaking views of the Manhattan skyline as you approach Brooklyn. Once you've reached the other side, you'll find yourself in DUMBO, the neighborhood everyone goes to for one of the most popular shots to ever grace Instagram feeds around the world, portraying the Manhattan Bridge peeking through rows of charming brick buildings.
Second day wrap-up:
Statue of Liberty and Ellis Island (alternative: Staten Island Ferry)
Financial District (Wall Street)
Charging Bull
New York Stock Exchange
Stone Street
Trinity Church
9/11 Memorial & Museum
Oculus
Brooklyn Bridge
DUMBO
Cheap restaurants in the Financial District:
New York City 4-Day Travel Guide: Day 3 – Central Park and the MET
On your third day in NYC, it's finally time to set foot in Central Park, not only the most popular among New York City's many green spaces, but it's also arguably the most famous park on the planet! Entering the park from the southern entrance on 59th Street, your first must-see attraction will be the Wollman Rink, where an expansive skating rink is set up every single winter. Continuing your journey along The Mall and Literary Walk, a charming pathway adorned with statues of literary giants, you'll arrive at Bethesda Terrace, a two-level monument featuring a graceful fountain, and one of the most beloved spots in all of Central Park. From here, you can go down to the shores of The Lake, and walk around it until you reach Strawberry Fields, a garden and mosaic created as a tribute to John Lennon and his message of peace and harmony. Finally, and before ending your walk through New York's green oasis, you'll make the traditional climb to Belvedere Castle, a lookout point that boasts some of the most breathtaking views across Central Park.
As you leave the park, you'll find two exceptional museums at the two exits located on 79th Street. Let's begin with the one to the west, where you'll find the American Museum of Natural History (28,00$), the largest of its kind in the world and an excellent choice for visitors of all ages, featuring vast collections of animals, skeletons, meteorites and fossils. On the other hand, should you go for the eastern end of the park at 79th street of the park, you'll come across the Metropolitan Museum of Art (30,00$). This colossal institution, spanning over 2 million objects and 50.000 square meters, stands as the largest museum in the United States. Among its numerous treasures, the Temple of Dendur takes the spotlight – an authentic 2000-year-old Egyptian temple, dismantled and carefully brought to the museum. Keep in mind your museum admission ticket also grants access to the MET Cloisters on the same day, without any additional charges. Being part of the same institution, the Cloisters focuses on medieval European art and architecture. Beyond its impressive collection, the museum's setting is truly a sight to behold, with art pieces spread across replicas of 5 medieval cloisters (hence its name). The Cloisters are located inside Fort Tryon Park, probably the most beautiful green space in NYC that you've never heard of!
Third day wrap-up:
Central Park

Wollman Rink
The Mall and Literary Walk
Bethesda Terrace
The Lake
Strawberry Fields
Belvedere Castle

American Museum of Natural History
Metropolitan Museum of Art (Met)
MET Cloisters
Fort Tryon Park
Cheap restaurants near Central Park (Upper East Side, Upper West Side and Harlem):
New York City 4-Day Travel Guide: Day 4 – Little Italy/Chinatown, SoHo, Greenwich Village e Chelsea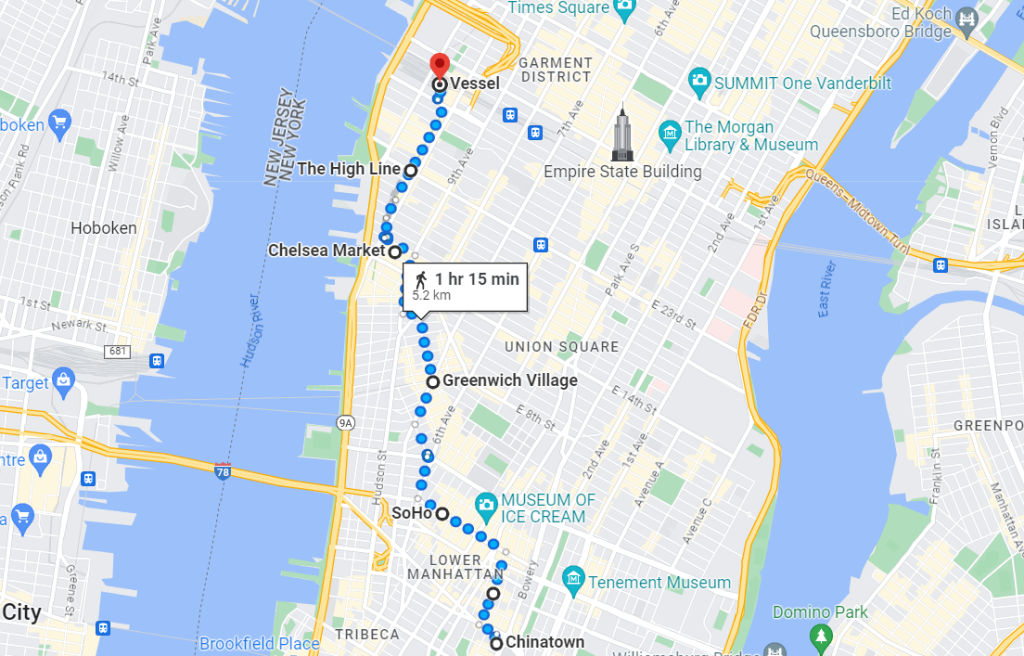 As your New York City adventure comes to a close, you have one more day to explore some of the city's most iconic neighborhoods and districts, both popular among tourists and beloved by locals. And speaking of touristy, your day will begin in the dynamic duo of Little Italy / Chinatown, two neighboring quarters where Italian and Chinese immigrants in the late 19th century used to settle. While they are now considered potential tourist traps (especially the Italian side), it's still fascinating to wander through their picturesque streets and take in the sights, sounds and flavors from far away places.
Next, head to SoHo, a bohemian and fashionable quarter of NYC, where you'll find plenty of art galleries, alternative boutiques and trendy eateries that draw locals and visitors alike. The area is also known for its abundance of cast-iron architecture, a distinctive style that is quite common in New York City. Just a bit further north lies Greenwich Village, which has a lot in common with SoHo. Besides its alternative vibe, this neighborhood played a pivotal role in the city's counterculture during the 1960s and was the stage for the Stonewall Rebellion, the event that kickstarted the LGBT rights movement.
As you approach the end of your time in NYC, make your way to Chelsea Market (where you can have a quick snack) and walk along the High Line. Stretching for almost 2.5km, this is a unique urban park built on the tracks of a former railway line, creating an elevated green space that offers great views of the Meatpacking District, Chelsea and the shores of the Hudson, along with amazing street art murals. At the end of the trail (well, or at the start, depending on the POV), you'll come across Hudson Yards, a modern real estate and commercial complex filled with sleek skyscrapers, restaurants and shopping malls. Plus, it's also home to The Vessel, a futuristic monument in the shape of a (sort of) spiral staircase. While it is no longer possible to climb to the top, you can still admire this uncommon sight from its base.
Fourth day wrap-up:
Little Italy
Chinatown
SoHo
Greenwich Village
Chelsea Market
High Line
The Vessel
Cheap restaurants in Little Italy/Chinatown, SoHo, Greenwich Village and Chelsea:
Got more than 4 days in NYC? Then it's worth checking out the best day trips from New York City:
Niagara Falls – Equal parts long and impressive, this is a day trip that will take you to the most powerful waterfalls in North America. Nature in all its might! To make it work in one single day, though, you'll need to catch a flight from NYC to Buffalo Niagara International Airport (and back).
The Hamptons – For long a preferred destination among the rich and the famous, the Hamptons is an exclusive coastal area along Long Island's south shore, boasting some of the state's finest beaches.
Washington DC – Another long option, but totally doable by road, the US capital and its National Mall are home to some of the country's most iconic landmarks, including the White House, the Capitol, the Washington Monument or the Lincoln Memorial.
Philadelphia – Known as the birthplace of the nation, this is where the Declaration of Independence was signed and the US Constitution was ratified! As one would expect of such a history-rich city, the historic district is packed with impressive buildings and monuments dating back from America's early days. Well, that and Rocky's famous steps!
Beacon – A charming historic village tucked away in the Hudson Valley, its streets are lined by classic Victorian-era buildings. To capture the town's postcard picture, don't miss the climb up to Mount Beacon Park.
The Catskills – Ideal for those seeking a break from the city's hustle and a dose of fresh air, the Catskills are a mountain range within the Appalachian Mountains. While visiting, take advantage of the region's many hiking trails, take in the scenic views or simply relax by the shores of the Delaware River.
Princeton University – One of the world's most prestigious educational institutions, the architecture at Princeton is reminiscent of the classic styles found at Oxford or Cambridge, in the UK. As such, its buildings and halls are nothing short of astounding!