Famous for housing the headquarters of the European Parliament, Strasbourg is, alongside Brussels, one of the European Union's capitals. Yet, this city is way more than white-collar bureaucrats and shiny suits. As the largest city in Alsace, Strasbourg stands as a stronghold of a region with a truly unique culture, shaped over centuries of cultural exchange between Germans and the French. While the flags waving here are blue, white and red, and the language spoken is predominantly French, there's no mistaking the half-timbered architecture, the local dishes or the legendary Christmas markets: the German history and influence are strong!
An influence that is far from being confined to Strasbourg alone and extends to every quaint town in Alsace, whose German flare consistently gets them on the lists of France's most beautiful villages. This is the essence of Alsace – and consequently, Strasbourg – a region that offers the very best of two neighboring (yet distinct) nations.
That being said, we invite you to have a look at our Strasbourg  3-day travel guide and discover the best the city has to offer, including hotels, restaurants, tips to avoid tourist scams and even a detailed list with everything you must see and do in Strasbourg in 3 days, including day trips to the most beautiful towns in Alsace, such as Colmar, Riquewihr or Kaysersberg.
Strasbourg 3-Day Travel Guide
How to get to Strasbourg – Flights from the UK/Ireland
Despite its status as a EU capital, the truth is that the city is only served by a small international air hub: the Strasbourg-Entzheim Airport.
As such, if you're traveling from the UK, it is possible to fly directly into Strasbourg from London-Gatwick with Volotea. However, you can also fly into a nearby city and then travel overland to the capital of Alsace. When looking at options in France, you can fly into Paris or Lyon, both roughly 500 km away, and then either hop on an SNCF train or take a bus with Flixbus. Alternatively, and since Strasbourg is a border city, it's worth considering flights to cities in neighboring countries, such as Baden-Baden (60 km), Stuttgart (150 km) or Frankfurt (220 km) in Germany; Basel (150 km) in Switzerland, or even Luxembourg (250 km).
Strasbourg 3-day travel guide – Best time to visit the city
Although Strasbourg is a great destination year-round, there's a special magic in visiting Alsace during the Christmas season. After all, this region is famous for hosting some of the world's best Christmas markets, as every small village is meticulously decorated and themed stalls pop up all over the place. That being, the undisputed best time to experience Strasbourg is during the month of December (last week of November as well).
However, if this timing doesn't quite work for you, consider visiting during shoulder-season, in the seasons of Spring and Fall. This means fewer crowds and budget-friendlier prices, without having to compromise on the weather!
Documents needed for your trip to Strasbourg
Since France is part of the EU, British citizens do not need a visa to visit. You'll just need your passport, which must have been issued within the last 10 years and remain valid for at least 6 months from the date of your trip.
However, keep in mind that starting in 2024, British passengers will need to apply for ETIAS in order to enter any EU country.
Strasbourg 3-day travel guide – Withdrawals, banking fees and travel budget
With the Euro (€) as France's official currency, any withdrawal using a UK bank card might incur in the payment of several different fees. Besides the percentual fee referring to the currency conversion, some UK banks may also charge a flat commission for withdrawals made outside the UK. In some instances, you may well end up paying 5%-6% of your original withdrawal in banking fees.
On the other hand, exchanging money before your trip is not a viable solution either. Besides not being any cheaper, it's also not safe or wise to carry so much money on you during your trip. As such, we recommend using the services of online banking fintech companies such as Revolut, N26 or Monzo.
Although each have their own limitations and fees, they allow you to withdraw a certain amount in foreign currency without any fees involved. And even after that threshold is reached, costs are much smaller when compared to traditional banks. Sign up for Revolut for free >> to get 3 months of Premium.
Strasbourg 3-day travel guide – Common scams and frauds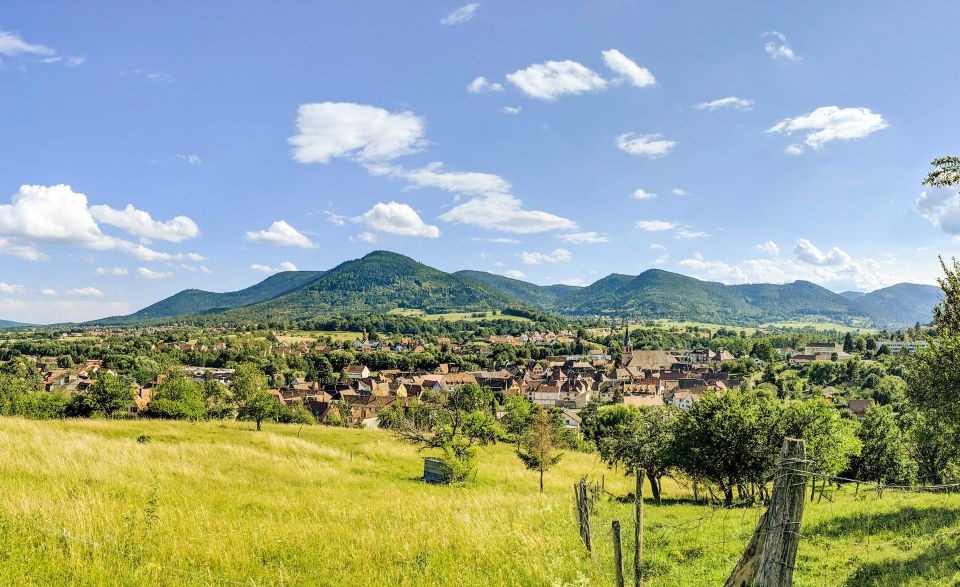 Fortunately, Strasbourg can be considered a pretty safe destination in the global context. Even within France, the most visited country in the world, Strasbourg is a far cry from the tourist traps and bustling crowds of Paris, or the petty crime and dark atmosphere of the likes of Marseille.
However, and much like you would do in any other big city, using your common-sense is key. That means no taxis whose drivers refuse to start the meter, no accepting help from strangers when you're using an ATM or trying to buy metro tickets and always keeping an eye out for your stuff when you're walking through busy areas. To sum up: don't do anything you wouldn't feel comfortable doing in any other city!
And if the atmosphere in Strasbourg is already pretty relaxed, any remaining concerns pretty much disappear when venturing into the charming villages and towns of Alsace. With their smaller size and an economy that's heavily focused on tourism, the likelihood of anything remotely negative happening is nearly non-existent.
Where to sleep in Strasbourg – Hotels and Accommodation
If you're looking out for a place to stay on our Strasbourg 3-day travel guide then we got your covered!
Unfortunately, Strasbourg is far from a what can be considered a budget-friendly destination. Especially when it comes to food and accommodation, it is quite difficult (though not impossible) to find options that go easy on the wallet. However, one of the main advantages of its geographic and cultural proximity to Germany, is that hotels and apartments tend to have relatively high and consistent standards in Germanic countries. Yes, you'll pay a bit more but at least you'll get your money's worth!
That being said, here are a few hotel options which have passed our value-for-money test:
Strasbourg 3-Day Travel Guide – Transportation between the airport and the city centre
Upon landing in Strasbourg, the best way to reach the city is by using the local urban train system. The Aeroport-Entzheim station is directly connected to the airport, with the train taking you to Strasbourg's Central Station in just 8 minutes. These vehicles run daily from 06h00 to 22h30, and you can buy your ticket at the station's automatic machines or through the SNCF booking portal. Tickets cost €3,00. However, if you're going to need to take a bus or a tram upon arrival in the central station, then it's better to buy a TER+CTS Ticket (€4,80), which includes the train journey and 1 trip in Strasbourg's public transportation network. Naturally it's cheaper than buying both tickets separately.
Strasbourg 3-Day Travel Guide – Public transportation in Alsace
Even though Strasbourg is a medium-sized city, it boasts a rather efficient public transportation system, composed of buses and – most notably – an extensive and convenient tram service.
On the other hand, if you plan to venture beyond Strasbourg and explore some of Alsace's loveliest villages, you'll need to rely on the French railway system and the regional suburban buses.
Strasbourg Trams – Maps, Tickets and Fares
By far the most useful of Strasbourg's public transports, the local tram system is a network of over 80 stations spread across 6 distinct lines. Besides covering the entire historic center and the city's biggest suburban districts, the tram actually crosses the border onto Germany, serving three different stations in the city of Kehl, across the Rhine River. Yep, in Strasbourg you can hop on the tram and end up in a foreign country!
The tram operates every day from 04h30 to 00h30. However, keep in mind waiting times can be a bit long in the evening, with some vehicles only passing every 15/30 minutes, depending on the line. During the day, waiting times average on 5/6 minutes.
As for tickets, you'll need to get a rechargeable card when purchasing your first trip. This first journey will set you back €2,10, with €0.20 covering the card fee, and the remaining €1,90 for the actual cost of the trip. After that, you can top up your card with the number of trips you plan to take, and each individual ride will cost €1,90. Alternatively, if you buy a round-trip right away, the total price will be €3,60. Furthermore, you also have the option to get a bundle of 10 journeys at once, for a total of €17,10. You can get your tickets from the automatic machines located at each tram station, and always remember to validate your travel pass before boarding.
That being said, if you plan on using the tram frequently, it's worth looking into the daily and multi-day options available:
24-hour Pass: €4,60
3-Day Pass: €10,20
Getting around Alsace – Buses and Trains
As mentioned earlier, you'll have to rely on trains or regional buses in order to get around all the amazing villages of Alsace. Departing from Strasbourg, the only historical towns with a direct railway connection to the city are Colmar and Obernai:
Strasbourg – Colmar: €14,70; 30 minutes
Strasbourg – Obernai: €3,00 – €7,40; 30 minutes
For a cheaper alternative, you can travel between Strasbourg and Colmar with Flixbus, as the 60-minute trip (one-way) will set you back €4,99.
However, in order to get to other Alsatian tourist hotspots, such as Eguisheim, Riquewihr, Kaysersberg or Ribeauvillé, you'll have no other option but to rely on the regional buses from Fluo Grand Est, the company responsible for managing the road connections between different towns in Alsace and Lorraine. Fortunately, the institution's website allows you to search for connections and schedules online. Besides, it's also integrated into Google Maps. Be that as it may, there are the lines/routes for visiting the aforementioned destinations:
Colmar – Riquewihr: 68R016
Riquewihr – Ribeauvillé: 68R016
Ribeuvillé – Colmar: 68R016
Colmar – Kaysersberg: 68R013
Colmar – Eguisheim: 68R030
Ordinary tickets cost €4,00 and can be bought directly from the bus driver, although some of the shorter segments are obviously cheaper. However, each €4,00-ticket is equally valid for the return-trip, so as long as you take the second bus within 4 hours from the first. For example, if you take the bus from Colmar to Riquewihr at 12h00, you can use the same ticket for a second trip before 16h00. Finally, it's worth mentioning that Sundays should be avoided to travel around Alsace using the regional buses, since most routes are suspended (or with heavily restricted schedules) during this specific day of the week.
Getting around Alsace – Renting a car
Although you definitely won't need a car during your stay in Strasbourg, renting a vehicle can be quite useful when you plan to explore the charming villages of Alsace (especially for the second day of our itinerary). Not only will this allow you the flexibility to move at your own pace, without being tied to local bus schedules, but you'll also get to make the most of daylight, which is particularly useful during the winter months, when the sun sets early.
That being said, you wish to rent a car for your Alsatian adventure, you can check prices and fleet availability on Rentalcars.com!
Strasbourg 3-day Travel Guide – What to eat in Alsace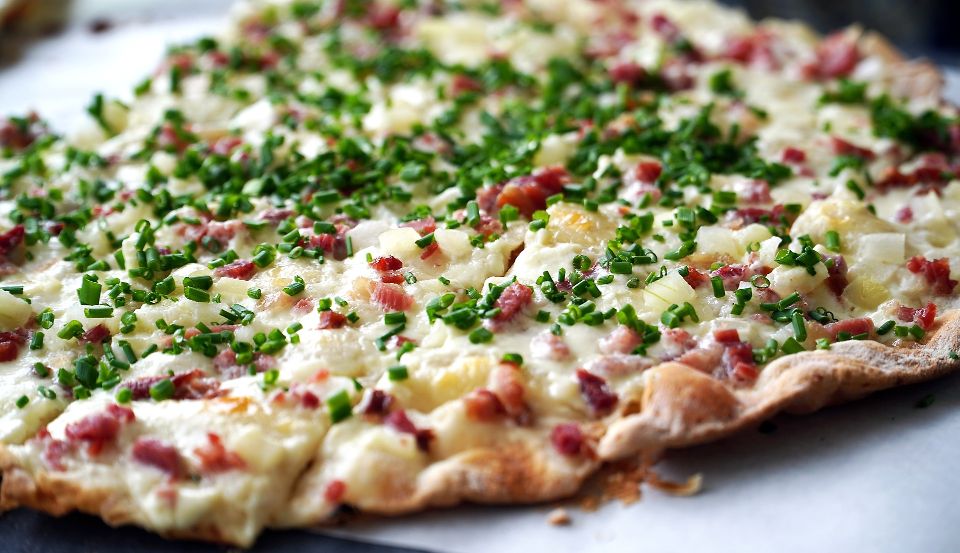 Along with the architecture and the names of towns, the German influence in Alsace can be prominently found at the dining table, where many of the region's signature dishes and snacks proudly bear a German heritage. As a result, you can expact a diverse array of dishes where sausages, sauerkraut and pork take the center stage.
However, despite how hearty most of these ingredients are, the region's most popular dish is the Tarte Flambée (or Flammekueche), a local twist on pizza that can be found in most traditional/local restaurants. While there are various toppings to choose from, the traditional version features crème fraîche, onion and bacon. Not only is it delicious, but it's also one of the cheapest options typically available on menus. For something more substantial, we recommend trying out Choucroute Garnie, a dish with an assortment of Alsatian meats and sausages served with boiled potatoes and sauerkraut; Jambonneau Braisé, braised pork knuckle; or Spaetzle, a local pasta, usually served with meat and gravy. Along with your meal (or as an appetizer), don't forget to taste the classic Bretzel, whether plain or with melted chesse.
However, Alsace is equally famous for its sweets, with an abundance of patisseries and specialty shops lurking from every corner. In addition to the classic French pastries, we recommend trying the Kugelhopf, a German-style panettone with raisins or chocolate chips; the Tarte Alsacienne aux Poires, a tart made with cooked pears; or the Macarons de Riquewihr, the Alsatian take on coconut macaroons.
Strasbourg 3-day Travel Guide – Free walking tours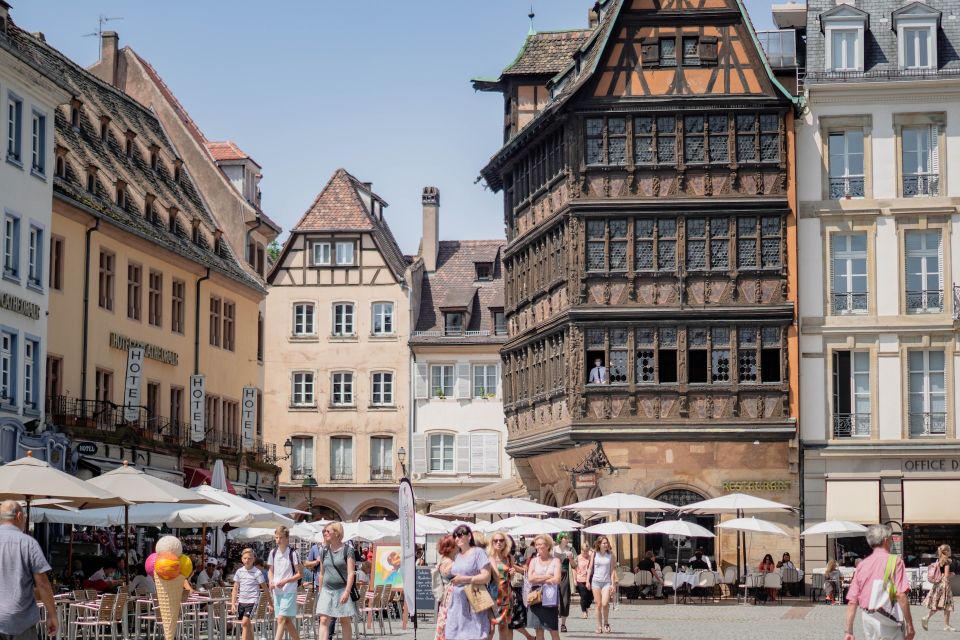 While in Strasbourg, you have the option to explore the city with a free walking tour. These tours, led by local guides or tour companies, offer guided visits to the historic centre, sharing intriguing stories about each place and providing valuable cultural context. Even though these tours are technically free, it's customary to show appreciation for the guide's efforts by leaving a tip at the end. In Strasbourg, a reasonable minimum tip would be around €7,00.
That being said, here are a few companies that run free walking tours in Strasbourg:
Strasbourg 3-day Travel Guide – Hidden Treasures
With 3 days in Strasbourg, you'll have more than enough time to explore the city's main tourist attractions and even discover a few hidden gems along the way, both in the city and within the region of Alsace.
As such, and because we believe a good traveler must always be able to explore beyond the obvious, here are a few more obscure places you should add to your list of things to see and do in Strasbourg in 3 days:
Quartier Krutenau: Although technically located outside the Old Town, this charming district retains the traditional architecture and appeal of the historic center, having served as home fisherman in times of old.
Historical Museum of Strasbourg: While most visitors choose the Alsatian Museum, the Strasbourg Historical Museum places a stronger focus on the region's history and the political maneuvering necessary for Alsace to navigate between two powerful nations. The right choice for history buffs!
Parc de l'Orangerie: Considered the city's main green area, this park is decorated with small pavilions, temples and monumental fountains, making it the perfect place for a quick stroll.
Obernai: Since it's not located near the more traditional Colmar route, this beautiful village is often overlooked in most Alsace itineraries. Nevertheless, with its medieval charm and partially intact fortifications, it's easy to understand the significance of its history, having earned the title of "Free Imperial City" inside the Holy Roman Empire – a level of autonomy reserved for the empire's most important cities.
Eguisheim: Just a short 4/5 km south of Colmar, this village was voted "The Favorite Village of the French" ("Le Village Préféré des Français") in 2013. Come and find out why!
Strasbourg 3-Day Travel Guide – What to See and Do in 72 Hours
Since Strasbourg's essentials can be visited in a single day, I highly recommend taking the other two days of the itinerary to explore the loveliest and most popular towns in the enchanting region of Alsace, such as Colmar, Riquewihr, Kaysersberg, Obernai and Ribeauvillé.
Without further ado, here's what to see and do in Strasbourg in 3 days:
Strasbourg 3-Day Travel Guide – Day 1 – The Capital of Alsace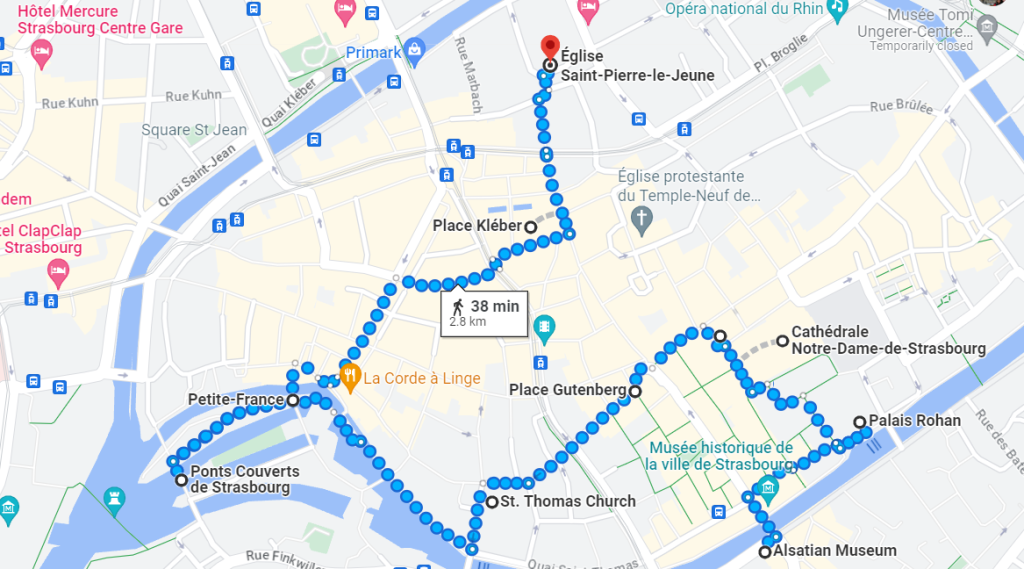 For your first day in Alsace, you'll be exploring Strasbourg, the region's biggest and most important city. Officially designated as one of the capitals of the EU, an honor it received due to Alsace's special role in the never-ending disputes between France and Germany, Strasbourg embodies the perfect fusion between Gallic and Germanic cultures, drawing from the best of each nation. As you can probably tell, Strasbourg – and by extension, Alsace – is a pretty interesting city with a fascinating history, having been consecutively exchanged between these two powerful nations over the years. That being said, our recommendation is that you start your day at the Alsatian Museum (€7,50), an institution dedicated to Alsatian culture, covering everything from dialects and traditional attire to culinary traditions. Plus, the museum is housed inside a traditional building. Across the river, and for those more interested in the history of the region, you should check out the Historical Museum of Strasbourg (€7,50), places a stronger focus on the political maneuvering necessary for Alsace to navigate between two powerful nations. The right choice for history buffs!
After your museum visit, take a stroll through the exterior of the Rohan Palace, the former official residence of the Prince-Bishop of Strasbourg (the local ruler) until the French Revolution. As you venture into the historic center, you'll immediately comer across the city's most iconic symbol and most impressive building: the awe-inspiring Strasbourg Cathedral. This structure is truly colossal (standing at over 140 meters tall) and it's considered one of the finest examples of Gothic architecture in all of Europe. Inside the Cathedral, you can also find the Astronomical Clock, an ancient system that is linked to a set of wooden figures, putting on a daily mini-performance every day at 12h30. Although entrance to the cathedral is free, you'll have to pay 4,00€ if you want to see the clock working. Heading back outside, you can also catch a glimpse of the Maison Kammerzell, the city's oldest building. Though it's now home to a hotel and restaurant, you can still peek through the windows and admire the ornate paintings on the ceilings.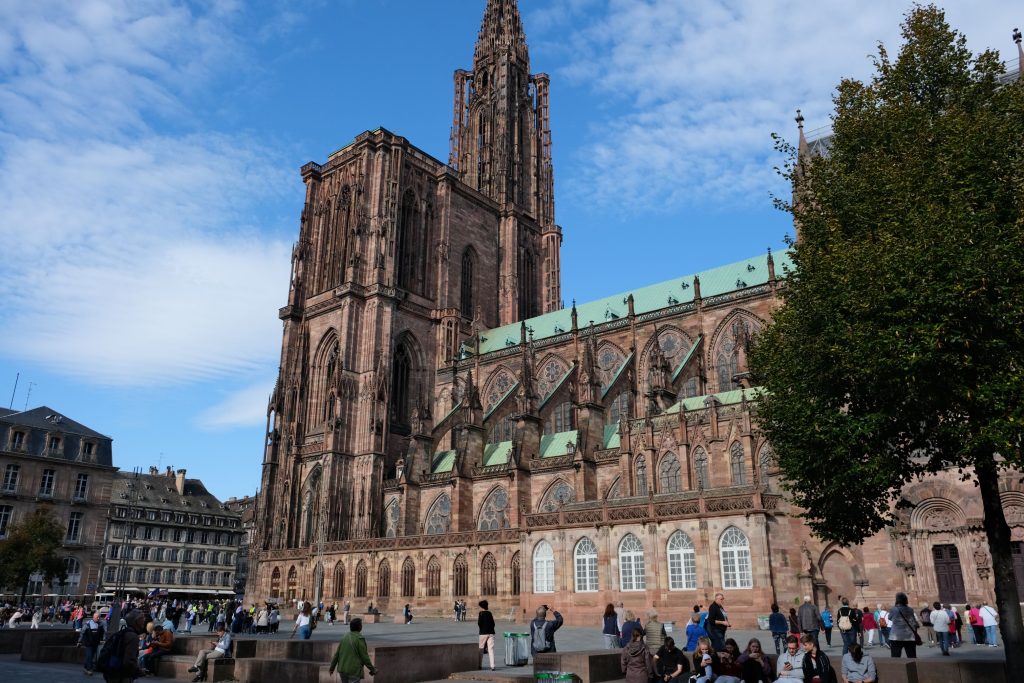 From here, it's all about wandering the streets of the old town and discovering some of its most iconic spots, such as Saint Thomas's Church, the main Lutheran/Protestant church in Strasbourg; Place Gutenberg, named after the inventor of the printing press, who lived in Strasbourg for more than a decade; Place Kleber, the largest square in the city and the hub of Strasbourg's famous Christmas Market (Christkindelsmärik); or the Saint-Pierre-le-Jeune Protestant Church. While you're at it, it is absolutely mandatory to walk through La Petite France. Also known as the Quartier des Tanneurs, due to the fact that most of the city's tanners used to live in the quarter, this is the most beautiful and picturesque area in the city, boasting many traditional half-timbered houses lining the canals of the Ill River. This is also where you can find the Ponts Couverts, a trio of bridges with watchtowers that were part of the city's original defensive structure.
First day wrap-up:
Alsatian Museum or Historical Museum of Strasbourg
Rohan Palace
Strasbourg Cathedral (+ Astronomical Clock)
Maison Kammerzell
St Thomas' Church
Place Gutenberg
Place Kleber
Saint-Pierre-le-Jeune Protestant Church
La Petite France (Quartier des Tanneurs)
Ponts Couverts
Cheap restaurants in Strasbourg:
Strasbourg 3-Day Travel Guide – Day 2 – Colmar, Riquewihr and Kaysersberg
After visiting Strasbourg, it is now time to explore the charming and most popular villages of Alsace. And you might as well go all-in on this one because we'll be kicking things off with none other than Colmar, unanimously acclaimed as the most beautiful town in the region. As explained in this guide's public transportation section, you can travel between Strasbourg and Colmar via SNCF trains or Flixbus buses. Once you arrive in Colmar, you'll enter the old town via the colorful Quai de la Poissonnerie, where the local fishermen used to live, which is directly connected to La Petite Venise, one of the most photogenic quarters in the city, located at the confluence of the Lauch River's meandering canals (hence its name: "Little Venice"). Afterwards, take a quick walk through the Quartier des Tanneurs, which, much like in Strasbourg, used to be inhabited by the local tanners, before you make it to the Ancienne Douane, an historical building that served as a customs office for all of Colmar's imported and exported goods back in the 15th century. From here, you're free to explore at your leisure and get lost in the enchanting streets and alleys of the city, with highlights like the Grand Rue, the Rue des Marchands and the Rue des Boulangers. While Colmar may not be brimming with grand monuments, its lovely streets are filled with charming façades, nukes and details, making it one of the most picturesque and "fairytale-ish" corners of Europe. Nonetheless, make sure to check off a few of its most popular attractions, including the majestic Saint Martin's Church, the Dominican Church or the convent housing the Unterlinden Museum.
Wasting no time, you'll then head to Scheurer Kestner Square to catch bus 68R016 to Riquewihr, the next stop on our adventure. Although Riquewihr is significantly smaller than Colmar (you can see it in about an hour), this walled village is not to be missed. After passing through the Hotel de Ville, the town hall building which also serves as Riquewhir's main gate, you'll stroll down Rue du Général de Gaulle, the only street that spans the entire village and – I guarantee – one of the most insanely beautiful thoroughfares you will ever lay your eyes upon. At the end of the "rue", you'll get to climb up the Dolder, an ancient watchtower now housing the village museum. Plus, even if history isn't really your thing, the view from atop is well worth the 3.00€ admission fee. From there, you can wander along the Rue des Remparts that runs alongside the old wall and visit the Tour des Vouleurs, where the criminals of Riquewihr used to be locked up.
Once you're good with this small town, you have two options to reach Kaysersberg, the next village on the itinerary. On one hand, you can take the same bus (68R016) back to Colmar and then switch to line 68R013, though the time you'll potentially waste (depending on the bus schedule) may also mean you won't have the time to visit Kaysersberg. Alternatively, you can choose to walk the 5km that separate Riquewihr from Kaysersberg. This distance takes about an hour to cover, but the path will take you through the scenic vineyards of Alsace, making it actually quite pleasurable. Upon reaching Kaysersberg, you'll come across another tiny, charming village, in line with what you've been seeing and experiencing throughout the day. No wonder Kaysersberg was crowned "The Favorite Village of the French" in 2017! Here, it's worth walking along the main street (also called Rue du Général de Gaulle), admiring the magnificent Sainte Croix Church – possibly the most impressive in all of Alsace's small towns – and crossing the Pont Fortifié, before setting out on the inevitable climb to Château de Kaysersberg, the village's main feature. Although not much is left of the ancient castle, the views over Kaysersberg are simply unrivaled! To return to Colmar, where you'll catch the train or bus back to Strasbourg, you can take bus 68R013 at Porte Haute. It's a long day, but is probably boasts the best set of experiences in this itinerary!
NOTE: As you can see, completing the plan for this day independently requires using and coordinating several public transportation systems. If you're not comfortable with this, you can always take a private tour. Fortunately, there are options available – such as this one – that will take you to the exact same places on our itinerary.
Second day wrap-up:
Colmar

Quai de la Poissonnerie
La Petite Venise
Quartier des Tanneurs
Ancienne Douane
Grand Rue
Rue des Marchands
Rue des Boulangers
Saint Martin's Church
Museum Unterlinden

Riquewihr

Hotel de Ville
Rue du Général de Gaulle
Dolder
Rue des Remparts
Tour des Vouleurs

Kaysersberg

Rue du Général de Gaulle
Sainte Croix Church
Pont Fortifié
Château de Kaysersberg
Cheap restaurants in Colmar:
Strasbourg 3-Day Travel Guide – Day 3 – Obernai and Ribeauvillé
As your journey through Alsace is coming to an end, there are two more historic villages you'll be visiting before capping off your time in the region! Heading to Strasbourg's Central Station, this time you'll board a train heading to Obernai. Since it's not located near the more traditional Colmar route, beautiful Obernai is often overlooked in most Alsace itineraries. Nevertheless, with its medieval charm and partially intact fortifications, it's easy to understand the significance of its history, having earned the title of "Free Imperial City" inside the Holy Roman Empire – a level of autonomy reserved for the empire's most important cities. History aside, and once you finally make it there, you can start by taking a walk along the Obernai City Walls, before officially stepping into the village and strolling through the picturesque Rue du Marché, a quaint, pedestrian street that leads to Place du Marché, the town's main square. This is where you'll find the Hotel de Ville and the Belfy of Obernai, before taking a detour to the right and visiting the charming Puits à Six Seaux, a well that seems like it's straight out of a Disney classic, and the magnificent Church of Saints Peter and Paul. If you feel like you still have some time (and energy) to spare, I also recommend climbing up to the Malgré-Nous Memorial, a monument honoring the countless Alsatian soldiers who were forcibly conscripted into the Nazi army after the annexation of Alsace by Germany during World War II. Despite the memorial's history, the ascent is worth it for the breathtaking panoramic view over Obernai.
After getting back to ground-level, it's time return to the local station and hop on another train, this time heading to Sélestat, where you'll transfer to Bus TER 40036 (operated by SNCF, the French railway company), which will drop you off in Ribeauvillé in just about half an hour, marking the final stop on our 3-day Alsatian itinerary. Once again, you can expect the same colorful façades and charming half-timbered houses, a scene that never really gets old! Stroll along the Grand Rue, the village's main street, and just take in the small-town atmosphere as you walk past the Tour des Bouchers (once part of the old fortifications) and the Church of Saint Gregory. Finally, you'll notice that Ribeauvillé is surrounded by rolling hills, with one of these hills serving as home to the so-called Three Castles of Ribeauvillé, a set of ancient ruins offering fantastic views of the village and the surrounding vineyard-covered landscape. To get back to base, simply catch the same TER bus in the opposite direction, which will take you back to Sélestat, where you can hop on a direct train to Strasbourg. It's time to go home!
Third day wrap-up:
Obernai

Obernai City Walls
Rue do Marché
Place du Marché
Hotel de Ville
Belfry of Obernai
Church of Saints Peter and Paul
Malgré-Nous Memorial

Ribeauvillé

Grand Rue
Tour des Bouchers
Church of Saint Gregory
Three Castles of Ribeauvillé (Château du Giersberg, Château de Saint-Ulrich and Château du Haut-Ribeaupierre)
Cheap restaurants in Obernai and Ribeauvillé:
Got more than 3 days in Strasbourg? Then you might want to check out the best day trips from the city: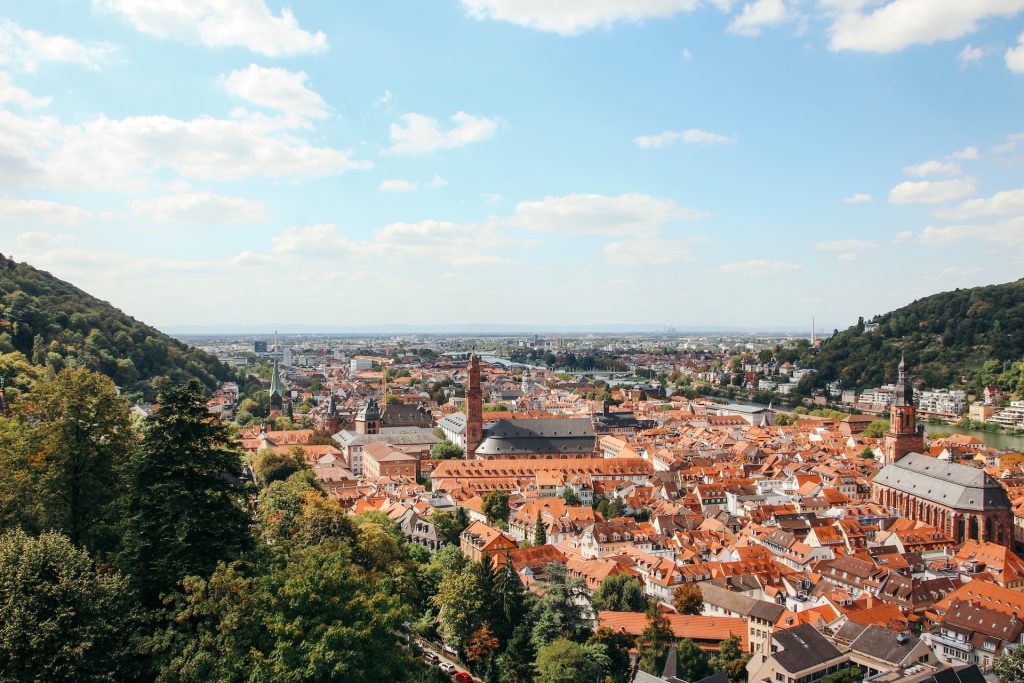 Eguisheim: While there are dozens of other historic villages in Alsace that could have made it onto our travel guide, we'll have them represented by Eguisheim. Located just a short 4/5 km south of Colmar, it was voted "The Favorite Village of the French" in 2013.
Nancy: Considered the main city of Lorraine, another French region with a strong German influence, Nancy definitely looks "Frencher" than Strasbourg, with the typical architecture style you'll find in cities like Paris, Nantes or Bordeaux.
Baden-Baden: Nestled in the heart of the Black Forest, in Germany, Baden-Baden became a popular spa town following a visit by the Prussian Queen for medical reasons. From then on, the town started attracting the rich, the famous and the powerful, all seeking to cure their ailments.
Basel: Known for hosting another one of Europe's best Christmas markets, the Swiss city of Basel is yet another excellent option for a day trip from Strasbourg, especially if you're traveling during the Advent season.
Heidelberg: Considered one of Germany's most beautiful cities, Heidelberg is less than a 2-hour train ride from Strasbourg. With its historic bridge and castle perched atop the hill, it's arguably the most picturesque option of the bunch.
The prices in the article are available at the time of publication and may be subject to variation. To ensure you don't miss the opportunity access the offer through our partner as soon as possible!