Majorca is the largest island of the Balearic Islands, and it's a highly sought-after destination during the summer months. Its friendly and serene atmosphere sets it apart from its sister island of Ibiza, making it a favorite among families, couples and travelers who prefer a more relaxed vacation vibe.
But if you're willing to shift your gaze a few kilometers to the east, you'll discover the tranquil paradise of Menorca. This gem is renowned for its stunning beaches, turquoise waters and conservation efforts. It's home to unique species that can't be found anywhere else, making Menorca a destination in its own right. Even if you decide to dedicate your entire vacation to this small island, you won't be disappointed.
So, if you're planning a trip to this stunning destination, our ultimate Mallorca and Menorca travel guide is here to help. In addition to practical information about hotels, restaurants, transportation and beaches, we've also put together three comprehensive itineraries, including all the places you must see and visit in Majorca and/or Menorca in 5 days or one week.
Majorca and Menorca Travel Guide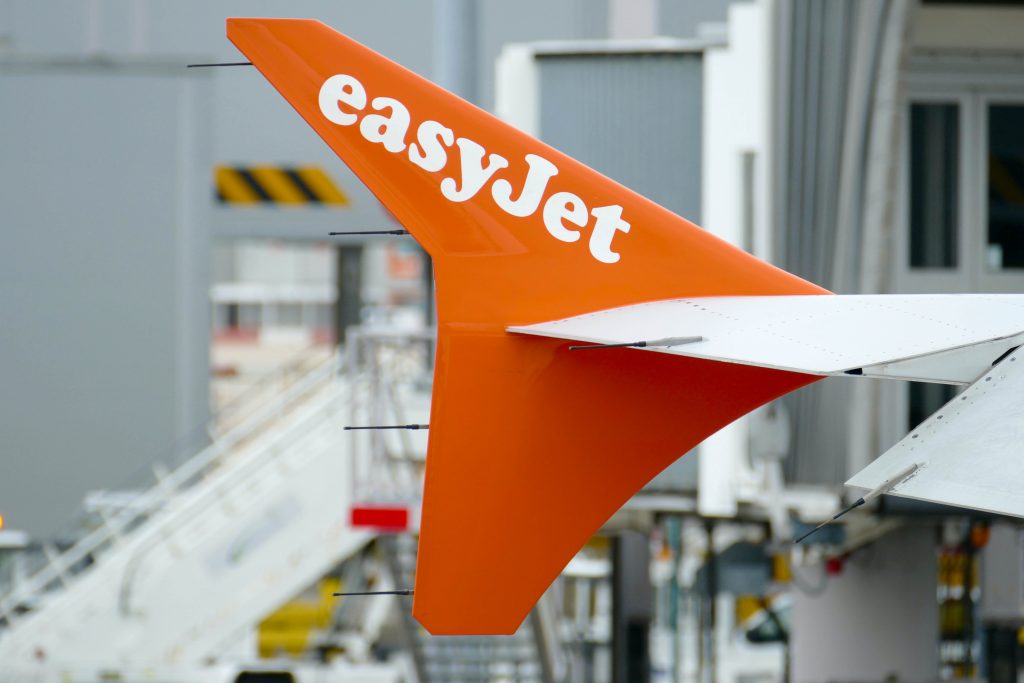 How to get to Majorca – Flights from the UK
Despite its overwhelming reputation and popularity, the island is currently only served by a single air hub: the Palma de Mallorca Airport.
If you're coming from the UK, you can fly directly into Majorca from London–Heathrow (British Airways), London–Gatwick (British Airways, TUI and Easyjet), London-City (British Airways), London–Luton (Easyjet, TUI and Wizz Air), London Southend (Easyjet), London-Stansted (Jet2, TUI and Ryanair), Edinburgh (British Airways, Jet2, Ryanair, TUI and Easyjet), Southampton (British Airways), Belfast (British Airways, Jet2, Ryanair, TUI and Easyjet), Bristol (Easyjet, TUI and Jet2), Liverpool (Easyjet and Ryanair), Glasgow (Easyjet, Ryanair, TUI and Jet2), Newcastle upon Tyne (Easyjet, Ryanair, TUI and Jet2), Birmingham (Jet2, TUI and Ryanair), Manchester (Jet2, TUI and Ryanair), East Midlands (Jet2, TUI and Ryanair), Leeds/Bradford (Jet2, TUI and Ryanair), Bournemouth (Ryanair and TUI), Teesside (Ryanair and TUI), Aberdeen (TUI), Cardiff (TUI), Exeter (TUI), Humberside (TUI), Norwich (TUI) and Derry (AlbaStar).
How to get to Menorca – Flights from the UK
Similarly, the small island of Menorca is also served by a single international air hub: the Mahon Menorca Airport.
If you're coming from the UK, you can fly directly into Majorca from London–Gatwick (British Airways, Vueling, TUI and Easyjet), London-Luton (Easyjet), London-Stansted (Jet2, TUI and Ryanair), Belfast (Easyjet and Jet2), Bristol (Easyjet, TUI and Jet2), Manchester (Easyjet, Ryanair, TUI and Jet2), Birmingham (Jet2 and TUI), East Midlands (Jet2, TUI and Ryanair), Edinburgh (Jet2 and TUI), Glasgow (Jet2 and TUI), Leeds/Bradford (Jet2), Newcastle upon Tyne (Jet2 and TUI), Bournemouth (TUI), Cardiff (TUI), Exeter (TUI) and Norwich (TUI).
Majorca and Menorca Travel Guide – Best time to visit the region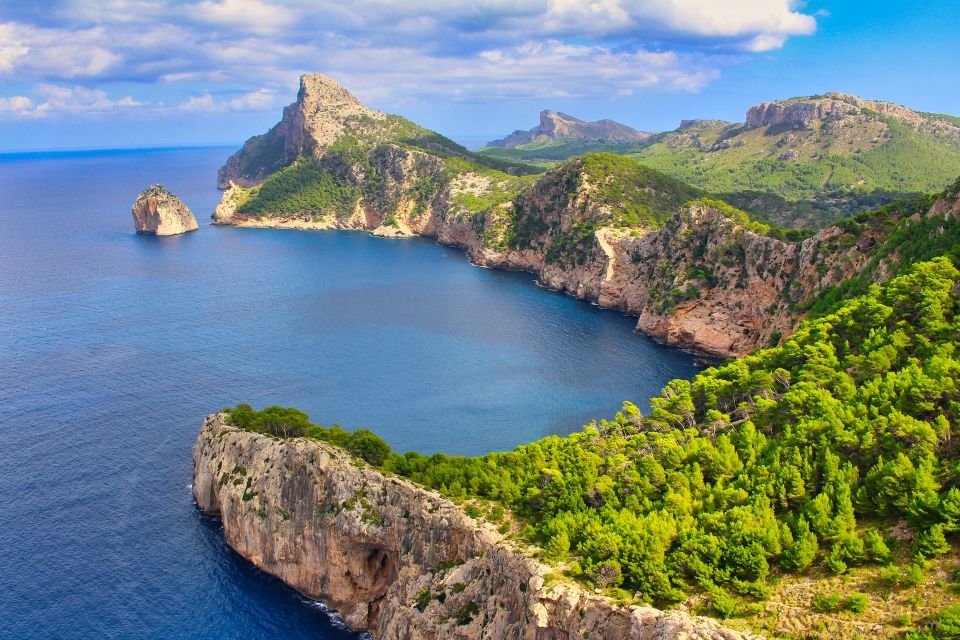 Much like the rest of the Balearic Islands, Majorca and Menorca are also extremely seasonal destinations, receiving most of its tourists during the Summer months, especially in July and August. That being said, it might be a good idea to skip these two beautiful islands during those months, both for the sake of your well-being and your wallet.
As an alternative, and so that you can still enjoy the islands' beaches and good weather, we suggest booking your visit the shoulder-season, specifically for the period between May-June or September-October.
Majorca and Menorca Travel Guide – Documents needed for your trip
Since Spain is part of the EU, British citizens do not need a visa to visit. You'll just need your passport, which must have been issued within the last 10 years and remain valid for at least 6 months from the date of your trip.
However, keep in mind that starting November 2023, British passengers will need to apply for ETIAS in order to enter any EU country.
Majorca and Menorca Travel Guide – Withdrawals, banking fees and travel budget
With the Euro (€) as Spain's official currency, any withdrawal using a UK bank card might incur in the payment of several different fees. Besides the percentual fee referring to the currency conversion, some UK banks may also charge a flat commission for withdrawals made outside the UK. In some instances, you may well end up paying 5%-6% of your original withdrawal in banking fees.
On the other hand, exchanging money before your trip is not a viable solution either. Besides not being any cheaper, it's also not safe or wise to carry so much money on you during your trip. As such, we recommend using the services of online banking fintech companies such as Revolut, N26 or Monzo.
Although each have their own limitations and fees, they allow you to withdraw a certain amount in foreign currency without any fees involved. And even after that threshold is reached, costs are much smaller when compared to traditional banks. Sign up for Revolut for free >> to get 3 months of Premium.
Majorca and Menorca Travel Guide – Common scams and frauds
Generally speaking, Majorca and Menorca are extremely safe destination for visitors, since a huge part of its economy revolves around tourism.
We only recommend that you pay special attention to your belongings around crowded areas or at the beach, and never accept a taxi ride where the meter is not working. Here, much like everywhere else in the country, you just need to use your common sense to stay out of trouble. On a side note, never order anything at a restaurant without looking at the menu first, especially around the most touristy areas, as you may end up with a very unpleasant surprise once the tab comes your way.
Where to sleep in Majorca and Menorca – Hotels and Accommodation
If you're looking out for a place to stay on our Majorca and Menorca travel guide, then we got you covered!
Although the current economic context shows an increasingly expensive and exclusive Europe, Majorca and Menorca are two fantastic beach destinations that are still somewhat affordable. However, during the high season, prices on the islands soar, especially when it comes to accommodation.
That being said, here are some options based on the cities we recommend you to stay at:
Majorca and Menorca Travel Guide – Hotels in Palma de Mallorca
Majorca and Menorca Travel Guide – Hotels in Soller
Majorca and Menorca Travel Guide – Hotels in Alcúdia
Majorca and Menorca Travel Guide – Hotels in Mahon
Majorca and Menorca Travel Guide – Hotels in Ciutadella
Majorca and Menorca Travel Guide – Transportation between the airports and the city centers
From Majorca Airport to the centre of Palma
Upon landing in Majorca, the cheapest way to reach the capital is by using Line A1 of the local public bus system. These buses depart directly from the arrivals' terminal, running every day between 06h00 and 02h00 during peak season (May 1 to October 31) and leaving every 15 to 30 minutes. The trip to the Port of Majorca – the terminus – takes around 20-30 minutes and you can buy your ticket directly from the bus driver for 5,00€ (8,00€ return-trip). If you wish to get to the city centre, you can ask to be dropped off at Plaça d'Espanya.
As an alternative, you can hire a taxi to take you straight to your place of accommodation, although this will naturally turn out to be a lot more expensive than just using the bus. As an example, the same exact trip will set you back around 25€.
From Menorca Airport to the centre of Mahón
Likewise, in Menorca, using Line 10 from the local bus company Autocares Torres is also the cheapest way to reach civilization after landing at the local airport. These buses depart every 30 minutes from a stop located right next to the arrivals' terminal and operate every day between 05h55 and 00h15. The trip to the centre of Mahon takes about 15 minutes and tickets cost 2,65€.
Once again, and though it might be infinitely easier, using a taxi is a lot more expensive as well. In order to take the same trip as the bus, your taxi base-fare will start from 13€.
Majorca and Menorca Travel Guide – Transportation and how to move around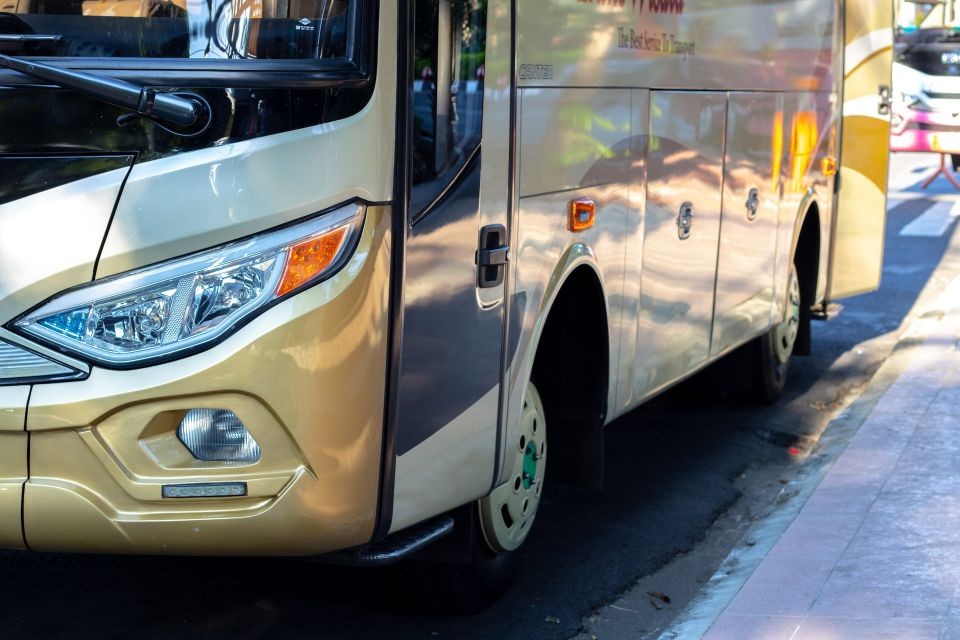 Although public transportation in Majorca is surprisingly extensive and diverse, the truth is that you'll still find yourself struggling to reach all the places on our travel guide if you're totally reliant on local buses or trains. The challenge takes it up a notch when it comes to Menorca, since public transportation is not as frequent or developed.
For that reason alone, and in order to get as much autonomy and flexibility as possible, renting your own vehicle is the way to go.
Public Buses in Majorca and Menorca
If you're planning to explore the beautiful island of Mallorca, you'll be happy to know that there's a reliable public transportation system available for getting around. The TIB buses, easily recognized by their yellow and red colors, connect various towns and villages across the island. You can purchase your tickets directly from the driver using cash or a contactless payment card, which will automatically charge the fare at the end of your journey. Just remember to scan your card both when you board and exit the bus.
Alternatively, you can buy your tickets online with a 40% discount when compared to purchasing in person with cash. If you pay with your contactless card, you get the same discounted rate. Ticket prices depend on the number of zones you cross, with fares ranging from 1,80€ for 0 zones (3,00€ if paying in cash) to 5,40€ for 4 zones (€9.00 if paying in cash). You're also allowed to change vehicles up to two times during the same journey, as long as it's within a 60-minute time frame. Furthermore, your bus ticket is also intermodal, meaning you can transfer to the metro or train under the same 60-minute rule without having to buy a new one.
To plan your route in advance, checking distances, stations and schedules, you can use the tool available on TIB's official website.
For those heading to Menorca, the TMSA buses connect the major towns and villages on the island. Once again, ticket prices are set according to distances, with fares ranging from 1,35€ for trips within the same town to 7,00€ for the night buses between Sant Lluís and Ciutadella, located on opposite ends of the island (50km away).
You can also check schedules, routes and fares on the official TMSA website.
Metro in Palma de Mallorca
While officially the smallest subway system in Spain, the Palma de Mallorca metro provides a pretty efficient and straightforward way to get around the capital. Composed of only two lines, the service operates daily from 06h30 to 21h30 pm. Single tickets cost 1,80€.
Suburban and Regional Trains in Majorca
Similarly to the metro, the train system in Majorca is also relatively limited, only connecting the cities of Palma de Mallorca, Inca, Sa Pobla and Manacor, making several stops along the way. The only direct route is between Palma and Inca, where passengers must then transfer to another train should they wish to head north (to Sa Pobla) or south (to Manacor).
As with the intercity buses, the prices of train tickets are also based on distances and zones, ranging between 1,80€ and 5,40€.
In addition to these routes, we recommend taking the Tren de Soller, a scenic railway that connects Palma de Mallorca to the charming mountain village of Soller. The journey, taken aboard historic carriages dating back to 1912, passes through various hillsides and gorges of the Serra de Tramuntana, making it one of the most beautiful train rides in Europe. The journey takes 25 minutes and costs 18€ one-way, departing from Plaça d'Espanya.
Ferries between Majorca and Menorca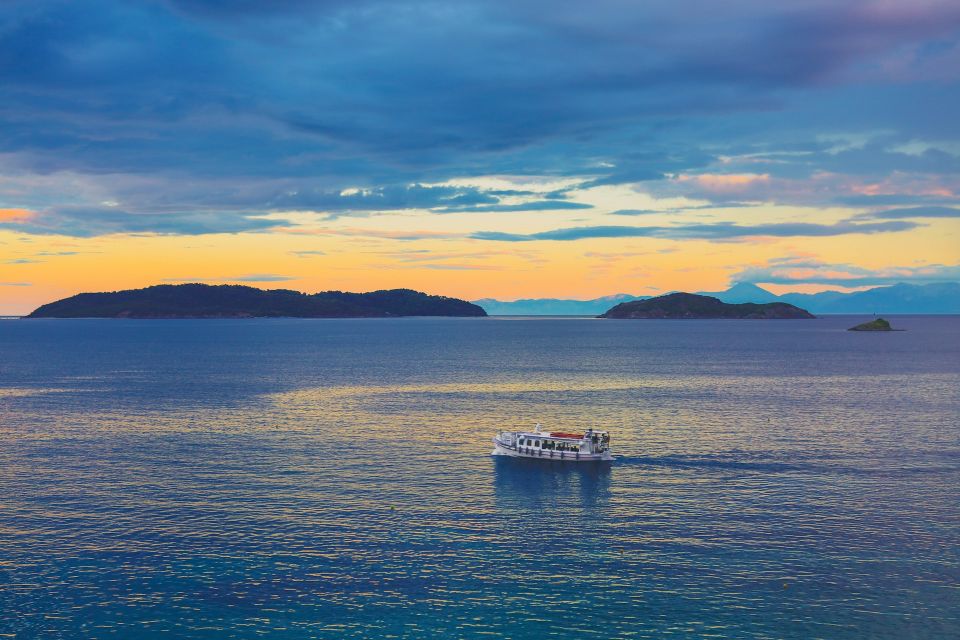 During peak season, there are at least 6 daily connections (each way) between the islands of Majorca and Menorca. Depending on the type of boat, the journey can last between 1 hour and 3h30, with prices varying accordingly. You can expect to pay between 50€ and 95€, per person, per trip.
Several different companies provide these connections, including Balearia, Menorca Lines and TrasMed. You can compare prices and schedules using the aggregator Ferry Hopper.
Renting a car or scooter in Majorca and Menorca
Finally, we leave you with our most recommended transportation option on this Majorca and Menorca travel guide. You know the drill – when it comes to convenience and spontaneity, there's nothing like having our own vehicle when traveling!
While traveling in both islands, you can easily find companies where you can rent different motorized vehicles, such as cars or scooters. However, and before you make up your mind on this solely based on your budget or personal preferences, it's equally important to assess the topography and type of terrain you will find, as well as your experience behind the wheel.
When looking at Menorca's rugged inland villages or at Majorca's Serra Tramuntana, where roads tend to be quite steep, renting a scooter might not be the way to go. Plus, keep in mind it is mandatory to have a motorcycle license in order to drive any scooter over 125cc. On the other hand, according to Spanish law, a type B driver's license is sufficient to rent a 50cc scooter. However, if you opt for a 125cc motorcycle, you must have a type A driver's license OR a type B license issued more than 3 years ago.
That being said, if you wish to rent a scooter in Majorca and Menorca, you can check these local companies:
As for cars, you can browse for prices and availability on Rentalcars.com!
What to eat in Majorca and Menorca – Local staples and culinary delights
Unsurprisingly, considering their geographic and cultural proximity, the cuisines of Majorca and Menorca share many ingredients, flavors and techniques. Besides fish and seafood, both islands tend to rely heavily on their tapas culture, showcasing their local foods and preparation methods.
That being said, and instead of heading straight to your main, it's mandatory to sample some of these famous tapas, such as the strong and cured Mahon cheese, the local pork and paprika sausage called Sobrasada (typically served on bread rolls called Llonguet), the Pa amb oli, a Spanish bruschetta of sorts, the Panades, small pies usually filled with meat, or the Trampo, a local salad made with tomatoes and red bell peppers.
Moving on to something a bit more filling, and starting with meat dishes, you can't miss Arros Brut, a brothy rice dish cooked with vegetables and any type of meat (chicken, pork, rabbit – anything goes!); the local staple Roast Suckling Pig; Llom amb Col, a delicacy made of pork loin and sausages wrapped in cabbage leaves and cooked in a tomato and wine marinade; or the Frit Mallorqui, a dish of potatoes and veggies fried with pork offal such as liver, blood or lungs. It may not sound like the most appealing meal in the world, but it is culturally significant, as these were the parts of the pig that couldn't be smoked or cured after the animal was slaughtered, so they were used to feed the entire community on the day of the event. As for the fish, the most popular dishes are Caldereta de Langosta, a lobster stew served in a thick broth and accompanied with bread, or Arros caldos amb peix, a fish and seafood rice dish.
If you happen to have a vegetarian friend tagging along, you can always order Tumbet, a typically Mediterranean dish made of sliced eggplant, potatoes, red peppers and zucchini, served with a tomato, garlic and olive oil sauce. Some argue that this is just another version of the French Ratatouille, but never say that to a Mallorcan!
Majorca and Menorca Travel Guide – Hidden Treasures
Although both islands are extremely popular and touristy, there are still some pretty great places that have managed to remain somewhat off-the-grid. Therefore, we want to introduce you to some lesser-known spots, so that you can truly get to know the absolute best that these magnificent Balearic Islands have to offer!
Therefore, here are some not-so-popular sights we've added to our Majorca and Menorca travel guide:
Fornalutx (Majorca)
Deià (Majorca)
Pollença (Majorca)
Ses Paisses (Majorca)
S'Arenal Beach (Majorca)
Lighthouse of Favaritx (Menorca)
Cala Pilar (Menorca)
Pedreres de s'Hostal (Menorca)
Binibeca (Menorca)
Majorca and Menorca Travel Guide – Best Beaches in the Islands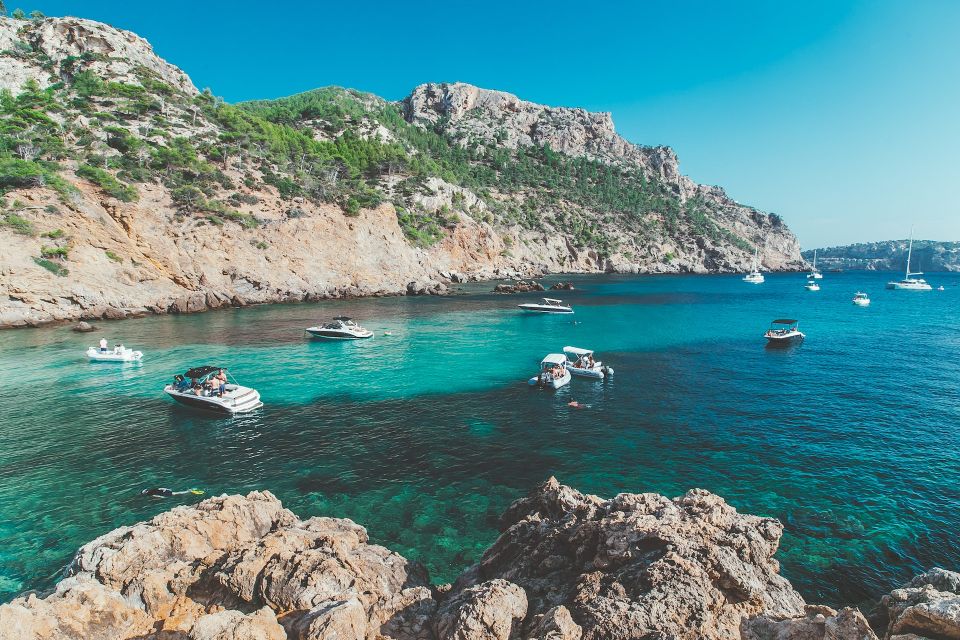 Best beaches in Majorca
Cala Deià: A picturesque rocky cove located on the northwest coast of Majorca, Cala Deià is surrounded by cliffs and pine trees. Although the beach itself is small, its crystal-clear blue waters are perfect for swimming and snorkeling.
Praia de Formentor: With a stunning location at the tip of Cape Formentor, on the northernmost coast of Majorca, this beach is a true gem. Surrounded by forests and the imposing Serra de Tramuntana, it's the ideal place to enjoy a peaceful atmosphere.
Cala Mesquida: A wide sandy beach on the northeast coast of Majorca, Cala Mesquida is surrounded by dunes and pine trees. This beach is ideal for families with children, as the shallow waters are perfect for the little ones to play without needing extra caution.
Cala Ferrera: A small sheltered bay on the southeast coast of Majorca, the path to Cala Ferrera is almost as impressive as the beach itself, "forcing" bathers to walk along a panoramic trail.
Cala S'Amarador: Located in the heart of the Mondragó Natural Park, this was actually named the best beach in Europe back in 2008. At first glance, it's easy to see why! Turquoise sea, golden sand, and a generous expanse… what's not to like?!
Cala Figuera: Although not technically a beach in the strictest sense of the word, Cala Figuera is a picturesque and tiny bay with direct access to the sea, located next to the fishing village of the same name. This area is also quite popular among hikers.
Cala Llombards: Gently nestled at the foot of a bay more than 200 meters wide, the environment is reminiscent of a mini-fjord. Despite the entire area being quite rocky, surprisingly, the sand is fine and soft.
Cala Blava: Isolated from mass tourism, Cala Blava is still relatively unknown, which is why it is usually much emptier and quieter than its counterparts. In addition to the sun and the sea, it's also possible to take leisurely walks along the rocks that surround it.
Cala Pi: A small sandy cove located on the south coast of Majorca, the waters of Cala Pi resemble a Middle-Eastern wadi, with the watercourse slowly meandering in-between the cliffs. Please note visitors must climb a long and steep staircase in order to access the beach.
Best beaches in Menorca
Son Bou Beach: If you head to the southern coast of Menorca, you won't want to miss the stunning Son Bou, which is actually the largest beach on the entire island. If you're looking for a lively atmosphere, head to the eastern side where you'll find all sorts of amenities. However, if you're after a more peaceful experience, the western side is much quieter and less developed.
Cala Mitjana: If you're in search of a secluded spot, Cala Mitjana is definitely worth a visit. This hidden cove is surrounded by fragrant pine trees and boasts pristine, untouched sand and crystal-clear waters. To reach the beach, you'll need to leave your vehicle in Cala Galdana and walk for about 15 minutes.
Cala Macarelleta: Often cited as one of the most beautiful beaches in Menorca despite its relative isolation, Cala Macarelleta is incredibly popular with visitors. To get there, you'll need to walk part of the Cami de Cavalls trail, since the road is not accessible by motorized vehicles.
Cala Turqueta: This crescent-shaped bay on the southern coast of Menorca boasts fine golden sand and translucent turquoise waters, offering a very picturesque setting. In fact, the name of the beach itself comes from the stunning color of the sea. Be sure to add this spot to your itinerary!
Cavalleria Beach: Looking for a wild and undiscovered beach? Then Cavalleria should definitely be on your list! Located in a protected natural area, this beach is much less developed than other areas of Menorca, though it still attracts plenty of visitors on hot days.
Cala Pregonda: Isolated and untouched, this small cove on the north coast of Menorca is known for its reddish sand that contrasts perfectly with the deep blue of the sea. Surrounded by rocky cliffs, Cala Pregonda is usually much less crowded than other spots on the island.
Cala Pilar: Only accessible via a 30-minute hike through the woods, this beach is well worth the effort! After all, this isolation ends up deterring many visitors, leaving you much more at ease to explore its slightly reddish sand and even snorkel in its protected waters.
Majorca and Menorca Travel Guide – Full itineraries for 5 and 7 days (1 week)
So that this blog post doesn't turn into an encyclopedia, we've decided to create separate articles for each itinerary.
You can check them through the following links: