NOTE: In order to keep the experience as authentic as possible, all expenses were paid by us and no one at the hotel was notified that we would be creating content regarding our stay.
The Hotel
Designed by French architect Antoine Grumbach, the Disney Sequoia Lodge holds a special place as one of the "original" hotels that first opened its doors in 1992, alongside the inauguration of Disneyland Paris. Just like every other hotel in the resort, it boasts a distinctive and unique theme, drawing inspiration from one of the company's most iconic films – in this case, the beloved Bambi. Plus, the hotel's architectural style stands as a tribute to the early 20th century lodges you can find all over several US National Parks.
This complex, offering 1011 rooms, is comprised of a central building and seven satellite structures, one of which houses an inviting pool and a well-equipped gym for guests to enjoy.
An interesting detail worth noting is that all the trees surrounding the hotel, contributing to its unique atmosphere (if it weren't for the breathtaking views of Lake Buena Vista and Disney Village, one could easily believe they were in the heart of Yosemite National Park), were actually imported from the United States and Canada.
The location of Disney Sequoia Lodge
After our arrival at the Marne-la-Vallée/Chessy station, we headed over to the adjacent bus terminal to catch the free shuttle. Each hotel or group of hotels has its designated stop, and you can find this information on the electronic display panels on the buses. After waiting for about 8 minutes, we hopped on the shuttle and found ourselves right at the hotel's doorstep in just around 5 minutes.
Looking back, and considering we only had backpacks and a trolley for luggage, we could have easily walked, since it's just an 8-9 minute stroll from the station to the back entrance of the Disney Sequoia Lodge.
If you're traveling with small children or a substantial amount of luggage, it's a good idea to use the shuttle or rely on the Disney Express service. For €17,00/person, you can drop off your luggage at the Disney Express counter at the Marne-la-Vallée/Chessy station, check-in right there, receive your tickets and head straight to the parks, since your bags will be delivered at the hotel. On your check-out day you can have the process in reverse, leaving your luggage at the hotel's baggage storage, enjoying the park, and then picking up your bags again at the station.
The hotel is about a 12/15-minute walk from the entrance of the Disneyland Park (the classic one) and a bit less to the Walt Disney Studios. It's a pretty enjoyable stroll, since the first part of the walk takes you along the picturesque Lake Buena Vista, followed by a path through the charming Disney Village.
The Check-In at Disney Sequoia Lodge
We arrived at the hotel at around 10h00, wishing to simply pick up our tickets and leave our luggage at the complimentary baggage storage. Fortunately, there was no line at the check-in counter, and we were warmly welcomed by a member of the hotel staff. After checking our documents and have us fill out a guest form, he handed us our personalized Magic Pass.
So, what exactly is a Magic Pass? Well, it's a card with your name on it that you can use not only to access the parks but also to enter your room, use the hotel's hot beverage machines (each pass comes with one free hot drink per day), access the pools and gym facilities, and, if you have a meal plan, to redeem your meals.
Surprisingly, even though it was just 10h00, a few hours before the official check-in time of 15h00, our room was ready. This meant we didn't need to leave our luggage and could head straight to our room. For those who might not be as lucky when arriving before the designated check-in time, you can securely leave your luggage at the dedicated area near the hotel's entrance, collect your Magic Pass, enjoy the parks, and receive a text message when your room is ready.
This is particularly useful since a 1-night stay at one of the themed hotels includes a ticket for 2 full days in both parks (2-night stays include 3-day access, and so on), meaning you don't have to wait until the official check-in time to collect your tickets and enjoy the day. You can easily arrive before 8h30, pick up your Magic Pass, drop off your bags, and make the most of the Extra Magic Time.
The rooms at Disney Sequoia Lodge
To start off, I gotta say that this hotel is absolutely massive, and has some of the longest hallways we've ever seen, though it's still easy to find your room. Despite its Bambi-theme, don't expect anything too "in-your-face" when it comes to decor. True to the intended theme and hotel design, our room had a rustic, simple and inviting feel, with just the right amount of space. The only downside was the view of the parking lot (hey, that's what you get when you go for the cheapest option).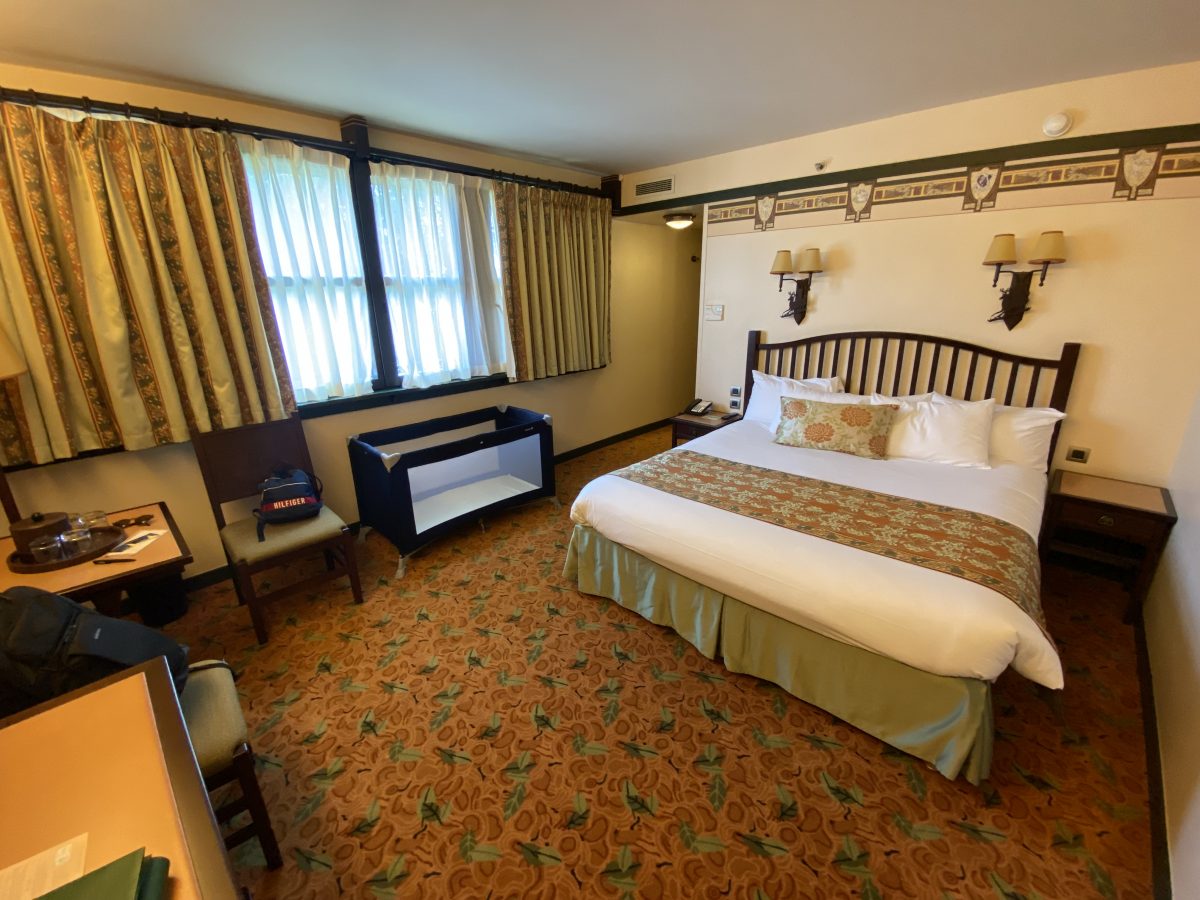 The WiFi was good and surprisingly speedy. Even though we didn't really use the television, we checked that it was working and offered a wide selection of cable and satellite channels.
The bathroom was simple, yet practical, with decent quality amenities. The shower's water pressure was good, but it did take a loooooooooong time to warm up.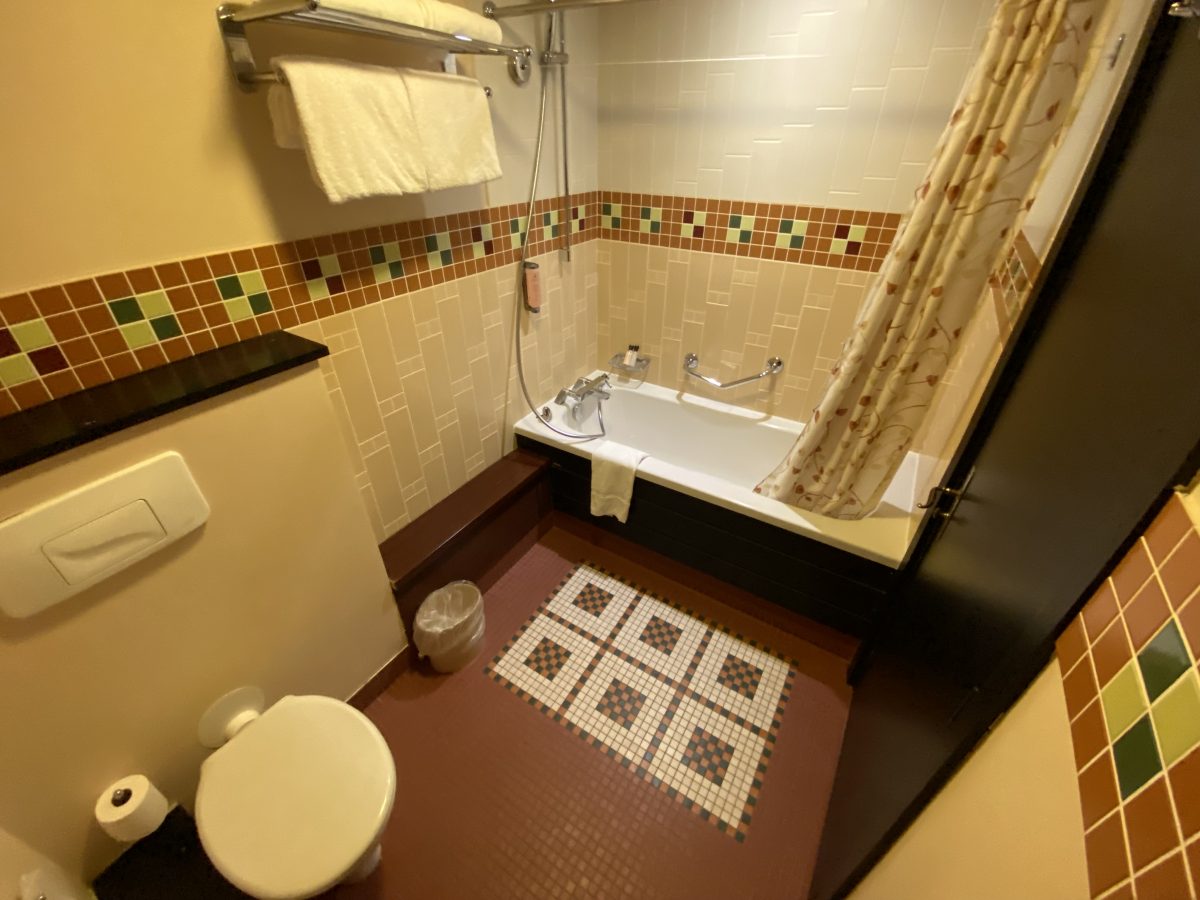 The common areas at Disney Sequoia Lodge
Who in their right mind has Disneyland just a 10/15-minute stroll away and chooses to hang out in the hotel's common areas? While we're pretty sure the answer is close to zero, I must say the hotel is incredibly cozy, offers plenty of outdoor spaces, and the indoor and outdoor pools, complete with a slide and a jacuzzi, looked pretty appealing.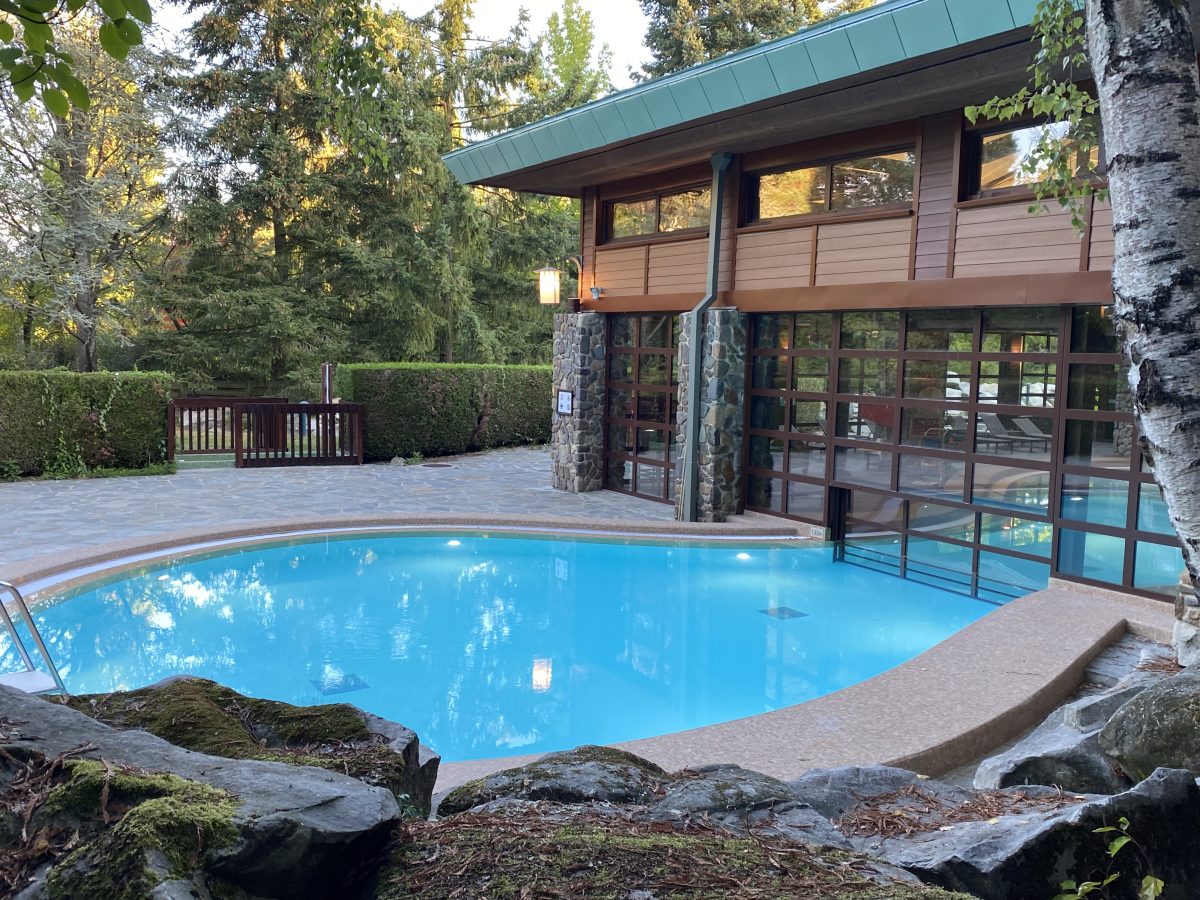 Moreover, there's a bar and two restaurants right on the premises – one of them dedicated to grilled dishes. However, we didn't get a chance to try them for lunch nor dinner, since we couldn't resist eating at Capitain Jack's.
The Breakfast at Disney Sequoia Lodge
Because we wanted to take full advantage of the Extra Magic Time, we decided to have breakfast at around 7h40. The only issue was that it seemed like every other guest from the 1011 rooms had the same idea, and the hotel lobby resembled more of the "Lion King" stampede scene than anything "Bambi"-related.
As a last-minute improv, we simply reached for the cookies we had brought with us (quick tip: before heading to Disney, stop by a supermarket and stock up on snacks to save some bucks on the expensive park food) and left for the park to enjoy our exclusive hour granted by Extra Magic Time. We waved at Mickey and Minnie at the entrance, managed to hop on the Big Thunder Mountain twice without waiting in the usual 45 to 60-minute line, snapped a few photos, left the park and returned to the hotel just before the end of breakfast at 11h00.
As for the meal, it was a true feast. It featured a wide array of hot dishes, freshly made pancakes and crepes, an assortment of bread, plenty of fruit – all of high quality. In other words, I can assure you no one left the breakfast table feeling hungry.
Following our breakfast stop, we ventured back into the parks once again (yes, the Magic Pass allows for unlimited entries and exits). Since we had filled up at around 11h00, we didn't really feel like eating again until around 18h00.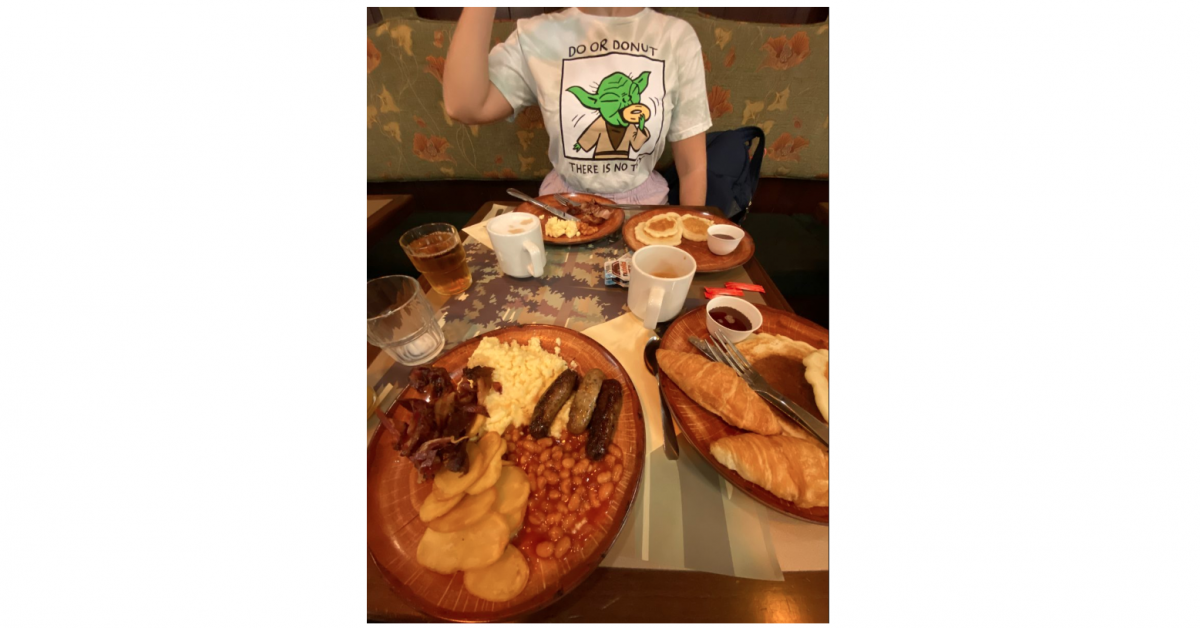 The Pros of Staying at a Disneyland Paris Hotel
First of all, the close proximity to both parks, since you just have to walk for 15 minutes and you'll find yourself right at the entrance of Disneyland. Plus, the convenience of being able to get back to your room for a quick rest, to charge your phone, pick up any forgotten items, or any other reason is truly a bliss.
Furthermore, the concierge service is there to assist you in making restaurant reservations and offering advice regarding your stay at the hotel and your Disney visit.
Finally, another fantastic perk of staying in a themed hotel is being able to enjoy Extra Magic Time. While those with a "regular" ticket have to wait until 9h30 for the park to open, hotel guests get a head start with one full hour of exclusive park access before the general public, starting at 8h30. This can be particularly handy for avoiding long lines at the most popular attractions or for a delightful photo session with your beloved Disney characters.
The Cons of Staying at a Disneyland Paris Hotel
Honestly, this really depends on context. If you only have one day to explore Disneyland, then staying at a themed hotel may not be worth the investment, since you won't be able to use the second day included with your stay.
In this case, it might be better to consider Disney Premier Access. This add-on gives you access to a dedicated fast lane at 12 of the park's most popular attractions. Through the Disney app, you can purchase Premier Access One for a specific attraction (with prices ranging from €5,00 to €15,00) or the Premier Access Ultimate, which grants you one-time access to each of those 12 attractions within the same day. The latter costs between €90,00 and €140,00 (depending on the day of the week and demand). Although it's pricier than an adult ticket, the Premier Access Ultimate can make quite a difference in your experience, allowing you to skip long lines and likely visit both parks in a single day.
Moment of Truth – Is it worth staying at a Disneyland Hotel?
If you're considering a visit of at least 2 days, it's worth getting your calculator out and doing some math. Using our own experience as an example, we paid €633 for a single night, half-board.
Now, let's break down the expenses:
Tickets for 2 days for 2 people – Sunday and Monday in early September (peak season): €348,00 (€87,00 per person per day)
Half Board: €142,20 for 2 people

Breakfast: €48,00 for 2 people
Dinner (similar to what was included): €84,00 for 2 people, plus drinks at €10,20 for 2 people

TOTAL: €490,20
This means that the actual cost of the stay was €142,80 (€633,00 – €490,20) for 2 people. Considering this was during the peak season (early September) and included the added benefits of being close to Disney and having Extra Magic Time (which proved quite handy in our case), we don't think it's an exorbitant expense.
For bigger families (lower cost per person), for those who choose not to include a meal plan and prefer bringing their own snacks/sandwiches or visitors coming during the off-season (with reduced prices for admission and accommodation), the price difference might be even smaller, so it's definitely worth exploring your options and not be immediately discouraged by the starting price.
You can secure your ticket + hotel package directly through the official Disneyland Paris website. By using this link, you'll be helping us keep this project sustainable, at no extra cost for your budget 🙂