Regarded as the cradle of modern Western civilization, and the birthplace of democracy and philosophy, Athens is a truly special destination. With its rich heritage and more than 3000 years of existence, this metropolis has witnessed the footsteps of great thinkers like Socrates and influential leaders like Pericles, as well as the rise and fall of numerous empires.
While some travelers may be instantly drawn to the Greek islands and skip exploring the capital altogether, there are plenty of others who feel compelled to dedicate some time to one of the world's oldest cities. And it's not hard to understand why – from the awe-inspiring Acropolis, a must-visit and the most popular attraction in Athens, to the enchanting alleys of the Plaka district, this ancient, vibrant city has plenty to offer!
That being said, we invite you to have a look at our Athens 3-day travel guide and discover the best the city has to offer, including hotels, restaurants, tips to avoid tourist scams and even a detailed list with everything you must see and do in Athens in 3 days.
Athens 3-Day Travel Guide
How to get to Athens – Flights from the UK
Considering this is the largest and most important city in all of Greece, it comes as no surprise that Athens is served by the country's biggest air hub: the Eleftherios Venizelos International Airport.
As such, if you're traveling from the UK, it is possible to fly directly to Athens from London-Heathrow (Aegean Airlines and British Airways), London-Gatwick (Aegean Airlines, Sky Express, Wizz Air and Easyjet), London-Luton (Ryanair and Wizz Air), London-Stansted (Jet2 and Ryanair), Birmingham (Aegean Airlines and Jet2), Bristol (Aegean Airlines and Easyjet), Edinburgh (Aegean Airlines and Easyjet), Newcastle Upon Tyne (Aegean Airlines), Manchester (Aegean Airlines, Jet2 and Easyjet).
Athens 3-day travel guide – Best time to visit the city
Much like most other European capital, the best time to visit Athens is during shoulder-season, in the months of Spring and Fall. Although you may be taking the risk of catching a little rainfall, this unlikely possibility is still far less uncomfortable when compared to the extreme temperatures you'll probably get during the other two seasons.
However, considering the seasonal nature of Greece as a tourist destination, many travelers flock to Athens during the peak of summer, either while heading to or returning from the beautiful Hellenic islands. While it's still entirely possible to enjoy the charms of the Greek capital during this time, it's hard to ignore the challenges posed by the scorching heat, high pollution levels and the perpetual hustle and bustle. Additionally, the queues for ticket purchases and entry to major tourist spots tend to grow exponentially. Regardless, if you're contemplating whether to visit in summer or not visit at all, the answer is a resounding "go"!
Documents needed for your trip to Athens
Since Greece is part of the EU, British citizens do not need a visa to visit. You'll just need your passport, which must have been issued within the last 10 years and remain valid for at least 6 months from the date of your trip.
However, keep in mind that starting November 2023, British passengers will need to apply for ETIAS in order to enter any EU country.
Athens 3-day travel guide – Withdrawals, banking fees and travel budget
With the Euro (€) as Greece's official currency, any withdrawal using a UK bank card might incur in the payment of several different fees. Besides the percentual fee referring to the currency conversion, some UK banks may also charge a flat commission for withdrawals made outside the UK. In some instances, you may well end up paying 5%-6% of your original withdrawal in banking fees.
On the other hand, exchanging money before your trip is not a viable solution either. Besides not being any cheaper, it's also not safe or wise to carry so much money on you during your trip. As such, we recommend using the services of online banking fintech companies such as Revolut, N26 or Monzo.
Although each have their own limitations and fees, they allow you to withdraw a certain amount in foreign currency without any fees involved. And even after that threshold is reached, costs are much smaller when compared to traditional banks. Sign up for Revolut for free >> to get 3 months of Premium.
Athens 3-day travel guide – Common scams and frauds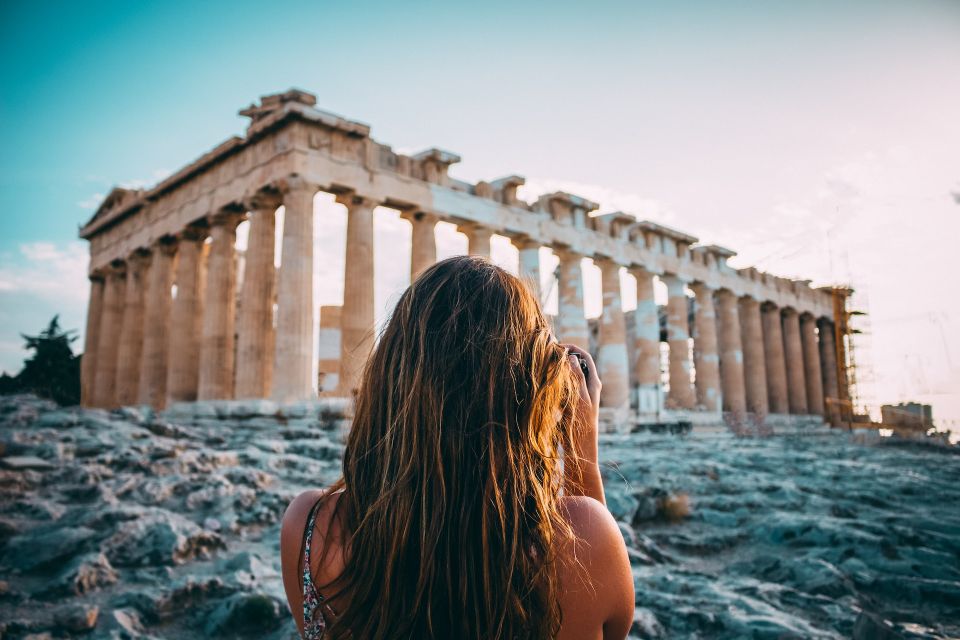 Similar to cities like Naples, Marseille or Belgrade, Athens also has the reputation of having some neighborhoods or blocks that might seem somewhat dubious, especially outside the city center. However, keep in mind that, at least in the case of Athens, this is just a matter of perspective, especially considering that the country is known as a fairly safe tourist destination.
As such, you'll just need to use your common sense and you'll be fine. Be wary of cabs with no meter, don't flash your money or belongings in crowded areas and never EVER take help from anyone while you're using the ATM. To sum it all up – don't do anything you wouldn't do anywhere else in the world! Also around these more touristy areas, pay special attention to the cafes/restaurants menus. Although these cases may not be as common, there are several online reports of tourists who kindly accepted the waiter's suggestion without looking it up on the menu and ended up with as unpleasant surprise upon being handed the check.
Where to sleep in Athens – Hotels and Accommodation
If you're looking out for a place to stay on our Athens 3-day travel guide then we got you covered!
After the challenging crisis the country faced in the early half of the last decade, prices in Athens have become noticeably more budget-friendly compared to many places in Western and Southern Europe. Nevertheless, it may not be considered a "cheap" destination in the traditional sense, while there are still plenty of excellent accommodation options that won't break the bank.
That being said, here are a few accommodation options which have passed our value-for-money test:
Athens 3-Day Travel Guide – Transportation between the airport and the capital centre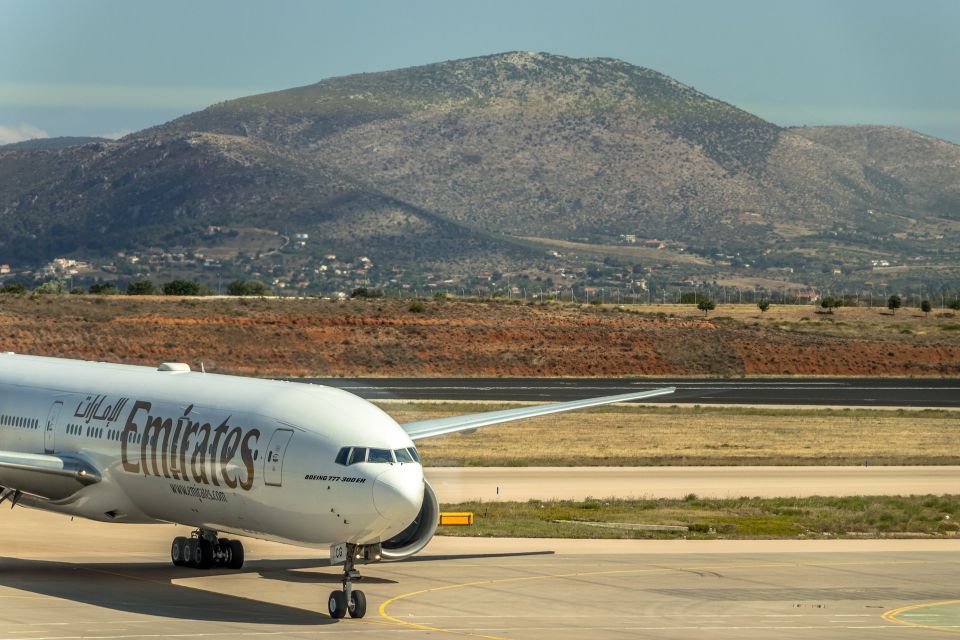 Upon landing in Athens, the best way to reach the city is by using the local metro system. The station is directly connected to the departure's hall along a covered passageway (just follow the signs) and the whole trip to Syntagma Square, right at the heart of the city, might take about 40 minutes. The metro operates daily from 06h30 and 23h30, with a new vehicle departing every 35 minutes. As for prices, tickets cost 9,00€ one-way (or 16,00 for a return trip).
On the other hand, should you land in Athens outside of the metro's working hours, you may rely on bus X95, also heading to Syntagma Square. These buses operate 24/7 and depart directly from the arrivals' terminal. The trip takes around 60 minutes (depending on traffic conditions) and you can buy your ticket directly from the bus driver for 5,50€.
Finally, you can hire a taxi to take you straight to your place of accommodation, although this will naturally turn out to be a lot more expensive than just using the bus. As an example, the same exact trip between the airport and Syntagma Square would set you back anything between 40€-55€.
Athens 3-Day Travel Guide – Public transportation
While Athens has a fairly comprehensive and diverse transportation system, the reality is that its historic center is relatively compact, allowing you to easily explore all the major attractions on foot.
That being said, and if you really need to rely on public transportation, you'll most likely end up using the metro, as buses, trams and regional trains are predominantly used by locals, serving as vital connections between the city center/business districts and the suburbs where the majority of the population lives.
Athens Metro – Maps, Tickets and Fares
When you consider just how big Athens is, it's quite surprising that the local metro system consists of only three distinct lines, with a brand-new expansion currently planned for the end of the decade. Be that as it may, the current extension conveniently covers the entire historic center of the Greek capital, making it incredibly useful for tourists.
The metro operates every day from 5h00 to midnight, with extended hours until 02h00 on Friday and Saturday nights, allowing you to explore the city even during the late hours.
Regarding fares, a single ride costs 1,20€, allowing you to switch lines and travel between any two stations within a 90-minute timeframe. However, keep in mind that this fare does not cover the route between the city and the airport (please refer to the prices above). On the plus side, all metro tickets are valid for both buses and trams as well. When it comes to the types of tickets available, you can either go for simple, rechargeable paper tickets or get yourself an anonymous Athena Card, which you can load with multiple trips according to your specific needs. The only difference between the two is that the plastic card allows you to top up whenever it's convenient for you, whereas with the paper ticket, you can only reload it when there's no balance left.
According to the number of trips you top up your card with, the fare-per-trip will vary:
1 trip: 1,20€
2 trips: 2,30€
5 trips: 5,70€
11 trips: 12,00€
However, if you plan on using the metro frequently, it's worth looking into the daily and multi-day options available:
Daily Ticket: 4,10€
5-Day Ticket: 8,10€
3-Day Tourist Ticket: 20,00€ (includes return trip from/to the airport)
It's important to note that once you scan your ticket, it remains valid for a non-stop period of 24, 72 or 120 hours, depending on your choice. So, if you validate a 24-hour ticket at 14h00 on a Saturday, it will be valid until 13h59 of the following day (Sunday).
Krakow 3-day Travel Guide – Free walking tours
While in Athens, you have the option to explore the city with a free walking tour. These tours, led by local guides or tour companies, offer guided visits to the historic center, sharing intriguing stories about each place and providing valuable cultural context. Even though these tours are technically free, it's customary to show appreciation for the guide's efforts by leaving a tip at the end. In Athens, a reasonable minimum tip would be around 5,00€.
That being said, here are a few companies that run free walking tours in Athens:
Athens 3-day Travel Guide – Hidden Treasures
With 3 days in Athens, and though there is plenty to see and do in the city, you'll have enough time to cover all of its major landmarks and still go on a day-trip.
Be that as it may, and to further enhance and enrich your experience, we wanted to add a few more obscure places to your list of things to see and do in Athens in 3 days:
Kaisariani Fortress and Monastery – Currently the home of a well-known Orthodox monastery, the Kaisariani Fortress was one of the very first spots where worshippers paid tribute to the Goddess Aphrodite. Its strong walls helped the monastery survive even through the long period of Ottoman rule, making is  a powerful symbol of resilience.
Lycabettus Hill – Located just a few kilometers west of the historic center, Mount Lycabettus is home to what is probably the best view in the whole Greek capital. While you can definitely hike up to the summit, a lot of folks prefer to hop on the funicular railway for the ride up.
Byzantine Museum – A fascinating institution that pays tribute to the historical and cultural legacy left behind by the Romans. It's a glimpse into the past, back when Greece was a part of the mighty and colossal Byzantine Empire.
Pnyx – One of Athen's more central hills, the Pnyx tends to be overshadowed by the better-known Areopagus Hill and Philopappos Hill. For those fortunate enough to visit, it offers similar views with substantially less tourists around!
Strefi Hill – Among Athens' seven historic hills, Mount Strefi is located between the Archaeological Museum and Mount Lycabettus. Interestingly, it's quite possibly the least visited central vantage point in the Hellenic capital.
Athens 3-Day Travel Guide – What to See and Do in 72 Hours
Despite its size and history, Athens is a city where the main tourist attractions are concentrated within a relatively compact area, allowing you to get a good grasp of the city's highlights in just 2 days. With an extra 24 hours to spare, you may then go on a delightful day trip to the fascinating Archaeological Site of Delphi.
Without further ado, here's what to see and do in Athens in 3 days:
Athens 3-Day Travel Guide – Day 1 – The Acropolis and the Quarter of Plaka
No need to delay the inevitable: if you're visiting Athens, the famous Acropolis citadel (20,00€ from April 1 to October 31; 10,00€ from November 1 to March 31) must be at the top of your must-see list! Considered the heart of Ancient Greece, with the iconic Parthenon taking center stage among its historic structures, the Acropolis of Athens is undoubtedly one of the world's top tourist attractions! After exploring the site, when the temperature starts to rise, you can take refuge in the Acropolis Museum (15,00€ from April 1 to October 31; 10,00€ from November 1 to March 31) and indulge in one of the most extensive and impressive collections of Ancient Greek artifacts in the entire planet. Once you've had your fair share of the Acropolis and want to bid farewell to the symbol of Athens, we recommend going up Areopagus Hill for the citadel's quintessential postcard picture.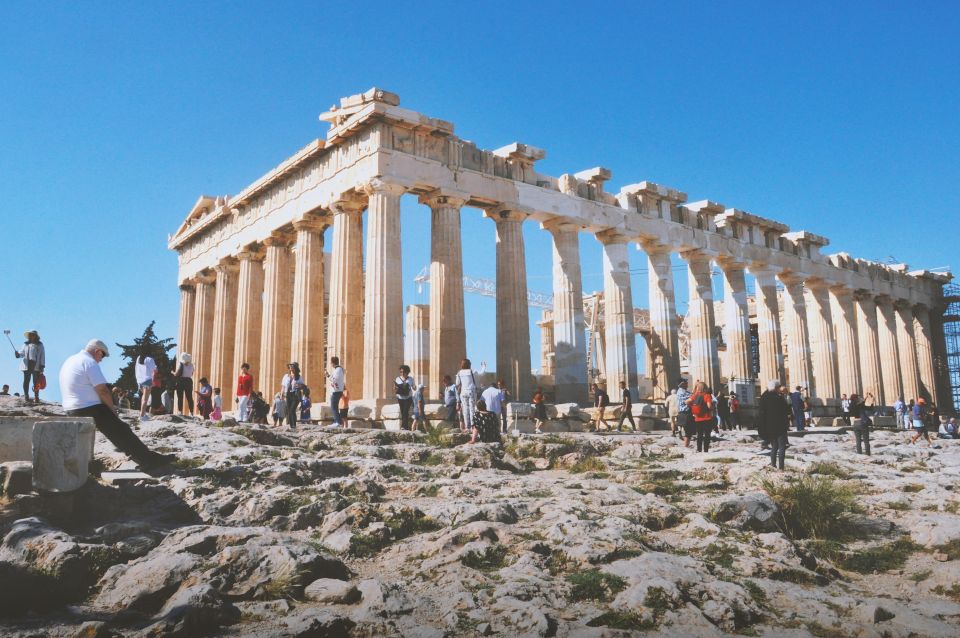 Once you descend the northern slope of the Acropolis, you'll find yourself in Plaka, the most charming and tourist-friendly neighborhood in the entire city. Picture ancient buildings lining pedestrianized streets: the closest thing Athens has to an "Old Town". As you wander through Plaka's enchanting alleys, make sure to visit the Church of Metamorphosis and the Church of Panagia Kapnikarea, along with the lively Monastiraki Square and its beautiful Tzistarakis Mosque. Furthermore, this is also the quarter where you'll find the Roman Agora (8,00€ from April 1 to October 31; 4,00€ from November 1 to March 31), yet another popular archaeological site. As the name suggests, it was built by the Byzantine (Roman) Empire, with Hadrian's Library (6,00€ from April 1 to October 31; 3,00€ from November 1 to March 31) standing as its undisputed highlight. Adjacent to the roman site, and if you're up for more historical wonders, the Ancient Agora of Athens awaits (10,00€ from April 1 to October 31; 5,00€ from November 1 to March 31). Here, you'll step into Athens' past, where bustling markets, government buildings, and theaters once thrived, making it the former hub of Ancient Greek life! Among the numerous ruins, be sure to explore the impressive Stoa of Attalos and the well-preserved Temple of Hephaestus.
First day wrap-up:
Acropolis of Athens (Parthenon)
Acropolis Museum
Areopagus Hill
Plaka
Church of Metamorphosis
Church of Panagia Kapnikarea
Monastiraki Square
Mesquita Tzistarakis Mosque
Roman Agora (Hadrian's Library)
Ancient Agora of Athens (Stoa of Attalos and Temple of Hephaestus)
Cheap restaurants in Plaka and Anafiotika:
Athens 3-Day Travel Guide – Day 2 – The Museums of Athens and Lycabettus Hill
As you begin your second day in Athens, it's time to venture beyond the Acropolis area and kickstart your morning with a visit to the incredible National Archaeological Museum (12,00€ from April 1 to October 31; 6,00€ from November 1 to March 31), renowned as one of the world's finest antiquities museums. In total, there are over 10.000 artifacts spread across five different collections, providing an immersive journey into the creation and evolution of ancient Hellenic civilization. Before moving on to the next museum, take a break to soak in the breathtaking view from Lycabettus Hill, regarded as the best in the entire city. While it is possible to walk to the top, you can simply use the funicular (10,00€ round trip). Next on the itinerary, and to sample a different side to the country's history, is the Byzantine Museum (8,00€ from April 1 to October 31; 4,00€ from November 1 to March 31), where you'll uncover the significant historical and cultural legacy left behind by the Roman Empire during its reign over Greece.
After lunch, it's time to get back to Ancient Greece and explore more of Athens' archaeological wonders. For something slightly different, you shall start with the Panathenaic Stadium (10,00€), a symbolic venue that hosted the first Olympic Games of the modern era, in 1896. Interestingly, the current building is a thorough reconstruction of the 2000-year-old stadium that used to host the Panathenaic Games, a quadrennial sporting event in ancient Greece and a precursor to today's Olympic Games. After checking out the stadium, it's time to visit the Olympieion (8,00€ from April 1 to October 31; 4,00€ from November 1 to March 31), also known as the Temple of Olympian Zeus. At its peak, this gigantic temple was even grander than the Parthenon, as 100 colossal marble columns were needed just to support the structure! Unfortunately, only 15 of those columns remain, although one can still understand just how imposing the temple might have been during its heyday. Finally, to conclude your time in Athens proper (the next day will be dedicated to a day trip), head to Syntagma Square and capture the iconic photo of the soldiers guarding the Tomb of the Unknown Soldier, located in front of the Hellenic Parliament. The symbolic changing of the guard takes place daily at 11h00, so if you really want to watch it, just start your day here and visit all the other places in reverse order.
NOTE: If you're planning on following this itinerary and explore all the mentioned archaeological sites, then it's better to get a Combined Ticket. This ticket costs 30,00€ and allows you to visit the Acropolis, the Ancient Agora of Athens, the Roman Agora, Hadrian's Library and the Olympieion within a 5-day period. If your visit falls between April 1 and October 31, you'll save 22,00€ per person compared to buying individual tickets for each of these 5 attractions. You can easily purchase this ticket online through the official website of the Greek Ministry of Culture.
Second day wrap-up:
National Archaeological Museum
Lycabettus Hill
Byzantine Museum
Panathenaic Stadium
Olympieion
Syntagma Square
Cheap restaurants in Dexameni, Stadio e Makrygianni:
Athens 3-Day Travel Guide – Day 3 – Day Trip to Delphi
For your last day in the capital, you'll leave all your stuff at the hotel and spend the day at the hidden gem of Delphi. Nestled southwest of Mount Parnassus, less than 200 km away from Athens, this charming village boasts incredible archaeological ruins, making it a significant pilgrimage site since 800 BC. To get there, hop on one of the KTEL buses departing from Bus Terminal B in Athens. The ride takes about 3 hours and you can grab a ticket for 15,00€ (30,00€ round trip), with the first bus leaving Athens at 8h30 (the next one at 10h30) and returning from Delphi at 15h00 and 18h00. It might be a bit of a journey, but it's totally worth it!
Once you arrive in Delphi, your first stop should undoubtedly be the legendary Archaeological Site of Delphi (12,00€), an extraordinary complex of ancient Greek ruins. This is where it's worth sharing the mystical and fascinating story behind Delphi's fame. Legend has it that the city was protected by a giant serpent until Apollo (the God of the Sun) slayed it, causing its lifeless body to fall into a colossal crack on the ground. As the serpent's corpse decomposed, mysterious vapors rose from the crack, and those who sat over the crevice and inhaled these vapors were said to be possessed by the spirit of Apollo, becoming a link between the mortal and divine realms. And thus, the Oracle of Delphi was born! The role of the oracle was played by a priestess called Pythia, who claimed to be in constant communion with both Apollo and the serpent, receiving thousands of pilgrims who sought her guidance and prophecies about their futures. Pythia lived right here, within the sacred Temple of Apollo. Besides the temple, this archaeological site also houses the Ancient Theater, the Archaeological Stadium and the Treasury of the Athenians.
Outside the complex, you may also visit the Kastalia Spring, where pilgrims traditionally bathed and cleaned themselves before consulting the Oracle, as well as the Sanctuary of Athena Pronaia, which usually served as a place of prayer and offerings before reaching the Temple of Apollo. Before heading back to Athens, if you have a few hours to spare before the bus departs, I highly recommend a visit to the Archaeological Museum of Delphi (12,00€).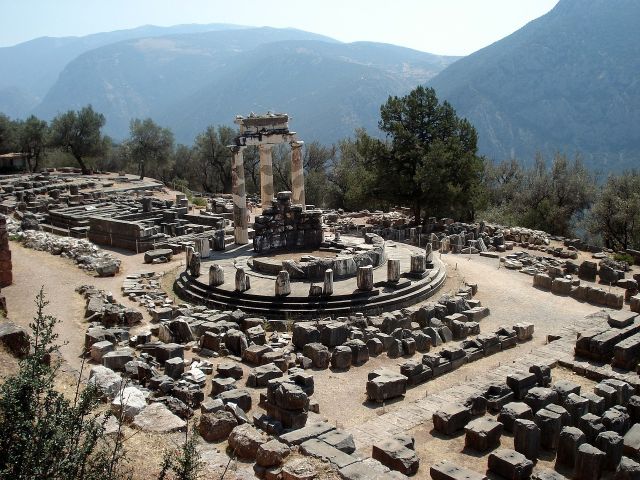 Third day wrap-up:
Archaeological Site of Delphi (Temple of Apollo, Ancient Theater, Archaeological Stadium and Treasury of the Athenians)
Kastalia Spring
Sanctuary of Athena Pronaia
Archaeological Museum of Delphi
Cheap restaurants in Delphi:
Got more than 3 days in Athens? Then you might want to check out the following day trips:
Meteora – Arguably the most renowned destination in mainland Greece after Athens, the iconic Monasteries of Meteora are an absolute must. Perched atop granite pillars, some reaching heights of over 500 meters, these structures were inhabited by monks and hermits, completely isolated from the rest of the population. While you could technically make a day trip from Athens to Meteora, I'd highly recommend considering an overnight stay in the village, as it will enhance your experience big time.
Mycenae, Nafplio and Epidaurus – A spectacular 3-in-1! While in Mycenae and Epidaurus, you'll come across fabulous archaeological ruins, featuring the legendary city of Agamemnon in the former and the Ancient Theatre in the latter. Meanwhile, Nafplio offers a more romantic and picturesque experience, with an eclectic mix of Hellenic monuments, Venetian fortresses and Ottoman buildings.
Cape Soúnion (Athenian Riviera) – Known as the Athenian Riviera, this stretch of coastline extends for around 100 km and leads all the way to the breathtaking Cape Sounion, where the ruins of the Temple of Poseidon watch over the Mediterranean. As you journey along, don't miss the chance to check the town of Lavrio and take a detour to explore Lake Vouliagmeni.
Saronic Gulf (islands of Aegina e Agistri) – Dotted with a charming collection of small islands, the Saronic Gulf is an excellent choice for a more laid-back day trip. We recommend a visit to the island of Aegina (a 40-minute ferry ride from the Port of Piraeus), known for the fabulous Temple of Athena Aphaia; or to the island of Agistri (a 60-minute ferry ride from the Port of Piraeus), famous for its beautiful beaches.
Corinth – Regarded as the main gateway to the Peloponnese region, today's Corinth is built upon the rich history of its ancient counterpart, once one of the empire's most prosperous cities. Nowadays, you can take a day trip from Athens and explore the archaeological site of Ancient Corinth, pay a visit to the Temple of Apollo and wander through the imposing fortress of Acrocorinth.